Near Collision Shows Changing East China Sea Security Environment
A near mid-air collision, and Obama's new limited foreign policy, test Japanese defense policies.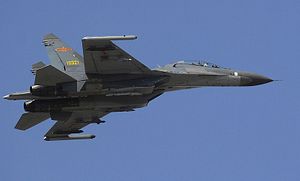 Tension in the East China Sea between Japan and China spiked again this weekend as planes from their respective militaries came within 30 meters of each other. Japan's Defense Ministry said two Chinese Su-27 fighters twice came within 50 and 30 meters of Japanese planes (an OP-3C surveillance plane and a YS-11EB electronic intelligence aircraft, respectively) as they were attempting to gather information, according to the Japan News. The incident occurred near an ongoing joint military drill between China and Russia, in waters over which Japan and China have overlapping Air Defense Identification Zones (ADIZ).
Both the Japanese and the Chinese responses to the incident were swift and inflammatory. "It was an extremely unusual situation for military aircraft of Japan and China to come so close to a collision," a Japanese Defense Ministry official said. Defense Minister Itsunori Onodera called China's actions "completely aberrant" and said that Prime Minister Shinzo Abe had instructed him to "take steps firmly" in response, according to Jiji Press. Onodera said that the Japanese aircraft were under no restrictions because they were over international waters, and that the Self-Defense Forces will continue their surveillance activities as before. He also claimed that the Chinese fighters were equipped with missiles at the time of the incident.
China quickly condemned Japan's incursion into a no-fly zone area, which the Chinese and Russian militaries had issued days before the exercises began. On Sunday, the Ministry of National Defense criticized Japan for the move, saying it seriously violated international law and globally accepted norms, and "could have easily caused a misunderstanding and even led to a mid-air accident," according to China Daily.
China also proposed talks over the incident, and demanded Japan "respect the lawful rights of China's and Russia's navies… and stop all reconnaissance… Otherwise Japan will bear any and all consequences." The joint Chinese-Russian drills are scheduled to conclude today. Japanese and U.S. forces monitored a similar exercise between China and Russia last July, yet this is the first time China has come so close in challenging Japanese aircraft over their disputed airspace.
Japan is also conducting Ground Self-Defense Force drills on its remote Amami Islands off Okinawa, near the disputed Senkaku/Daioyu Islands. While the drill has been ongoing since May 10, the GSDF issued statements on Sunday underscoring the significance and intended purpose of the drill. "We're supposed to defend land areas," a senior GSDF officer said. "But [unexpectedly] the time has come when we're conducting landing drills from the sea," the Japan News reported.
The drills are part of a larger move to reposition Japanese forces to better defend remote islands it feels are under threat from Chinese occupation. The government announced last Monday a plan that could place GSDF troops on three of its westernmost Nansei Islands, which are also within 170 km of the Senkaku/Diaoyu. The Japanese government in April also began construction of a radar installation to be staffed by 100 military personnel on Yonaguni Island, which is 150 km south of the disputed islands.
Japan's increasing self-reliance in opposing China's encroachment in the East China Sea can be understood somewhat in its reluctance to depend completely on its alliance with the U.S. Despite President Barack Obama's explicit statement in April that the Senkaku/Diaoyu Islands fall under the protection of Article 5 of the U.S.-Japan Treaty of Mutual Cooperation and Security, Japan has remained reluctant to put its full faith in the alliance's ability to completely protect Japanese interests. Japan does not yet trust that the U.S. is fully committed to its East Asia pivot.
Japan's hesitance may indeed be well founded. Obama is expected to make a speech on Wednesday at the U.S. Military Academy at West Point where he will outline his case for a new, more limited foreign policy. The news came as Obama was visiting troops in Afghanistan, and while the rationale for this new foreign policy was made in reference to events in Syria, Ukraine, and the wars in Iraq and Afghanistan, the new mindset will not likely be well received in Tokyo.
The White House has been quick to explain that "[Obama] will argue that his foreign policy philosophy is not isolationist, but rather 'interventionist and internationalist,'" according to an official. However, this new direction in U.S. foreign policy may cause Japan to reconsider its own regional security calculus. If the U.S. means to draw back and "avoid errors," then Japan must begin to reconsider how much of the slack it could reasonably take up in the event that the U.S. begins to further limit the kinds of incidents that would warrant intervention on behalf of the Japanese.