Xenophobia and Public Discontent in Singapore
Singaporeans are up in arms over plans by Filipino residents to hold an Independence Day celebration.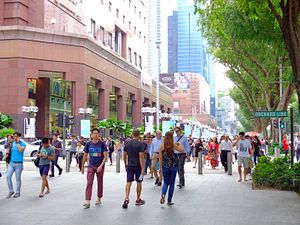 The online ruckus over the planned Philippine Independence Day celebration on Orchard Road in Singapore is the latest ominous sign of rising xenophobia in the prosperous city state. But racism aside, it also revealed that Singaporeans are growing increasingly dissatisfied with their government.
A group of Filipinos in Singapore has organized a Philippine Independence Day assembly on June 8, but this was loudly opposed by some Singaporeans who described the event as inappropriate and disrespectful. Filipinos were surprised by this reaction given that they have been celebrating the occasion in Singapore for several years already. There are 180,000 Filipino workers in Singapore.
Angry Singaporeans flooded the social media with comments denouncing the event. They warned that holding the event in the iconic Orchard Road would "seriously provoke" the national pride of Singaporeans. They questioned the "insensitive intention" to fly the Philippine flag in Singapore, which they interpreted as an "invasion" of their country.
Gilbert Goh of transitioning.org, which assists unemployed workers, is worried that this event would set a bad precedent. "If we allow Filipinos to celebrate their national day at Orchard Road, who will be next? The Indians, PRC Chinese or Malaysians? Will Orchard Road be turned into a playground for foreigners only to wave their own national flags?"
Acting Minister for Manpower Tan Chuan-Jin was quick to disown the Internet "trolls" who used foul language against the Filipino organizers of the event.
"These actions by those who peddle hate are not acceptable, repulsive even. We should make a stand to say no to such bigotry. They do not reflect who we are as a people and as a nation," he wrote on his Facebook page.
Even Prime Minister Lee Hsien Loong, who celebrated Singapore Day in London last March, called the protesters a "disgrace to Singapore."
"We must show that we are generous of spirit and welcome visitors into our midst, even as we manage the foreign population here," he posted on Facebook.
Perhaps Lee is already aware that much of the anger that exploded in the Internet has something to do with the government's program to hire more foreign workers, something that is resented by many locals. Foreign residents account for about 40 percent of Singapore's total population.
Right or wrong, many Singaporeans attribute deteriorating conditions, including such as stagnating wages, inflation, and even overcrowding on buses and trains, to the influx of foreign workers. Since last year, several huge rallies were held by locals criticizing the government's policy of further increasing the number of foreign workers in the country.
Blogger Ravi Philemon asks whether the protest is more an indictment of the government: "To a certain extent, this anger by these protesters is understandable. I am not sure if their anger, even if it seems directed at the people of Philippines, is directed instead at the Government of Singapore."
Activist Kirsten Han believes there are numerous factors in this complex issue but she does not support the outburst against Filipinos: "This is not about pushing for more democracy in Singapore. It's not about empowering Singaporeans. It's not even about problematic immigration policies."
It's about time for Singapore to review its social policies that have contributed to the rise of anti-foreigner sentiment among the local population. If this trend continues, Singapore might have to deal with more serious racial conflict in the future.
And as for the Philippines, it must seriously review its labor export policy, which was initially conceived in the 1970s as a temporary measure to fill the gaps in the employment sector. After four decades, the country continues to drive away the best of its skilled workers, creating a terrible shortage of manpower in several critical domestic industries. The greater challenge for the Philippines is not to help its citizens celebrate the country's Independence Day in a foreign land but to entice them to return home.
In other words, Singapore and the Philippines, both proud independent states, must act aggressively to improve the living conditions of their respective citizens.