Abe Serious on Agricultural Reform
The government is intent on far-reaching changes to farming, while labor reform looks more like window dressing.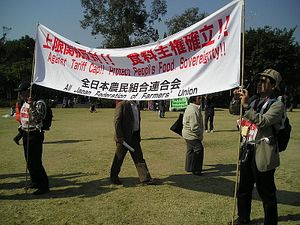 The government of Prime Minister Shinzo Abe continues to trickle out information surrounding the upcoming structural economic reforms, due to be officially announced at the end of the month. This latest set of reforms has been touted by the government to be both expansive and deep in scope, yet the specifics surrounding the new policies remain vague at the moment. In recent days, however, the government has offered more details in two areas: agricultural reform and liberalizing labor laws inside the new National Strategic Special Zones.
At a speech on June 12, the ruling LDP's head of the farm-reform committee, Hiroshi Moriyama, said the government is considering allowing non-food companies to increase their share in agricultural companies from 25 percent to 50 percent, according to Bloomberg. This is part of the government's attempt to reduce the influence of JA-Zenchu, which represents agricultural cooperatives across Japan and which is opposed to the Trans-Pacific Partnership free trade agreement.
This liberalization of policy is part of the government's attempt to double agricultural exports by 2020, and to expand farming and fishing exports to 5 trillion yen a year by 2030 (a roughly 10-fold increase), according to a government growth strategy released on June 14. The prefectures of Fukushima, Miyagi, and Iwate, which received the brunt of the damage from the 2011 earthquake and tsunami, plan to coordinate their promotion of these exports. The government aims to increase this type of cooperation amongst its prefectures to reduce competition domestically, and expand the reach of the new "Japan Brand" agricultural products abroad.
The Bloomberg article also indicates that nationwide convenience store companies Seven & I Holdings Co. and Lawson Inc. are buying farmland and training younger workers to replace Japan's current aging agricultural landowners. This is in response to Abe's latest plans to reduce farm subsidies and consolidate small farms to make them more commercially viable.
The government has also begun to mention its planned strategic special zones again. The Japan News reported that the Abe administration plans to ease hiring regulations in the Kansai region of Kyoto, Osaka, and Hyogo prefectures. The policy appears to only affect foreigners working as domestic help, and is meant to increase the number of Japanese women who are able to enter the workforce. The plan would allow for foreigners to be directly hired for these full-time jobs, although their duration would be restricted and supervised by the local governments.
As the new hiring policy only appears relevant to households that can afford to hire a full-time domestic worker, the number of women it will free up to enter the workforce is likely to be quite minimal. The agricultural reforms are much more substantial, but will also face tough opposition from JA-Zenchu and local constituencies that benefit from Japan's generous agricultural subsidies.