Cambodian Exodus Signals Tough Times with Thai Junta
The Thai military is having difficulty proving this coup is any different from previous incarnations.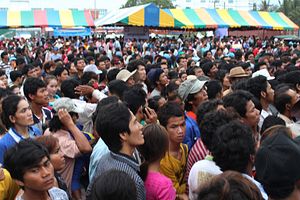 The exodus of Cambodians from Thailand has topped 220,000, an ominous warning for other nationalities and ethnic groups – whether Rohingya or Russian – as the Thai junta asserts its undeclared policies in the wake of last month's coup.
It's not the first time Cambodians have fled home due to political turmoil in Thailand. Cambodian Muslims sent an early warning of a crackdown that became a civil conflict, after being marched out of madrassas in southern Thailand in early 2004.
Four years later Cambodians were again leaving, albeit in far smaller numbers, after Thai troops crossed the border and seized vast tracts of land around the 12th century ruins of Preah Vihear, which they would continue to occupy for the next five years.
Each time the Thai military was involved, the Cambodian government did its best to meet the required logistical response. This time around, hundreds of army trucks have been dispatched to the border and are ferrying people back to their villages in Cambodia.
Long-time observers have said the Thai military was using these Cambodians to dismantle a power base that was forged around cheap and illegal labor, established and run by a rival institution (the Thai police), who have traditionally favored the governments of Yingluck Shinawatra and her brother Thaksin.
Both leaders were ousted in military coups.
"The Cambodians will come home and they will be allowed to return (to Thailand) but only after the paperwork has been completed and their direction will be facilitated by the Thai military," said one independent analyst.
"There are a lot of construction sites and other businesses which simply can't function without cheap labor," he said. "They will be welcomed back, without them the Thai economy could be in trouble."
To the relief of Prime Minister Hun Sen – whose popularity has waned significantly in recent years – the exodus has coincided with the rice planting season, and this was expected to provide some employment over the next few months for those coming back.
However, the social dislocation and potential damage caused by the return of so many in such a short time span should not be underestimated over the medium term. That dislocation will not be helped by Hun Sen's often difficult relations with the Thai military.
The Cambodian leader has been a long-time supporter of Thaksin, who was ousted in a coup in 2006 and subsequently fled a two-year jail term for corruption. The Thai military was equally unsatisfied with an international court ruling in November that upheld Cambodian sovereignty over the grounds surrounding Preah Vihear.
Cambodia's ability to withstand Thailand's carefully crafted aggression will be watched by dozens of countries with significant expatriate populations. Those include Australia, Russia, the U.K., and the U.S.,  as well as neighbors Myanmar and Laos.
About two million illegal immigrants from neighboring countries are thought to be working in Thailand, and Cambodia's Interior Minister Sar Kheng has rebuked the Thai Junta for not consulting his government over the forced repatriation, adding Thailand must be held accountable. Eight people are believed to have died in traffic accidents in the rush to cross the border.
The Thai military has tried to defend itself, arguing there was no crackdown on illegal immigrants. Comprehending the army's handling of Thailand since the May 22 coup has been challenging. Attempts by the junta to convince the world that it, in fact, did not stage a coup were unconvincing, as was ordering Thais to smile and have fun. Independent evidence that the coup has the backing of Thailand's revered monarch King Bhumibol Adulyade has yet to be established.
None of this, including the forced repatriation of Cambodians, should be viewed as unusual. Coup leader Gen. Prayuth Chan-ocha exacerbated the situation even further when he noted that the biggest obstacle confronting Thai democracy is elections.
However, Thailand has a habit of electing popular leaders who don't quite fit the image crafted by Bangkok's established elites, or the military, which has had trouble convincing skeptics, and its own people, that it marches best to the beat of its own drum.
Luke Hunt can be followed on Twitter @lukeanthonyhunt