Chinese Media: In Vietnam, Yang Calls 'Prodigal Son' to Return Home
Chinese media portrayed Yang Jiechi's trip to Vietnam as a diplomatic and moral victory for China.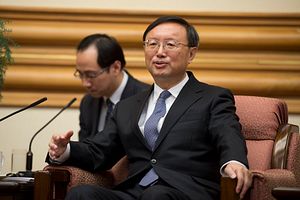 Foreign media outlets (including The Diplomat) didn't see much hope for a breakthrough in China-Vietnam relations during State Councilor Yang Jiechi's trip to Hanoi this week. "For Vietnam and China, No Easing of Tensions," The New York Times declared. The BBC highlighted the "Deadlock at China-Vietnam talks" and Reuters' headline read "China scolds Vietnam for 'hyping' South China Sea oil rig row."
Chinese media outlets had a decidedly different approach, one with far more optimism. "China, Vietnam agree to properly handle sensitive bilateral issues," read Xinhua's English language headline. "Beijing, Hanoi vow to act on friction," China Daily emphasized. A video segment on Yang's trip from CCTV focused on Yang's statement that even if China-Vietnam relations were much worse than they are now, the two sides would still have to think of a way to quickly solve the issue. Based on the Chinese media reports, it seems that Yang Jiechi's meetings with Vietnamese leaders were a major step forward in solving the oil rig crisis.
That's not to say that China is willing to compromise. On the contrary, each article contained the usual Chinese assertions that the oil rig is China's own affair, and that Vietnam should stop its illegal harassment of the rig's operation. Instead, the Chinese articles implied that Hanoi had changed its position. None of the articles reported, as Vietnamese and Western media did, on Vietnam's continued insistence that China should remove the oil rig. Instead, articles from Xinhua emphasized that Vietnam and China have agreed to "properly handle bilateral issues," not to internationalize the South China Sea dispute, and to keep maritime tensions from interfering with broader bilateral ties.
Of course, if Vietnam had truly agreed to "properly handle bilateral issues" according to China's definition, then the oil rig crisis would indeed be over. Instead, Hanoi has a very different idea of what constitutes "proper handling" — under its interpretation, China is the one acting "improperly" by violating Vietnam's maritime sovereignty. By neglecting to mention the dual interpretation in its media coverage, China's media set itself up to cry foul when Vietnam continues to protest the oil rig.
Chinese media also portrayed Yang's visit not only as a diplomatic victory, but as a moral one. Xinhua emphasized that Yang's trip to Hanoi was itself proof that China is proactively seeking to solve the problem. Yang's visit, Xinhua said, is a demonstration of China's "sincerity in wanting to solve problems through dialogue and [China's] great power magnanimity." CCTV said that Yang had gone to help "return China-Vietnam relations to the proper path at an early date."
The tone of these articles painted Yang as something like a patient teacher sent to deal with a particularly recalcitrant student. This attitude was most evident in the nationalistic media outlet Huanqiu (the Chinese-language counterpart of Global Times). Huanqiu characterized Yang's visit as a gift from China, offering Vietnam yet another chance to "rein itself in before it's too late." Yang's function in Hanoi was to "clarify the bottom line and the pros and cons" of the situation. In talking with Vietnam, Huanqiu said, China was "urging the 'prodigal son to return home.'" Based on this interpretation, it seems that Yang was not in Hanoi for a real dialogue, but simply to deliver a lecture.
The Chinese media narrative, despite its positivity, is designed to set up China well should tensions continue to smolder. Each story emphasized Vietnam's harassment of the Chinese oil rig, and China's patience and magnanimity in dealing with these provocations by sending Yang to Vietnam for talks. The stories also emphasized the consensus reached in the meetings; these words will be used against Hanoi if the crisis continues on its current track. China's media coverage sent a strong message that it is now up to Vietnam to respond correctly to China's overtures by ending it interference with and protests over the Chinese oil rig. Thus, the Huanqiu piece ended with a warning that the international community will be watching to see if Vietnam can match words to deeds after the Yang meeting.