Get Ready for a Chinese World Cup — In 20 Years
Unfortunately, China will have to wait two decades for a chance to host the FIFA World Cup.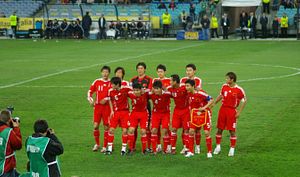 Football is incredibly popular in China and yet the country of some 1.35 billion did not qualify for the 2014 tournament currently underway in Brazil. As Shannon wrote on The Diplomat yesterday, football is frequently cited as an important part of President Xi Jinping's "Chinese Dream." In fact, Xi's second dream was his soccer dream: the dream that China would qualify for, host, and finally win the FIFA World Cup. While that dream might be unattainable in the near term, the closest date that China could host the World Cup (and thereby automatically qualify, bringing 2 of 3 elements of Xi's dream into reality) is likely to be 2034 — two decades from now. This is simply due to the way FIFA regulates the hosting of the tournament around the world every four years.
Despite the tendency of the cup to find itself in South American or European hands every four years, the tournament itself travels across the world. Prior to Brazil, we were in South Africa (2010), Germany (2006), and Japan and South Korea (2002). After Brazil, we will be in Russia in 2018 and Qatar in 2022. You'll notice that FIFA tends to rotate its regions. Indeed, two back-to-back world cups cannot take place within the same international footballing region since a FIFA rotation policy came into force following the selection of Germany as the 2006 hosts. The policy was subsequently modified to prevent countries from the same region from submitting a bid to host the world cup if their region had hosted the tournament eight years prior. So, under FIFA's rotation policy, since Brazil, a CONMEBOL member, won the 2014 bid, no CONMEBOL member was eligible to submit a bid for 2018 or 2022.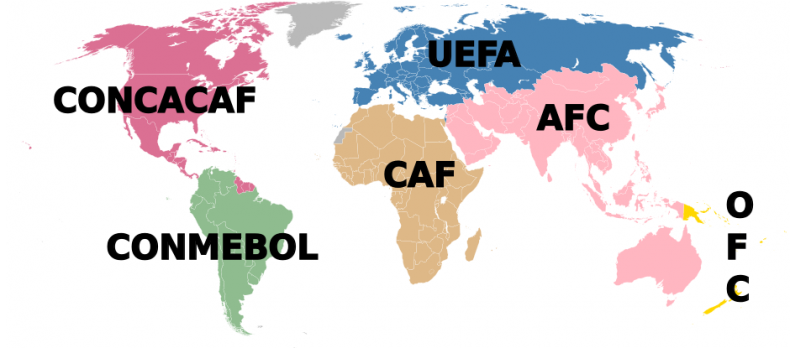 The six FIFA regions are the Confederation of North, Central American and Caribbean Association Football (CONCACAF), the South American Football Confederation (CONMEBOL), the Asian Football Confederation (AFC), the Confederation of African Football (CAF), the Union of European Football Associations (UEFA), and the Oceania Football Confederation (OFC). China naturally belongs to the Asian Football Confederation, as does Qatar, the declared 2022 host.
Likewise, as Qatar, an AFC state, will host in 2022, no AFC state can host in 2026 or 2030 (unless, as Samuel Chi points out, Qatar's bid is revoked due to an ongoing corruption investigation). That brings us to 2034 as the earliest possible date for a Chinese World Cup (a post at China Sports Insider by Mark Dreyer comes to the same conclusion as well). Despite the two decades that China will have to wait for a shot at a World Cup, China will be a very attractive option for 2034's tournament. China has already demonstrated that it can host a major world sporting event by hosting the 2008 Beijing Olympics. Plus, it will have been 32 years since the last East Asian World Cup (Japan and South Korea in 2002), warranting a return to the region in 2034.
Fortunately, 2034 is enough time for China to invest in its footballers the same way it has done with its Olympians. Should China happen to qualify as part of the AFC group for any of the World Cups between now and 2034, it will be keen to avoid a repeat of its 2002 appearance when it scored no goals, had nine goals scored against it, and lost all games as a result. China's national football team has a long way to go just within Asia. In order to qualify for the coveted AFC spots in the World Cup, it must surpass or equal the teams that are generally Asia's best and consistently qualify: Japan, South Korea, Australia, and Iran (all of whom are playing in the 2014 tournament).