India: Recognizing Pakistan's Paradigm Shift
India's new government must acknowledge the change in internal Pakistani politics, and be innovative.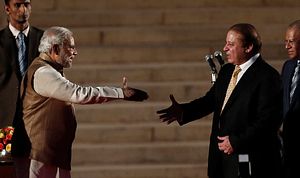 Prime Minister Narendra Modi's invitation to leaders of South Asian Association for Regional Cooperation countries to attend his swearing-in ceremony has been termed a "foreign policy masterstroke." The highlight was arguably Pakistani Prime Minister Nawaz Sharif's attendance, despite a delay in accepting the invitation.
Modi's BJP party has in the past criticized the ex-UPA government's Pakistan policy as too soft, and had vowed in the run-up to elections to take a tough stance against Pakistan. However, Indian leaders must recognize the psychological underpinnings of the Pakistani state, which is central to taming the famously fractious relationship.
Pakistan's military has built the identity of the Pakistani state in opposition to India, and this perpetuation and sustainment of the Indian threat is what has made the Pakistan Army the most powerful and omnipresent institution in its polity. This siege mentality has legitimized its rule in the eyes of ordinary Pakistanis and enabled it to extract the exorbitant funding and revenues that it does, consequently derailing pro-democracy forces and civil society. The military's unprecedented monopoly over Pakistani politics, and the inflated revenue that the myth of the Indian threat derives explains the lack of incentive for the army to better relations with India.
While a tough line on Pakistan may have been appropriate for New Delhi a few years ago, in recent years the state of affairs seems to have somewhat altered. There is a growing realization in Pakistan that India no longer poses the largest threat to the country, and in this realization lies Pakistan's greatest hope of becoming a "normal" country, and not the dysfunctional security state that it currently is. The biggest security risks are those stemming from within the country, and not from external sources like India, a realization that frames the military as part of the problem, rather than the solution. Perhaps nothing can better capture Pakistan's miscalculations and militancy culture than Mohsin Hamid's catchphrase, "To fight India, we fought ourselves."
The Army itself is starting to see the light; evident in its new doctrine's shift in threat assessment, as militant groups they once propelled turn against the state and attack its security apparatuses. According to acclaimed Pakistani author Ahmed Rashid, "The anti-India rhetoric that has been part of Pakistan's entire make-up for over 50 years has now dramatically altered even within the army, which recognizes that we have to deal with the Taliban threat." Indeed, even Pakistan's feared Inter-Services Intelligence has acknowledged that homegrown militants have surpassed India as Pakistan's greatest threat.
Additionally, there is a growing perception that engaging with India is an opportunity to resuscitate Pakistan's stagnant economy, as evident in Islamabad's recent overtures to New Delhi on liberalized trade deals, as well as its three-year economic reform agenda program with the IMF that emphasizes trade ties with India.
The new Indian government needs to acknowledge this gradual and much-needed change in Pakistani mindset; and adopting a tough posture towards Pakistan, something that many in India believe to be imperative and long overdue, would be the wrong step for the new government to take. Thus, Modi's move to invite leaders of neighbouring countries, including Nawaz Sharif, has been pragmatic and welcomed.
As Shekhar Gupta of the Indian Express concedes, "Many Pakistan-watchers, particularly in India, allow our contempt, fear and distrust of the Pakistani army to so cloud our judgment, we fail to see a fundamental, and virtuous change." Pakistan Punjab's Chief Minister Najam Sethi stated in an interview with CNN-IBN's Karan Thapar, "The Pakistani Army no longer considers India to be an existential threat. The paradigm in this country is changing and the sooner the people of India and the Indian establishment realize this, the better it will be for the peace process."
"Getting tough" will not be a viable approach to deal with a neighbor that has historically operated on the paranoia premise that India's prime aim is to destroy it. Jingoistic language and calls for sterner belligerent action on the part of Indian leaders, even in the event of a terrorist attack, are self-defeating; and risk a reversal of this welcomed change in attitude in Pakistan. They will only exacerbate the situation and play right into the hands of the Army, sustaining its ubiquitous status. Suspension of talks should not be an option, as this will only satisfy militants and Islamist hardliners that their destabilization tactics are working. The new BJP government must accurately gauge the situation and envisage the overall direction of its Pakistan policy, rather than respond to events in an episodic and ad-hoc manner as the previous government did.
Pakistan is a complex country with several centers of powers – the Army, the civilian establishment, the ISI, religious groups, and extremist forces. Sharif's delay in confirming his presence at Modi's ceremony, and the recent Taliban attack on the Indian consulate in Herat, Afghanistan, demonstrate the complexities. India needs to be aware that such activities will continue because several players in Pakistan are averse to good relations with India. However, this must not stop the Modi government from continuing to seek closer ties with a Pakistan that is growing out of its existential negative perception of India.
India-Pakistan relations are at a pivotal point in history. As India experiences a change of guard in New Delhi, the first Pakistan government to experience a transfer of power from one civilian regime to another is marking a year in office. The timing is good for the bilateral relationship to move beyond conventional differences, and capitalize on the enormous economic potential of the relationship. India must adopt a constructive and robust, rather than belligerent and reckless, approach to Pakistan, especially in light of this progressive narrative change in internal Pakistani politics. It must be innovative in "normalizing" its relations with Pakistan and review other tactics, including collaborative attempts with other states to diplomatically pressure and stabilize Pakistan, support for civilian structures and accelerated economic engagement. Under the leadership of an assertive and dynamic Modi, India is now well positioned to take these steps.
Shairee Malhotra works at Gateway House: Indian Council on Global Relations in Mumbai, India. She has an MA in International Relations from Queen Mary, University of London.