India and Pakistan: A Debilitating Relationship
After a brief flicker of optimism, bilateral relations have soured once again.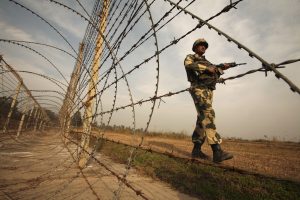 In early November, a suicide bomber detonated himself at a checkpoint on the Pakistani side of the Wagah border, killing sixty people. Immediately after, Hamid Gul, the former chief of the ISI, Pakistan's powerful military-controlled intelligence agency, gave an interview on Pakistani television accusing India of being behind the attack. "We offered our hand in friendship, and this is how they repay us," he said. Despite the fact that the attack was claimed by three different militant groups based in Pakistan, many Pakistanis shares Gul's sentiments. And given how bad relations between the two countries have been recently, that should not surprise.
For a brief moment after Indian Prime Minister Narendra Modi's election victory, there was optimism in both India and Pakistan. In an unprecedented move, Modi invited his Pakistani counterpart Nawaz Sharif to attend his inauguration ceremony. The previous year, when Sharif was contesting his own elections, he made bettering relations with India – "normalization" as both Pakistan and India call it – a campaign promise. Many thought that with two governments both interested in normalization, both having secured solid majorities in their respective election victories and facing little domestic political opposition, it was finally time for the nuclear-armed rivals to move forward.
Unfortunately, it has all been downhill since. Modi has virtually ignored Pakistan, scuttling scheduled talks on the pretext that Pakistan was communicating with separatists from the disputed Kashmir region. He issued a series of statements accusing Pakistan of "waging a proxy war of terrorism," including a speech in the Kashmiri town of Kargil, where both countries fought a mini-war in 1999. An opportunity to meet in New York on the sidelines of the UN General Assembly in September was spurned; both countries have been tight-lipped over a possible meeting at the upcoming SAARC summit in Kathmandu next week, neither showing much optimism.
The diplomatic fallout has had lethal consequences. Within the past few months, border security forces have engaged in heavy shelling across the border, killing dozens of civilians and security personnel, shattering a ceasefire that has held for the better part of a decade. Given the initial optimism, why has the relationship soured so quickly?
Pakistan's Domestic Troubles
The smiles and handshakes at Modi's inauguration notwithstanding, perhaps a more prescient symbol of the relationship was on display in Herat, where four heavily armed gunmen attacked India's consulate on the eve of the inauguration. Both Indian and Afghan security officials blamed militant groups backed and based in Pakistan, which has a history of using militant outfits as a tool of foreign policy in both Afghanistan and the disputed region of Kashmir. Many suggested that the attack was a message from the Pakistani military not just to India, but to the Sharif government as well, namely that it is the military, which relies on its rivalry with India to justify its disproportional budget, that ultimately decides Pakistan's foreign policy – not Sharif. It is hard to argue with that: Under military pressure, Sharif reneged on a promise to grant India "most-favored nation" status despite renaming it "non-discriminatory market access," a policy meant to deregulate and increase bilateral trade.
The military's unwillingness to improve relations also reflects just how deeply antipathy towards India is embedded within its ranks. Despite a concerted military campaign against the Taliban in Pakistan's tribal areas, the military is unwilling to dismiss its policy of patronizing militant groups that target India. The policy, known derisively as "good Taliban, bad Taliban" by critics, asserts that the Pakistan military is only interested in fighting militants that threaten it directly. Others, like the Haqqani Network, which primarily targets  NATO and Afghan forces, or Lashkar-e-Taiba, which primarily attacks India, are either tolerated or, in some cases, provided with support. Hafiz Saeed, the leader of Lashkar-e-Taiba, which conducted the 2008 Mumbai attacks that killed 162 people, roams freely in Lahore with a security detail granted by the government despite repeated calls from India and the United States for his arrest (the United States has even put a $10 million bounty on his head). His continued freedom encourages India to believe that Pakistan is still not serious about tackling its various militants, particularly those who target India.
Sharif has also been severely weakened by protests across the country led by opposition politicians Imran Khan and Tahirul Qadri, both accusing Sharif of rigging last year's elections and calling for his ouster. Protesters staged a sit-in for months right in front of parliament, leading to a cancellation of many foreign visits, including one by Chinese President Xi Jinping (who still went to India, his next scheduled stop). Sharif has lost much of his legitimacy and political capital, and is unable to carry out many of his proposed policies, given the strength of the opposition.
'Muscular' Foreign Policy
Modi's party, the Hindu nationalist BJP, had always accused the previous Congress government of being "soft" on national security, and promised to conduct a more "muscular" foreign policy once in power. This meant a less friendly approach to Pakistan than that of his predecessor, Manmohan Singh, who was seen as more amenable to a deal. Since coming to power, Modi's administration has been combative in its statements, especially in the wake of the cross-border shelling. His right-hand man and the BJP's current president Amit Shah said the Indian government would give "a befitting reply" to the shelling that the Indian government alleged was started by Pakistan. While the fiery speeches might reflect domestic concerns – the BJP faces tough competition from the ruling National Conference party in local elections next month – they have had an adverse impact on Pakistani diplomatic efforts, which have been discouraged by what they see as a lack of reciprocation.
Modi also seems to be more preoccupied with his other campaign promise, making India a global power. Since he became prime minister, Modi has made significant efforts to improve relations with the United States, Japan, China and most recently Australia, where he recently attended the G-20 summit. Given that his stated priority is improving and liberalizing India's economy, Modi may have concluded that spending precious political capital on Pakistan is useless unless Pakistan is fully committed to peace, which it simply cannot be as long as its military is interfering in politics. Given India's superior military and its significant presence in Kashmir, and given the relative infrequency of terror attacks, Modi perhaps believes that India can afford to ignore Pakistan for the time being while he focuses on bagging trade deals and investment contracts from elsewhere.
Persistent Tensions
The tensions come at a time when other links between the two countries are growing. Numerous Pakistani television and movie stars have crossed over the border to find sustained commercial success in Indian movies; musicians perform to packed audiences, and Bollywood remains ever-popular in Pakistan. Citizens on both sides make regular cross-border visits. Even the 2014 Nobel Peace Prize was jointly awarded to Malala Yousufzai and Kailash Satyarthi, a Pakistani and an Indian. (Malala invited both Sharif and Modi to attend the ceremony in Oslo.)
The two governments, however, remain immune to this bonhomie. The impasse comes at a inopportune time. Climate change threatens precious water resources India and Pakistan share, as well as the ability of both countries to feed their citizens. Despite (or perhaps because of) India's heavy military presence, Kashmir continues to simmer, always close to boiling over. As NATO forces leave Afghanistan, regional powers including Iran, China, Pakistan and India jostle for influence. With both Indian and Pakistani military budgets – and nuclear stockpiles – increasing, South Asia is heading towards a nuclear arms race, endangering the stability of the region and its economic integration. All of these issues have direct repercussions for South Asia's security and well-being, and will require concerted and protracted negotiation and cooperation. In the current circumstances, that seems very unlikely.
Saim Saeed is a journalist working at The Express Tribune in Karachi, Pakistan. His work has been published in the New York Times, Al Jazeera America, and The American Interest.