'Indiana Jane' and the Looted Temples of Koh Ker
Cambodia has begun to see the return of national treasures looted during its Civil War.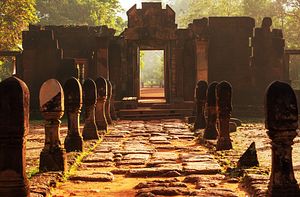 In what has been a long time coming, three 1,000-year-old statues looted in the 1970s were sent back to Cambodia this week after U.S. authorities used their collective clout and had them returned from auction houses Sotheby's and Christie's, and the Norton Simon Museum in California.
Critical to their return was Tess Davis, a U.S. art lawyer and affiliate researcher at the University of Glasgow, who stressed Cambodia had only won the first in a series of battles, in what could prove to be a protracted war over the return of looted art.
"The kingdom has taken on the art market, an entire industry, and a powerful one at that," Davis told The Diplomat. "Collectors, dealers, museums, auction houses, they have deep pockets and top lawyers on their side.
"But Cambodia has something even more important: the truth and the law. And that's something no amount of money can buy."
The three statues – Hindu figures Duryodhana, Balarama and Bhima – were looted during Cambodia's civil war, and officials in Phnom Penh said they were hacked off their foundations and taken from the Koh Ker temples in Siem Reap, not far from the famed 12th century ruins of Angkor Wat.
"Surviving civil wars, looting, smuggling and traveling the world, these three have now regained their freedom and returned home," Cambodia's Deputy Prime Minister Sok An said during a repatriation ceremony.
Davis, dubbed by some as 'Indiana Jane,' said the looting and trafficking of antiquities was a crime that would no longer be tolerated, "not by governments, not by law enforcement, and not by the leaders in the art world itself."
The thefts have also been seen as a symbol of Cambodia's perennial problems, ranging from corruption to a culture of impunity among the country's well-heeled and politically connected.
Davis said Cambodia had given the art world a simple choice, "to do the right thing or not."
She said the Metropolitan Museum of Art in New York and Christie's had stepped up and fulfilled their obligations, but others like the Cleveland Museum of Art and Sotheby's have been more reluctant.
"They are fighting with everything they have to stay in the past, a past where they could do whatever they wanted. They act like antiquated colonial relics, while their competitors have entered the 21st-century, and are thriving in it," Davis said.
The Norton Simon Museum had exhibited the 1.52-meter-high sandstone figure of Bhima for 40 years. It insists the statue, which is missing its hands and feet, was acquired from a reputable dealer in 1976, but the troubles in Cambodia meant it was unclear how the statue was initially obtained.
Cambodia had shut down by then. Pol Pot and his Khmer Rouge had overrun the country and cut it off from the rest of the world, instituting genocidal policies that would result in the deaths of up to 2.2 million people.
Norton Simon said the statues were to be returned as "a gesture of friendship," and in response to a unique and compelling request by top officials in Cambodia "to help rebuild its soul as a nation."
Duryodhana, with a market value of up to $3 million, was put up for sale by Sotheby's in 2011 at the request of the widow of its former Belgian owner. It was pulled and surrendered after a lawsuit was filed by the U.S. government on Cambodia's behalf.
The statue of Balarama, one of six onlookers in an epic battle between Duryodhana and Bhima, was gifted to Cambodia by Christie's. It originally sold the statue to a collector in 2009 for more than $140,000. The statue was brought back after it was learned it may have been illicitly taken from Cambodia.
"The less responsible players in the art world are behaving like Cambodia's victory is the end of the world. Well, it is the end of a world, the one where the market could act with impunity," Davis added.
Five statues looted from Koh Ker have now been sent back to Cambodia, and authorities are pressing museums for the return of another four.
Luke Hunt can be followed on Twitter @lukeanthonyhunt