Manila Gives Thumbs-Up to Japan's Defense Reforms
Philippine President Benigno Aquino visited Japan Tuesday, another signal of closer ties between the two countries.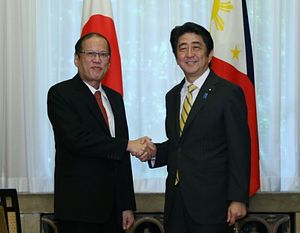 In a Tokyo meeting with Japanese Prime Minister Shinzo Abe, Philippine President Benigno Aquino expressed his support for Abe's attempt to circumvent a constitutional ban on collective self-defense. As Clint noted over on our Tokyo Report blog, Abe's LDP party is close to getting Cabinet approval for a new interpretation of Article 9 that would allow Japan to aid its allies in the case of conflict.
Aquino stated that he welcomed an increased security role for Japan. Aquino told reporters, "We therefore do not view with alarm any proposal to revisit the Japanese Constitution if the Japanese people so desire, especially if this enhances Japan's ability to address international obligations and bring us closer to the attainment of our shared goal of peace, stability and mutual prosperity," according to Japan Times.  Aquino also said that "nations of goodwill can only benefit if the Japanese government is empowered to assist others," Reuters reported. As a fellow U.S. ally, the Philippines believes it will benefit if Japan beefs up its security presence in the region.
In a separate speech in Japan, Aquino emphasized Japan's positive contributions to peace, particularly its role in hosting negotiations between Aquino and the chairman of the Moro Islamic Liberation Front (MILF). Aquino highlighted the importance of Japan's support in the eventual peace treaty signed between Manila and MILF. The Philippines clearly shares the U.S. view that Tokyo has moved beyond its wartime history and is poised to help promote peace and stability in the Asia-Pacific region. At the end of his speech, Aquino urged his listeners "not to be prisoners of our past" — perhaps an implied critique against China for its vocal references to World War II history.
For his part, Abe said that Japan and the Philippines are "coordinating closely" as the situation in the Asia-Pacific becomes "increasingly severe." Both Abe and Aquino underlined the importance of solving maritime disputes according to the "rule of law," an implicit swipe at Beijing, which has been accused of provocative and illegal actions in the South and East China Seas. Manila has filed a case against China's "nine dash line" with an international arbitration court, but Beijing has steadfastly refused to participate in the proceedings.
Given the high tensions between Beijing on one hand and Manila and Tokyo on the other, many saw the Aquino-Abe meeting as a message to China. Aquino was in Tokyo for only one day, but it was the fourth meeting in the past year between him and Abe. Japan and the Philippines have drawn increasingly closer as the two countries both seek to protect their own territorial claims. Japan, for instance, has promised to provide 10 patrol boats to the under-developed Philippine Coast Guard.
Meanwhile, Japan and the Philippines, both U.S. allies, are seen by Beijing as part of a plan to contain China's rise. Accordingly, China's Foreign Ministry was not pleased with the joint statements of Abe and Aquino. Spokesperson Hua Chunying defended China's "legitimate and reasonable concerns" about Japan's new security policy, and urged Tokyo to respect these worries. As for Manila, Hua said that "relevant countries should show sincerity and move towards the same direction with China, rather than deliberately stir up tension and bring additional complicated factors to the regional situation." She reemphasized China's long-held position that the maritime disputes can only be resolved through bilateral negotiations.