Modi in Bhutan: From Energy to Wellbeing
Tiny Bhutan has more to offer India than just hydropower.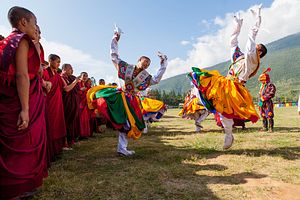 Indian Prime Minister Narendra Modi's arrival in Bhutan today – his first foray abroad – is an indicator that he is planning to begin his energy diplomacy with hydropower.
Bhutan has been a close Indian ally since 1949, although the influence has largely been unidirectional. New Delhi today retains substantial influence over Bhutan's foreign policy, its defense, and its commerce. Bhutan's currency, the ngultrum, is only exchangeable with the India rupee. India continues to provide substantial financial assistance to the tiny, landlocked kingdom, including grants, loans, subsidies, and excise duty refunds.
However, Bhutan's export of surplus hydropower remains a key plank in the bilateral relationship. India has helped Bhutan develop hydropower plants with 1,416 MW capacity, and hopes to develop 10,000 MW for export to India by 2020. Behind Modi's visit to Bhutan is the reality that to maintain the 7 percent economic growth India averaged over the last decade, it will need to find a way to boost its energy consumption by at least 4 percent annually.
Under the so-called Friendship Treaty, India will clearly benefit from Bhutan's help in diversifying India's energy portfolio from non-renewable energy sources to renewables such as hydropower and solar. However, Bhutan needs to move out from India's shadow and showcase its own unique model of development.
Exporting surplus hydropower energy to India might generate benefits for local communities, contribute to the government's coffers, and help Bhutan achieve its happiness. But the kingdom should also try to export its philosophy of Gross National Happiness (GNH).
Coined in 1972 by Bhutan's fourth king, Gross National Happiness refers to the nation's policy of balancing modernity with the preservation of traditions, mostly by resisting laissez‐faire development. The concept implies sustainable development based on a holistic approach, with equal importance accorded to the non-economic aspects of wellbeing. Its concept can be explained by its four pillars: good governance, sustainable socioeconomic development, cultural preservation, and environmental conservation.
For India, which is in dire need of developing a politics and policymaking of pluralism, sustainability and justice, Bhutan's Gross National Happiness offers a new set of perspectives. For instance, under the constitution, the government of Bhutan is required to preserve at least 60 percent of the country's forest, creating a new social contract in which nature is given representation. India's constitution, precious as it is, could benefit from this kind of philosophy, in which nature, ecology, culture, and traditional ways of life are represented. Moreover, GNH offers security with sustainability, democracy with dissent, and a future with alternatives, going beyond annual economic output to look at wealth in its entirety: social, human, natural, mental, physical and economic.
Critics might say that the idea of GNH is just rhetoric, or is premature, and that implementing a new model of development would require a host of resources. Yet Bhutan is trying to build a future that much of the world wants, and in this instance it is better to be approximately right than precisely wrong. Also, the kingdom's screening tools mechanism, which acts as a checklist, is a helpful means of assessing whether a particular policy can be implemented or not.
Hence, the takeaway from this trip for India's prime minister should be that policymaking ought to include the environment, ecology, culture, community, health and education as important criteria for determining a country's wellbeing and development.
For Bhutanese Prime Minister Tshering Tobgay, the agenda should be not strictly focused on securing a market for his country's power, but should also aim to promote GNH as an important tool for creating the future. Tobgay should commend GNH to Modi not only as a tool for India but also as something India could endorse at the global level. Given the need for a new indicator to measure progress against the UN's Sustainable Development Goals for 2015, perhaps Modi could promote GNH at the upcoming UN general conference.
Modi should view Bhutan in something more than just an energy context. From its urban policies to its environmental ethic, India's prime minister should look to its neighbor as a model for a future that India must create.
Gaurav Daga is a public policy analyst and columnist at Kuala Lumpur's leading English daily The Malay Mail Online.