South Korea's Only Astronaut Retires
Yi So-yeon, the first astronaut of Korea, has announced she will retire in August.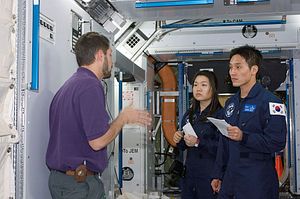 South Korea's first and only astronaut, Yi So-yeon, has announced she will step down from the Korea Aerospace Research Institute (KARI) in August, raising concerns that her departure could further imperil South Korea's goal of becoming a space power.
Yi, who currently resides in the United States, announced her decision in an interview with South Korean daily Dong-A Ilbo this week, stressing her desire to dedicate more time to family.
Yi became South Korea's first astronaut in 2008 when she went to the International Space Station (ISS) on board a Russian rocket. Her journey was made possible by the South Korean government's "Astronaut Project," which took place between 2004 and 2007. More than 30,000 people applied for the honor of traveling to space, and the Korean government spent about 26 billion won ($25.57 million) on the project.
South Korean government has since promoted Yi as the "first astronaut of Korea" in order to garner public support for developing Korea's space program.
Indeed, since returning to earth, Yi's time has been spent overwhelmingly on public relations. This has prompted criticism from some that her venture was a one-time project and Yi has ultimately made few tangible contributions to Seoul's space ambitions.
In fact, the South Korean government itself has been fairly passive in investing in Korea's space program and taking actions to follow Yi's 2008 journey.
KARI's main projects, such as the "Korea manned space program," were all finished in 2012 without many tangible achievements. Its only ongoing efforts since then are joint projects with Japan.
Traditional space powers like the U.S. and Russia send their astronauts to ISS and have them stay there for over six months for experiments. Even Japan, which only launched its own space lab at ISS in 2008, is now sending astronauts there regularly. This further highlights just how far Korea has to go before it will truly become a space power.
"I feel bad that I'm the one always blamed for the failure of the space business even though there are problems with government policy toward the space business," said Yi in her interview with Dong-A.
She also said she has been worrying about her future career as her duties have diminished.
In fact, Yi began pursuing an MBA degree at the University of California at Berkeley in 2012, causing widespread discontent among Koreans who thought Yi was abandoning the responsibilities she had accumulated from the vast investment South Korea's government had made in her.
In her new interview, Yi depicts her decision to pursue a graduate business degree as an integral part of her effort to advance South Korea's space program and science and technology efforts more generally.
"I realized that I should know how the market works if I want to contribute to the advancement of science and technology in Korea. To that end, I need to communicate with more people who are not in science field. That's why I decided to do [an] MBA," she said.
She added that she has been very busy over past two years with her graduate studies, but now she is trying to figure out her next move.
Meanwhile, the South Korean government announced in November of last year that it intends to begin developing a second Korean astronaut for conducting space experiments without other nations' help. So far, however, no specific plans have been revealed.