Taiwan's Desperate Migrant Mothers
When the marriages don't work out, the country's foreign brides often face desperate circumstances.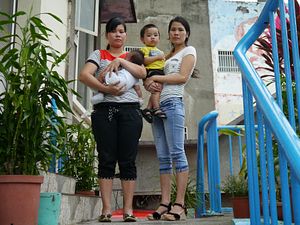 When Shao Lee, a divorced Cambodian immigrant illegally residing in Taiwan, wants to be with her teenage daughter and toddler son for half an hour, she sneaks into the first floor flat in Taipei where the two live together with her mentally handicapped Taiwanese ex-husband. Every time she does this she is terrified by the thought of his clan living on the second floor getting wind of it. Because if they were, Shao Lee says, they would have her deported in order to cut her ties with the children forever.
East Asian economic powerhouse Taiwan has opened its doors wide to blue-collar workers and brides from China and Southeast Asia. According to the Ministry of the Interior there are 41,000 foreign spouses who have not yet acquired Taiwan nationality residing on the island, and one out of every 10 Taiwanese elementary and middle school children now has a foreign-born mother. Despite these dramatic changes to Taiwanese society, the country's immigration laws have been largely left untouched, failing to adequately protect the bond between immigrant mothers and their Taiwan-born children when cross-border marriages go wrong. This holds particularly true for the four-year period during the foreign bride is banned from applying for Taiwanese citizenship, because if her husband wants her gone in that time, she has no automatic right to remain in the country. In cases like Shao Lee's, it would be almost impossible for her to ever set foot again in Taiwan if she were deported, given the daunting hurdles for poor Southeast Asians and Chinese with a bad immigration record to obtain new Taiwanese visas. And although the immigrant mother could in theory be saved from deportation by gaining custody for the child, for example if there is proof of domestic violence, Taiwan's human rights advocates say it virtually never happens.
"The guardianship court's paramount consideration is the financial ability to raise the kid, and that is surely to the detriment of the immigrant mothers because they come to Taiwan with nothing," observes Peter Nguyen Van Hung, a Catholic priest and executive director of the Vietnamese Migrant Workers and Brides Office based in Taoyuan, a satellite city of Taipei.
"And also the four-year period after which a foreign mother could gain permanent residency is meaningless, since her husband might not let her apply for it in the first place, in order to prevent her from leaving him once she has the Taiwan ID."
Hung elaborates that Taiwanese men usually take foreign brides many years their junior, meaning the husbands tend to be jealous. He also observes that Taiwan's harsh immigration law has in the island's central mountain range created "a whole village inhabited by undocumented foreign mothers and their Taiwanese children."
Whereas Shao Lee turned to Taipei-based NGO TransAsia Sisters Association for help after desperate years in hiding from Taiwan's police and the National Immigration Agency (NHI), Nguyen Thi Dao, a Vietnamese mother of a toddler boy, whose Taiwanese father died of lung cancer two months after the child was born out of wedlock, got her support in Hung's small Catholic church. Nguyen came to Taiwan as a blue-collar worker in 2005 after her family in Vietnam took out a $6,000 bank loan to pay the cross-border labor broker, she says, but toiling away for one year in a nursing home for the elderly for NT$8,000 ($265) a month, she came to understand that she would never be able to break even and thus absconded. That move made her one out of the nearly 20,000 Vietnamese workers currently missing, according to statistics from Taiwan's Council of Labor Affairs (CLA).
"I lost 10 kilos in the first year saving as much money on food as possible for my parents, and after I ran away to make more money on an illegal job, I met the boy's father," she says. "I got pregnant, but the cancer killed him so quickly that we did not have time to marry even though both of us wanted to do so."
Nguyen elaborates that because Taiwan fears fake marriages between its nationals and Southeast Asians, it imposes a deliberately cumbersome and lengthy review process, too lengthy for her boyfriend as he lay in hospital dying.
Making matters worse, Nguyen, as an illegal alien, had to bear the child using another woman's identity. If police were to pick her up today, she says, she could find herself in one of Taiwan's grim detention centers, presumably a bad position from which to convince the authorities to replace the name in the boy's Taiwanese birth certificate with hers.
Mental Scars
Hung says that he has seen many foreign mothers and immigrant workers developing signs of mental illness because of their ordeal in Taiwan. Blue-collar workers come to Taiwan heavily in debt, and both they and foreign brides often encounter abuse – from the employer or the husband's clan, respectively – while not knowing the local language and laws well enough and not having the support of someone who does.
"The undocumented workers typically have nightmares, being afraid of arrest and deportation, and if you talk to them, there is only uncertainty, anxiety and hopelessness," he says. "Many of the young women eventually consult psychiatrists, who do nothing except put them on medication."
As he speaks, Hung nods at Ho Thi Ngoc Lang, an unmarried Vietnamese mother with her baby girl seeking shelter in his church. According to Hung, Ho is a runaway worker, who stands accused by prosecutors of having let gangsters use her cellphone SIM card in a crime. Accordingly, she may even face a jail term, "causing her to become so depressive that the baby's skin is covered with a rash," Hung says.
Patchy Support 
Earlier this year, the Taiwanese media was abuzz with the bizarre story of a Vietnamese woman, who turned herself in after having hidden for more than a year in a tomb in the mountains near Taoyuan together with her 5-year-old daughter. The woman's sick and impoverished Taiwanese boyfriend had wanted both of them to stay in Taiwan, but because the mother was in the country illegally, and an DNA test ruled out the boyfriend as the child's father, mother and child were deported together in May.
Amidst a considerable media brouhaha, this was done with a stuffed panda, a school bag, and NT$200,000 ($6,630), all of which was donated by the authorities involved. The heartwarming airport scene smacked of governmental arbitrariness, an impression cemented when I confronted the NIA.
"Considering her human rights, we will take a look at the woman's situation and might then be able to turn it into a special case," says NIA public relations officer "Mr. Lin," who declined to give his full name.
"But some of these women come to Taiwan to work illegally or as brides despite never having been in a romantic relationship with their husband, and it is not good if such people are here."
Jens Kastner is a Taipei-based journalist.