Where Do Trans Rights Stand in Taiwan After Same-Sex Marriage Legalization?
Transgender advocacy has ballooned in Taiwan over the past five years, but so has the backlash.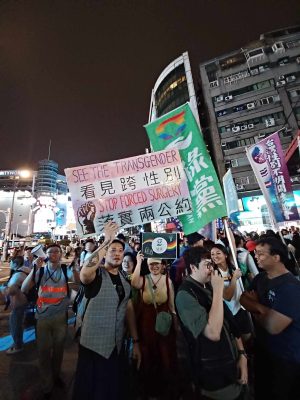 An estimated 5,000 people gathered in Ximending on the evening of October 27 for the fifth annual Taiwan Trans March, making it the largest Trans March to date with around 2,000 more attendees than last year's march. This increased attendance indexes the growing centrality of transgender issues amongst Taiwan's broader LGBTQ+ movement in the post-same-sex marriage era. 
While transgender activism in Taiwan dates back to as early as 2000, when the first transgender advocacy group, Taiwan TG Butterfly Garden (台灣TG蝶園), was established, there has been a dramatic increase in transgender visibility, advocacy work, and public discourse in the past five years. 
The legalization of same-sex marriage in Taiwan on May 24, 2019, failed to bring about true marriage equality for same-sex couples, specifically on the issues of transnational same-sex marriages, same-sex co-adoption rights, and access to assisted reproduction for non-heterosexual spouses. As the fight for true marriage equality continued, major LGBTQ+ advocacy groups substantially increased their work on transgender issues. 
For instance, while the Taiwan Tongzhi Hotline Association (also known simply as Hotline) has been providing social support services for Taiwan's transgender community since 2008, when it established the Haori Transgender Hotline (皓日專線), it wasn't until the fall of 2019 that Hotline organized the first annual Taiwan Trans March. The first march, on October 25, 2019, saw an attendance of just under 2,000; on October 30, 2020, just over 1,500 people attended the second annual Taiwan Trans March.
Another mainstream LGBTQ+ advocacy group that has become central to the struggle for transgender rights in the post-same-sex marriage era is the Taiwan Alliance to Promote Civil Partnership Rights (TAPCPR). TAPCPR had been engaged in transgender rights advocacy before 2019, such as its calls for the abolition of the surgery requirement for changing one's legal gender and demands for the Ministry of Education to intervene on behalf of transgender students in college dormitory disputes. However, there has been a dramatic increase in the number of transgender plaintiffs TAPCPR's legal team has taken on since, such as in workplace discrimination lawsuits and Lisbeth Wu's lawsuit against Chang Gung University over the way the university handled her dormitory placement appeals. 
Most notably, TAPCPR has represented multiple transgender plaintiffs' administrative appeal cases to change their legal gender without providing proof that they have had their reproductive organs surgically removed. 
As Taiwan does not currently have any laws governing gender recognition, legal gender change is regulated under Ministry of Interior executive order #0970066240, which requires people assigned male at birth to surgically remove their penis and testes and people assigned female at birth to remove their breasts, uterus, and ovaries in order to change their legal gender.
On September 23, 2021, the Taipei High Administrative Court ruled in favor of TAPCPR plaintiff Xiao E's appeal to have her legal gender changed from male to female without providing proof of surgery. In this historic decision, the courts deemed the Ministry of Interior's executive order to be unconstitutional and therefore required that Xiao E's local Household Registration Office process her legal gender change application without proof of surgery. On November 18, 2021, Xiao E became the first transgender woman in Taiwan to successfully change her legal gender without providing proof of surgery. 
Also in November 2021, the Taipei High Administrative Court also heard TAPCPR plaintiff Lisbeth Wu's legal gender change case and decided to apply for a constitutional interpretation of the Ministry of Interior's executive order. The Constitutional Courts have the power to compel the Ministry of Interior to change its compulsory surgery rule, whereas the administrative courts can only make rulings on individual cases. 
Xiao E's case spurred unprecedented public engagement with transgender issues, even though attempts to abolish compulsory surgery date back to the last years of the Ma Ying-jeou administration. In addition to galvanizing activists, the legal victory also sparked a backlash.
In the wake of the September 23, 2021, ruling, anti-trans groups mobilized online in defense of sex-segregated spaces and women's rights. The effort included two petitions calling for the protection of women and children through banning hormone replacement therapy and gender confirmation surgeries for all people under the age of 16 and requiring that sex-specific spaces such as bathrooms, spas, and changing rooms adhere to a "physiological/biological rule," admitting only cisgendered people and transgender people who have had their sexual organs surgically removed.
Those concerned about the possibility of abolishing compulsory surgery quickly formed No Self ID Taiwan, the main organization leading the growing opposition movement to transgender rights in Taiwan. One of No Self ID's founders has been quoted in an interview describing "trans ideology as the extension of rape culture," since "women's wills are ignored and forced to satisfy men's uncontrolled desires to be seen as women." No Self ID has also been recorded distributing flyers across Taipei and New Taipei City. 
In addition to this dramatic increase in anti-trans discourse since 2021, there has been a significant increase in supportive public engagement with transgender issues. In broadcast media, Taiwan's Public Television Service has done multiple news specials explaining transgender issues, as well as two prime time television show episodes focusing on transgender people. The Taiwanese government has also funded public engagement videos on transgender issues, such as the Gender Equality Committee of the Executive Yuan's "XX's Room" film in 2020 and Taipei City Government's Office for Gender Equality's "I'm Just a Boy" documentary short in 2022. 
Within the transgender rights movement, TAPCPR has hosted numerous public engagement activities, such as two transgender film festivals and a transgender photography exhibition. Similarly, in 2022, Hotline started a transgender podcast, joining the increasing number of transgender podcasters in Taiwan. 
The combined result of both pro- and anti-trans content creation have launched transgender issues into public discourse. 
As public discourse develops around transgender movement efforts to abolish compulsory surgery, a growing legal consensus has taken shape. While the Constitutional Court ultimately decided not to hear Lisbeth Wu's case, two out of three justices expressed in their decision that compulsory surgery is unconstitutional. On September 21, 2023, Taiwan's Supreme Administrative Court (SAC) made a historic ruling against compulsory surgery, calling the requirement an infringement on multiple human rights. Any administrative court in Taiwan that rules in favor of compulsory surgery from now on will need to make a convincing case contradicting the SAC's unambiguous condemnation. 
Regionally, Hong Kong's Court of Final Appeal and Japan's Supreme Court similarly ruled earlier this year that requiring surgery for people who seek to legally change their gender is unconstitutional. A 2022 policy research report commissioned by Taiwan's Executive Yuan and written by feminist legal scholar Yi-Chien Chen also recommends abolishing compulsory surgery and using instead a "soft medicalization model" for legal gender change that would maintain some requirements. 
While transgender rights have yet to become a campaign issue, third parties and politicians have begun taking public positions on abolishing compulsory surgery. Immediately after the SAC's ruling this September, Taiwan Solidarity Union (TSU), a party supporting Taiwan independence, issued a transphobic statement opposing the abolition of compulsory surgery, which led to transgender activists to demonstrate outside of TSU headquarters the next day. The TSU has since issued more statements clarifying its position, saying that it "respect[s] gays but are against gender change without surgery," and have even gone so far as to rebrand itself as "the only political party that is against abolishing compulsory surgery."

Earlier this year, the Taiwan Statebuilding Party (TSP) politician and 2022 local electoral candidate Wu Hsin-Tai came out in support of the abolition of compulsory surgery, which drew heavy criticism. The TSP is another pro-independence party, but also promotes itself as a progressive, left-wing party.
The day before the fifth annual Taiwan Trans March, Green Party Taiwan announced that their 2024 legislative election candidates will include veteran transgender activist Abby Wu, the first openly transgender woman to run for legislative office in Taiwan. 
Given the growing attention to transgender issues within third-party politics, the possibility of mainstream politicization, similar to same-sex marriage, is more likely in the near future. 
Last week's Taiwan Trans March saw the first public appearance of the newly established Taiwan Association of Transgender Medicine, which was founded by a group of trans-friendly medical professionals seeking to improve transgender healthcare in Taiwan. A variety of civil society organizations, such as Amnesty International, the Taiwan International Workers' Association, and the Taiwan Equality Campaign, marched in support of the transgender community; Green Party Taiwan and New Power Party also participated. 
Overall, the record-breaking attendance of the 2023 march points to the growing importance of transgender issues in the broader context of LGBTQ+ activism in Taiwan. As Taiwan inches closer to marriage equality with the legalization of transnational same-sex marriage (excluding cross-strait couples) and same-sex co-adoption rights earlier this year, more attention and resources are being devoted to Taiwan's transgender movement. It remains to be seen if or when public opinion will catch-up with the growing legal consensus against compulsory surgery, as well as the extent to which transgender issues will play a role in upcoming electoral politics.