A Crossroads for Indonesia
Recent Indonesian elections were a tight race between diametrically opposed candidates.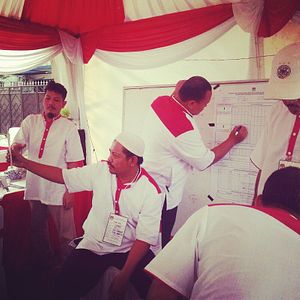 A historic presidential election was held on July 9, after which both candidates declared themselves the winner. There were 190 million registered voters, and 450,000 polling stations with 4.1 million polling workers deployed in more than 6000 inhabited islands across the huge archipelago. This is one of the most polarized elections the country has seen. Voter turnout was an impressive 75 percent given the nationwide excitement over the elections. Indonesia is the world's most populous Muslim country and third biggest democracy, and saw a heated rivalry between Prabowo Subianto and Joko Widodo. The government declared a public holiday and markets were closed to allow people to vote across the far-flung country.
The quick count results suggest that Widodo is the likely winner, with a four to six percent lead. The unofficial results were conducted by independent polling firms that collated vote tallies and took a small sample from each polling station. Less than two hours after the polls closed, Widodo's team held a news conference declaring him the winner. The conference was broadcast live on national television. His opponent Subianto, disputed the unofficial vote count with his own declaration of victory.
Quick counts conducted by these firms have proven to be highly accurate during the previous elections. Experts and analysts have predicted the final vote count may be manipulated, and have raised the prospect of a contested result. There were 250,000 police officers on standby across the country. The police chief promised to crack down on anyone celebrating prematurely. Widodo has overwhelming support from his home district. At 4:30 p.m. his supporters were gathered in central Jakarta near the Grand Indonesia roundabout celebrating Widodo's victory by waving flags and riding motorbikes.
The political standoff is unprecedented in Indonesia, with both candidates being almost even in opinion polls. The election is seen as the most polarizing in the last 16 years, since Suharto's ouster in a new era of democratic reform. Money politics and black campaigns have been a central issue. The losing candidate can challenge the outcome in the Constitutional Court, which is the final arbiter for contested elections. The court has the prerogative to order a recount or revote. Public confidence in the Constitutional Court has been shaken by its former chief justice, who was jailed for life a month ago for accepting bribes while running for office.
Formerly a furniture salesman from a middle-class family, Widodo is affectionately known as Jokowi by his supporters and fans. He is the populist governor of Jakarta who emerged on Indonesia's national political scene less than two years ago. He has twice been the mayor of Surakarta and is currently still governor of Jakarta. His early lead in the polls evaporated partly due to attacks in which he was falsely accused of being a Christian and ethnically Chinese.
Yet the governor is still poised to break the country's cycle of dynastic politics. Former President Megawati Sukarnoputri stepped aside and appointed Widodo as the PDI-P's presidential candidate in March, making him the first presidential candidate who was not on the political scene after Suharto's tenure. His clean image is expected by some to attract foreign investment.
In contrast, Subianto comes from a wealthy background and has ties with the political and business elite in the country. The former general is seen as a military representative of the old system that thrived under decades of autocratic rule. Once married to Suharto's daughter, he is accused of human rights violations, including the kidnappings of pro-democracy activists, some of whom are still missing. Subianto was forced to resign after the fall of Suharto's New Order in 1998. He unsuccessfully contested the 2004 and 2009 presidential elections.
The legislative elections in April this year proved a victory for Subianto's coalition party. Despite a lack of majority rule in the parliament, Widodo has managed to run Jakarta as governor. In a country plagued by corruption, bribery and intimidation are widespread. Both candidates vowed to tackle corruption, bring in more domestic investment and improve infrastructure. Economic development has just begun to flourish after decades of authoritarian rule.  The election is seen by many as a polarized race between a reformer and figure from the authoritarian past.
Indonesia faces pressing issues on economic growth and the move toward manufacturing and other value-added industries. "The reality is that the Indonesian economy faces a tough few years ahead," says Oversea-Chinese Banking Corporation (OCBC) economist Wellian Wiranto. "Indonesia's future really lies with its human resources and how to best utilize the country's young population to develop it into a manufacturing hub."
It will be harder for either candidate to govern on a national level. Widodo may well face some significant challenges, since Subianto has refused to concede defeat. "The Joko camp is clearly worried that there will be fraud in the aggregation process," says political analyst Paul Rowland.  The General Election Commission (KPU) will release the official results no later than  July 22. However it may take a month before the Constitutional Court orders the final outcome. If either party refutes the election commission's decision, the case will go to the court. The new president will replace President Susilo Bambang Yudhoyno, who is barred from seeking a third term, and the winner cannot assume office before  October 1.
Roshni Kapur was an International Visitor for the recent Indonesian presidential elections.