Jokowi's First Week as Indonesia's President-Elect
Early signs indicate Jokowi will remain committed to his populist style of governance.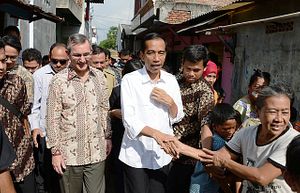 Aside from reaching out to his political opponents, Joko "Jokowi" Widodo spent his first week as Indonesia's president-elect thanking volunteers and asking netizens to choose the members of his Cabinet.
Jokowi was proclaimed winner on July 22 by the Electoral Commission after he received 71 million votes, or 53 percent of total votes cast in the presidential election. He defeated former general Prabowo Subianto, who got 46.8 percent of the votes.
Jokowi was mayor of the city of Solo before he was elected governor of Jakarta, the country's capital. As a politician, he became famous for his non-traditional methods of leadership, like making unannounced visits to government offices to check if civil servants were working efficiently.
Jokowi's victory was instantly hailed as a big boost to Indonesia's democracy, since it is the first time that the country's president will have no ties to either the military or Suharto, who ruled as dictator for more than three decades.
The poor easily identified with Jokowi, who was born in a river bank slum. During the campaign, Jokowi often remarked to the delight of the listening crowd that he is just a "simple man who is skinny and who eats sweetened green bean soup and boiled bananas for breakfast." Many were also inspired by his success as a furniture seller before entering politics. Meanwhile, young people found hope in his agenda of reform.
Jokowi's victory speech highlighted the renewed volunteerism and optimism among the youth. "This presidential election has sparked new optimism for us, for this nation. Free souls and political responsibilities blossom within the souls of the new generation. The long-lost voluntarism (sic) is now back with a new spirit."
And to encourage greater citizen participation, Jokowi surprised citizens when he asked Facebook users to vote for the 34 persons who should join his Cabinet. Jokowi's social media team said this unprecedented and innovative proposal, dubbed the "People's Choice for an Alternative Cabinet," aims to encourage volunteers and citizens to continue influencing the political movement started by the president. During the first day of the poll, more than 18,000 online participants visited the website, which caused it to crash.
After his proclamation, Jokowi called for national reconciliation in a bid to persuade Prabowo supporters to recognize his victory. "No more number one or number two. All is one, for Indonesia," he said. Jokowi has to expand his political base since his party does not control the majority of seats in the parliament.
Another problem for Jokowi is Prabowo's refusal to concede defeat. In fact, Prabowo's party has filed an election protest citing massive fraud and voting irregularities that allegedly distorted the results. Prabowo claimed that they have almost one million documents and 52,000 witnesses to prove that about 21 million votes were either lost or counted in favor of Jokowi.
Prabowo's rejection of Jokowi's proclamation initially caused the Indonesian stock market to plunge. However, Prabowo instructed his supporters not to provoke violence in challenging the election results. "We will continue our struggle to save the republic of Indonesia. We aim for real democracy, we want justice, and we're willing to put everything on stake for the sake of justice. Now we continue our struggle through the legal way, the constitutional way."
Jokowi is expected to survive this legal challenge and his inauguration as president is scheduled for October 22.
Indeed, a new era has begun in Indonesia. Here's hoping it will continue to strengthen the country's commitment to democracy.