After 23 Years, China to Reopen Embassy in Somalia
China will reopen its embassy in Mogadishu, hoping that increased stability in Somalia allows for closer bilateral ties.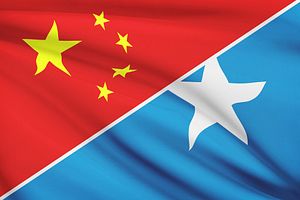 Foreign Ministry spokesperson Hong Lei announced Monday that China will reopen its embassy in Somalia, with a team heading to the country on July 1 to begin the process. China evacuated its embassy in Mogadishu in 1991, due to the Somalian civil war. Since then, China, like many other countries, has handled ties with Somalia through its embassy in neighboring Kenya.
China-Somalia ties were quite close prior to the civil war. Somalia was the first east African nation to grant China diplomatic recognition and helped lobby for the PRC to gain China's seat in the UN. China also sponsored a number of development projects in Somalia, including the construction of roads, hospitals, and sports stadiums, according to Xinhua. The chaos of the Somali civil war, however, brought much of this interaction to a grinding halt.
Despite the lack of a Chinese embassy, China and Somalia tried to maintain economic relations. China sent over $28 million in aid to Somalia between 2003 and 2011, according to AidData. Bilateral trade also continued, although it remained at very low levels — a mere $3.39 million in 2002.
In recent years, China-Somalia relations have been improving as Somali's domestic political situation has shown signs of stabilizing. In 2012, Somalia elected Hassan Sheikh Mohamud as president, in what Mohamud's opponent and predecessor Sharif Sheikh Ahmed called Somalia's first fair election in 42 years. While the world welcomed the election as a positive sign, Mohamud's government has had trouble extending its actual control into the southern regions of the country, which remain largely occupied by the militant group al-Shabaab.
Still, the international community remains cautiously optimistic. As Hong said Monday, China (along with many nations) believes that 2012 marked a turning point for Somalia, bringing "new historical period of national reconstruction" to the war-torn country. As a result, China has been slowly increasing it diplomatic contacts in Somali since 2012, with both countries frequently referencing their historic friendship.
In August 2013, Somalia's vice prime minister and foreign minister, Fowsia Yusuf Haji Adan, visited Beijing on an official visit. During their meeting, Chinese Foreign Minister Wang Yi said that China was willing to increase "economic and trade cooperation" with Somalia and "to actively participate in Somalia's reconstruction."  Soon afterwards, it was announced that China planned to reopen its embassy in the near future. China's Ambassador to Kenya, Liu Guangyuan, visited Mogadishu in September 2013 to meet with President Mohamud and receive land the Somali government had earmarked for the new embassy.
At the same time, trade relations between the two countries have been increasing rapidly. According to China's Foreign Ministry, bilateral trade increased 44 percent from 2012 to 2013, to reach a total value of $150 million.
In early June, the new Somalian foreign minister, Abdurahman Beileh, visited China. Beileh was in Beijing for a meeting of the China-Arab States Cooperation Forum, but he and Wang Yi had a bilateral meeting as well. During the visit, Beileh briefed Wang on the progress the government has made in consolidating control. Beijing must have been reassured enough to make the decision to announce the reopening of its embassy less than a month later.
China is not alone in returning to Somalia. The U.S. has also indicated that it plans to appoint an ambassador to Somalia, although there is currently no timeline for actually reopening an embassy there. The U.K. has diplomatic personnel in Somalia already, and expects its new embassy to be completed by the end of July.