Central Asia's Energy Rush
The region's major powers are in a tussle to control its rich energy sources.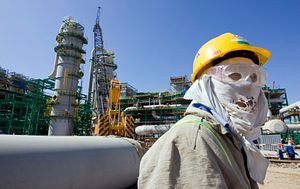 Central Asia is rapidly emerging as the key playing field in the contest to access energy resources and the leverage they offer. The new Great Game is played out once again in the region, only this time it is not over political or territorial influence, but over the vast raw material deposits that are in the possession of the former Soviet Union republics, especially those situated by the Caspian Sea. The Caspian's share of oil and gas global exports is set to rise to 9 and 11 percent, respectively, in the coming 20 years. Much is at stake.
Russia, although not a direct producer, was and still is – given the developed pipeline network – supervising much of an energy transit from Central Asia. The Central Asia-Center gas pipeline system, the first line of which was completed in 1960, makes for a good case study. It allows both Uzbek and Turkmen gas to be delivered to Russia, which then resells it at a profit to energy-hungry Europe or uses it for domestic purposes. Moscow exercises its influence over the region and as a consequence gains both politically and economically.
In the wake of the collapse of the Soviet Union, Central Asian states sought to loosen Russia's firm grip. An independent complex pipeline system was a priority for transporting the resources outward. Given that the Caspian Sea is landlocked, gas and oil need to cross several borders before reaching an end customer. This requires a very substantial investment, yet energy diversification in Central Asia is moving steadily ahead.
State of Play
Kazakhstan is the leading oil producer in the region, with output of roughly 1.6 million barrels per day (bbl/day), of which approximately 90 percent is exported. The Baku-Tbilisi-Ceyhan network that came online in 2006 is not the only Kazakh attempt to break Russia's monopoly. Astana is already one of the most significant oil suppliers to China. The first pipeline connecting the Caspian shore with China's Xinjiang province, is one of the longest links in the world at nearly 2300 km. China in fact controls around 20 percent of Kazakhstan's oil production and is its key trade partner. Bilateral trade should reach $40 billion next year.
Turkmenistan is the main gas exporter and possesses the largest gas deposits in Central Asia and one of the richest in the world. It has similar goals. The first Turkmen undertaking to break Russia's transit dominance was a pipeline to Iran built in 1997. The recent major venture – the Central Asia-China gas pipeline – allows Ashgabat to transfer its hydrocarbons directly to China. Interestingly from a regional perspective, it also offers to connect spurs from Kazakhstan and Uzbekistan.
Beijing already buys the majority of Turkmen gas exports. Yet the volumes sold to China are to be tripled by the end of this decade, while the Russian figures, after a pipeline blast in 2009, have fallen dramatically and show no sign of returning to previous levels.
Considerable investment is also being made in Turkmenistan to build a domestic east-west gas pipeline, which should be concluded by 2016. In addition, a Turkmenistan-Afghanistan-Pakistan-India link is expected to be finalized in the near future. Finally, there is the never ending story of the trans-Caspian connection. It remains highly uncertain, but Turkmen authorities expressed their readiness to supply gas should it go ahead.
Uzbekistan, Tajikistan and Kyrgyzstan – the other three post-Soviet countries in Central Asia – are not yet seen as major energy players. That could change though, with new investments being considered.
Uzbekistan comes first – even before Turkmenistan — when it comes to natural gas production in Central Asia, which at more than 60 billion cubic meters (bcm) yearly. However, around 85 percent of that is consumed domestically, leaving only a limited volume for exports. Being primarily a transit country for Turkmen gas going to Russia and China, Uzbekistan is seeking a way to attract foreign investors and step back from a policy of isolation. For this reason, Uzbek-Chinese cooperation in the energy sphere is growing by leaps and bounds, including a $15 billion oil-gas-uranium deal closed in 2013.
Tajikistan and Kyrgyzstan, with no substantial raw materials deposits – though it is believed oil and gas resources in Tajikistan's Bokhtar field are significant – rely on hydropower. They account for more than 70 percent of Central Asia's total capacity. The principal challenge is to balance the annual summer electricity surpluses, which both countries experience, with the significant winter shortages. In the Soviet era, the exchange system with Kazakhstan and Uzbekistan enabled energy to be transferred and shared within Central Asia. Electricity trade today is a fraction of the level in the early 1990s. Uzbekistan has withdrawn from joint operation, and Turkmenistan and Tajikistan are isolated from the Central Asian Unified Energy System.
Dushanbe and Bishkek are thus looking for international collaboration. There is talk of a Central Asia South Asia electricity trade project that could connect Kyrgyzstan and Tajikistan with Pakistan. The project, known as CASA-1000, might not be implemented, however, due to financial and political reasons. Uzbekistan as a downstream country fears that the new hydropower plants would adversely influence its energy security. Finally, it does not comprehensively resolve the issue of insufficient annual energy flows.
China has naturally emerged as a pragmatic partner for Tajikistan and Kyrgyzstan. Beijing has invested more than $100 million in the Tajik mining sector. The countries have also signed a deal on a gas pipeline and calculate that it will attract additional investment of $3 billion.
Kyrgyzstan similarly benefits from cooperation with the Chinese. A planned $1.4 billion investment in the Kyrgyz strand of the Central Asia-China gas pipeline was announced last year. It is supplemented by ongoing electric grid projects, which aim at upgrading the Kyrgyz domestic network.
Russia's Pivot  
Central Asia is not alone in flirting with China. Russia, which supplies one third of Europe's fuel, is also turning east. As one of the largest world's producers – the runner-up in both oil and gas – the security of demand is on top of its agenda. Energy exports account for half of the country's federal budget revenues. Moscow is keen to lock in new markets.
Russian has already forged a relationship with the Asia-Pacific region. The Eastern Siberia-Pacific Ocean oil pipeline with maximum capacity of 1.2 million barrels a day is also equipped with a 0.3 million bbl/d spur to China. The recent $400 billion Russia-China gas deal only confirms the trend. The new gas pipeline is to be constructed by 2018 and will deliver 38 billion cubic meters of gas a year. That represents 8 percent of Gazprom's annual sales.
Although economically profitable, opening up to Asia is not without risk. Russia could find that in supplying China, it is only fueling the growth of an increasingly powerful rival for influence in the region.
Diversification or Sinification?
Central Asian countries have adopted a multi-vector approach in their energy policies. They are  searching not only for new transit routes, but also for foreign investments that go hand in hand with the pipeline projects. The main goal is to diversify their supply chains, which to date have been heavily dependent on Russia.
The 2013 visit of Chinese President Xi Jinping to the Central Asian republics resulted in energy deals struck with four countries. Tens of billions of dollars' worth of loans to Kazakhstan, Kyrgyzstan, Turkmenistan and Uzbekistan changes the regional energy landscape. Beijing's importance is rising and Moscow's is in decline.
The International Energy Agency estimates that if the Chinese expansion into Central Asia continues at the current pace, Beijing will be importing half of the region's gas by 2020. The Middle Kingdom, apart from being the major economic partner for all the Central Asia's countries, is taking over the most strategic energy branches as well.
This situation could well end up as a win-win game in which Beijing provides funding and Central Asia satisfies China's enormous energy thirst. But if the countries of the region are not prudent they could find that they have escaped the grip of one great power, only to replace it with the dominance of another.
Michał Romanowski is a program coordinator for the German Marshall Fund of the United States in Warsaw.