China 'Shocked' at MH17 Crash in Ukraine
Plus, Russia learns to love China, the UK's role in Hong Kong and the CCP's battle against adultery. Friday China links.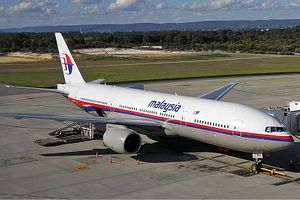 Yesterday, the downing of a Boeing 777 over eastern Ukraine horrified the world. All 298 people on board were killed in the crash. China's Foreign Ministry issued a statement responding to the tragedy, with spokesperson Qin Gang saying "We are shocked at the crash of Malaysia Airlines Flight MH 17 in the eastern part of Ukraine and express deep condolences to the victims as well as sincere sympathy to their families." A follow-up statement from China's Foreign Ministry confirmed that one Hong Kong resident was on board Flight MH17.
Qin also expressed China's "hope that the cause will be found out as soon as possible." Flight MH17 is reported to have been hit by a missile, and Ukraine's government and pro-Russian separatists have both accused the other party of being responsible. China, like other governments around the world, is refraining from speculation as to which side may be responsible. However, an article in Xinhua gave voice to Russian President Vladimir Putin's opinion that ultimate responsibility lies with Ukraine. "There's no doubt the responsibility for that terrible tragedy lays on a state over which territory that has happened," Xinhua quoted Putin as saying.
China's support for Russian positions has not gone unnoticed. South China Morning Post reports that China has risen in Russian esteem even as the U.S. and European Union have plummeted. According to a Gallup poll, the percentage of Russians who approve of Chinese leadership's performance has risen from 25 percent in 2013 to 42 percent this year. Meanwhile, Russia approval of U.S. and EU leadership was in the single digits. That downward trend is likely to continue as U.S. and EU governments respond to the tragedy of Flight MH17 by stepping up pressure to end the crisis in Ukraine.
In other news, The Economist calls for the U.K. government to take a firm stand in support of Hong Kong's democracy activists. The magazine argues that China is slowly doing away with the guarantees included in Hong Kong's Basic Law, a betrayal of agreements made with the U.K. government prior to the handover of Hong Kong. The article concludes, "Britain's outsize diplomatic clout derives from its values as a democracy and its ability as a permanent member of the Security Council to galvanize coalitions. Its behavior over Hong Kong suggests that either or both of those sources of strength are failing, for it seems unwilling to use its clout to defend its values."
Some in the U.K. may feel that London isn't doing enough to support democracy in Hong Kong, but Beijing clearly feels the U.K. government is already interfering too much. Xinhua noted that China lodged a formal protest with Britain after Deputy Prime Minister Nick Clegg met with Hong Kong opposition representatives. "Hong Kong's affairs fall within China's internal affairs. China firmly opposes any interference in Hong Kong affairs by any country under whatever pretext," China's Foreign Ministry said in a statement.
Finally, China Daily reports that CCP officials are now forbidden from engaging in adultery. While accusations of embezzlement and bribery are at the forefront of China's anti-corruption campaign, the Central Commission for Discipline Inspection has also begun a crackdown on "moral corruption," according to China Daily. Tales of high-ranking CCP officials with numerous mistresses have become part and parcel of Chinese corruption scandals, and the CCDI is apparently moving to clamp down on such behavior. "Officials who commit adultery and leave a negative social impression could be removed from their posts and stripped of their Party membership," China Daily noted. It's an important reminder that the goal of the anti-corruption campaign is not merely to end the economic damages that come from corruption, but more importantly to revamp the CCP's image in the eyes of average citizens.