How North Korea Selects its Cheering Squad
Those hoping to join North Korea's cheering squad in South Korea face stiff competition and extensive surveillance.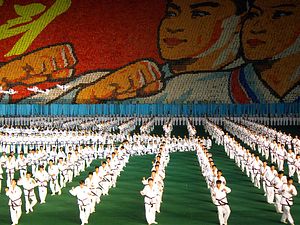 On July 7, North Korea announced it intends to send a cheering squad to the upcoming 17th Asian Games in Incheon, South Korea, which are scheduled to begin on September 19 and stretch into October. The announcement has reportedly sparked an intense competition among North Koreans hoping to secure a spot on the squad.
North Korea has previously sent cheering squads to South Korea on three separate occasions. Each time, the members of the cheering squads were noted by South Koreans for their good looks and highly-disciplined cheering. Cho Myeong Ae, a member of North Korea's cheering squad for the 2002 Asian Games, actually became something of a celebrity in South Korea, shooting a commercial with South Korean singer Lee Hyo-ri and starring in a soap opera jointly produced by the two Koreas. Ri Sol-Ju, the wife of North Korean leader Kim Jong Un, was also a member of a 2005 cheering squad.
Meanwhile, Daily NK reported on July 11 that the North Korean authorities have started the selection process for the country's cheering squad for the upcoming Asian Games.
An unnamed source told Daily NK that talk about the "Asian Athletics Competition" is rampant in Pyongyang. Indeed, the source said that the selection process began immediately after the government's official announcement on the 7th, and it has consumed considerable attention ever since.
The Daily NK report also noted the selection process is extremely competitive and intense. To begin with, only women in their 20s who are active in Pyongyang's cultural arts sector will be considered for a spot on the cheering squad. In addition, candidates have to be taller than 160cm and must be able to pass the state's physical checks, which are conducted by the state intelligence agency, the Department of State Security. The intelligence agency is likely participating in the selection process to ensure the candidates are not at risk of defecting and have no "impure" elements in their families.
Once the "lucky" individuals are selected, they will undergo an extensive crash course to teach them how to act, what to say and the other obligations representatives of North Korea have while traveling in the South.
Although those selected will have the opportunity to visit South Korea, North Korea's extensive surveillance network will be close in tow. In fact, North Korean security guards will accompany them 24 hours a day during the trip, and the squad members will have to submit daily reports about their activities to agents from the state political security department.
Despite all of these inconveniences, demand for a spot on the cheering squad remains high. According to Daily NK's source, an individual's human network is the most important factor in determining who gets selected, although North Korean parents are so eager to have their children visit South Korea that they are doling out bribes to officials.
Unfortunately, all of this may be for naught.  On Thursday the two Koreas held a meeting to facilitate North Korea's participation in the upcoming games. Things did not go well. North Korea proposed sending 350 athletes and 350 cheerers to the games, which would be more people than they ever sent in the past. When the South Korean side pressed for more details about the large delegation, North Korea's negotiators stormed out of the room saying that the talks had broken down. North Korea has since threatened to boycott the games.