North Korea Says It Will Expel Travis King, US Soldier Who Crossed Into the Country in July
North Korea's decision to release King after 71 days appears relatively quick by the country's standards, especially considering the tensions between Washington and Pyongyang.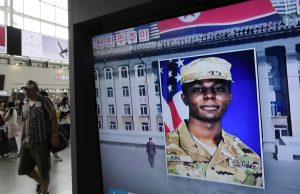 North Korea said Wednesday that it would expel a U.S. soldier who crossed into the country two months ago through the heavily armed border separating the Koreas.
The announcement of Private Travis King's release came relatively quickly and surprised some observers who had expected the North to drag out his detention in the hopes of squeezing concessions from Washington at a time of high tensions between the rivals.
North Korea's official Korean Central News Agency reported that authorities have finished their questioning of King but did not say when officials plan to expel him or where.
King, who had served in South Korea, sprinted into North Korea while on a civilian tour of a border village on July 18, becoming the first American confirmed to be detained in the North in nearly five years.
At the time he crossed the border, King was supposed to be heading to Fort Bliss, Texas, following his release from prison in South Korea on an assault conviction.
On Wednesday, the state news agency said that King confessed to illegally entering the North because he harbored "ill feeling against inhuman maltreatment and racial discrimination" within the U.S. Army and was "disillusioned about the unequal U.S. society."
It has attributed similar comments to King before, and verifying their authenticity is impossible.
"The relevant organ of the DPRK decided to expel Travis King, a soldier of the U.S. Army who illegally intruded into the territory of the DPRK," the state news agency said, using the initials of North Korea's formal name, the Democratic People's Republic of Korea.
The White House, the State Department, and the Pentagon did not have any immediate comment on the report.
Following weeks of silence, North Korea confirmed in August that it had detained King, 23, and was investigating the circumstances surrounding his border crossing.
In an interview last month with The Associated Press, King's mother, Claudine Gates, said her son had "so many reasons" to want to come home.
"I just can't see him ever wanting to just stay in Korea when he has family in America. He has so many reasons to come home," she said.
King, who is from Wisconsin, was among about 28,000 U.S. troops stationed in South Korea as deterrence against potential aggression from North Korea. U.S. officials had expressed concern about King's well-being, citing the North's harsh treatment of some American detainees in the past.
Unauthorized crossings across the Demilitarized Zone separating the Koreas are extremely rare. The few Americans who crossed into North Korea in the past include soldiers, missionaries, human rights advocates, or those simply curious about one of the world's most cloistered societies.
North Korea's decision to release King after 71 days appears relatively quick by the country's standards, especially considering the tensions between Washington and Pyongyang over the North's growing nuclear weapons and missile program and the United States' expanding military exercises with South Korea. Some had speculated that North Korea might treat King as a propaganda asset or bargaining chip.
In the end, the North apparently concluded that King simply wasn't worth keeping, possibly because of the costs of providing him food and accommodation and assigning him guards and translators when he was never to be a meaningful source of U.S. military intelligence, said Cheong Seong-Chang, an analyst at South Korea's Sejong Institute.
It wasn't immediately clear how King might be expelled. In some prior cases, captive Americans have been flown to Beijing. In others, an envoy has been sent to retrieve them.
That happened in 2017 when North Korea deported Otto Warmbier, an American college student who was in a coma at the time of his release and later died.
In December 1994, Bill Richardson — who up until his death earlier this month served for many presidential administrations as an unofficial diplomatic troubleshooter — traveled to North Korea in 2007 to recover the remains of servicemembers killed in the Korea War.
U.S. officials have said that King has been declared AWOL, which can be punished by time in the brig, forfeiture of pay, or dishonorable discharge with the severity based on the amount of time away and whether the service member was apprehended or returned on their own.