Imagining U.S.-China Relations Under (President) Hillary Clinton
Should Hillary Clinton become president in 2016, her negative reputation in China might be a problem.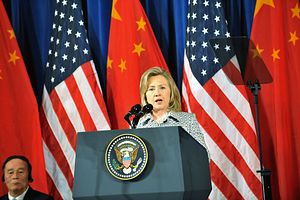 Over at the Wall Street Journal, Brookings Institution analyst Michael O'Hanlon looks at Hillary Clinton's China policy. Clinton is presumed to be the frontrunner to be the Democratic candidate for president in 2016, although she has so far declined to confirm or deny that she will run. As O'Hanlon notes, the China policy of a hypothetical President Hillary Clinton deserves our attention, particularly as Clinton focused much of her attention on the Asia-Pacific region during her time as Secretary of State.
Many analysts have noted Clinton's unusual emphasis on the Asia-Pacific, even for an administration that prided itself on its new focus on the region. Clinton was seen as one of the architects of the "pivot to Asia" — indeed, the policy was heralded by her October 2011 Foreign Policy article entitled "America's Pacific Century." Clinton was also the public face of the pivot (later dubbed the "rebalance"), traveling frequently to Asia and staking out American positions on regional issues. Most famously, in a speech at the 2010 ASEAN Regional Forum she declared U.S. national interests to be at stake in the South China Sea disputes. Clinton's role in U.S. Asia-Pacific policy was so influential that Elizabeth Economy pointed to her departure as one of the major factors hindering the pivot to Asia in Obama's second term.
Given this background, O'Hanlon notes that Clinton's Asia-Pacific strategy, and particularly her thoughts on China, deserves more attention. He points to a "firmness" in Clinton's remarks on China. O'Hanlon quotes from Clinton's recent memoir, Hard Choices, in which Clinton notes the "lukewarm reception" President Obama received during his 2009 visit to China. Clinton's emphasis on China's military provocations, especially in the South China Sea, suggests that she agrees with those who wonder "whether we were seeing a new phase in the relationship, with an ascendant and assertive China no longer hiding its resources and enhanced military capabilities." O'Hanlon writes that Clinton's "respect for China and awareness of how assertive it can be—and the stakes for the U.S.–bode well for how she would handle Beijing as president."
But there's a flip side to Clinton's "firmness" on China — she is remarkably unpopular among officials and scholars in China. In Beijing, Clinton takes the lion's share of the blame for many of the Obama administration's least popular moves during her term as secretary of state, from the more involved U.S. stance on regional territorial disputes to criticisms of China's human rights violations. Clinton's proclivity to take thinly veiled potshots at China during visits to other countries (such as her speeches in Mongolia in 2012 and Tanzania in 2011) also added to Chinese dislike of her on a personal level.
When Clinton stepped down, there was a palpable sense of relief in Beijing. An op-ed in China Daily summed up the prevailing attitudes by comparing new Secretary of State John Kerry to Clinton. "Clinton always spoke with a unipolar voice and never appeared interested in the answers she got. Kerry understands the true multipolar nature of the 21st century world. He listens to the answers he gets," the article said. To many Chinese analysts, Clinton has come to symbolize the worst aspects of U.S. foreign policy: hypocritical preaching on human rights and democracy issues; U.S. meddling in regional affairs where it is not welcome, and, most importantly, a lack of respect for China and its "core interests."
So what does this mean for U.S.-China relations under a hypothetical President Hillary Clinton? To some, Chinese dislike of Clinton is more of a badge of honor than a hindrance. Under this viewpoint, it is better to be feared than to be loved when it comes to relations to Beijing. Australian Foreign Minister Julie Bishop seemed to subscribe to this view when she allegedly told Fairfax Media that "China doesn't respect weakness" (according to Chinese media, Australia's Foreign Ministry later denied the remarks). Bishop promised that Australia would "stand up to China," risking China's wrath in order to win China's respect.
Some in the U.S. would welcome a similar attitude in the White House. As Bill Bishop, creator of the invaluable Sinocism Newsletter, puts it, it "increasingly appears that Beijing does not respect Obama and his second term foreign policy team." To those who feel Obama has lost China's respect, it would be preferable to have the tough-on-China Clinton in charge. Beijing might not like her, but perhaps Xi Jinping and his government would have more respect for her — with the implicit assumption that in this context "respect" directly correlates with the efficacy of American deterrence.
But it's also a major detriment to scuttle the possibility of a good personal relationship between the Chinese and American presidents even before they officially meet. As Chinese blogger Yang Hengjun noted, the deepening relationship between Moscow and Beijing is based in part on the personal connection between Vladimir Putin and Xi Jinping. Political differences and geopolitics dictate that U.S.-China relations will never be smooth, but a personal relationship between top leaders may be the only thing that could help dismantle strategic distrust, which is at dangerously high levels. Strangely, though George W. Bush is not widely lauded for his foreign policy (to put it mildly), his cordial working relationship with Hu Jintao helped stabilize U.S.-China relations during their overlapping time in office.
Obama and his administration haven't had this luxury, though not for a lack of trying. The Obama administration invested considerable time and energy in trying to forge a connection with Xi Jinping, both at the vice presidential and the presidential level. Their attempts were largely unsuccessful, and it shows in Xi's new willingness to look beyond U.S.-China relations in crafting foreign policy. Should Clinton be elected, it would continue the trend of strained personal relations between Chinese and U.S. leaders — for better or for worse.