Nuclear Testing and the South Asia Arms Race
India has the ability to reduce nuclear tension in South Asia within the current treaty framework.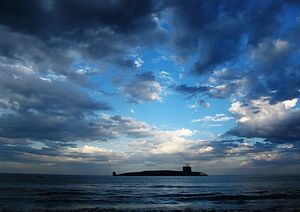 The Comprehensive Nuclear-Test-Ban Treaty (CTBT) remains a key element of unfinished business in the nuclear age. As a growing number of governments and decision makers along with civil society put forward ideas to move the world toward abolishing nuclear weapons, much can be learned from how the CTBT was fought for, opposed, and finally negotiated between 1994 and 1996, when it was adopted by the U.N. General Assembly.
The Treaty's relevance and significance was underscored first in 1998 with nuclear tests carried out first by India and then Pakistan, and then again more recently when the Democratic People's Republic of Korea (DPRK) conducted its own tests in 2006, 2009 and 2013.
Nearly two decades have elapsed since the treaty was opened for signature and yet its entry into force has not been achieved, the consequence of political and geo-strategic obstacles.
In South Asia a nuclear arms race continues, led by India and followed by Pakistan. India has acquired a ballistic missile defense system, invested heavily in satellites, launched a nuclear submarine (the INS Arihant), unveiled ambitious limited war fighting strategies – for instance, its Cold Start military doctrine – and moved away from a concept of deterrence to compellence. Pakistan has responded with, for instance, the fielding of Nasr (a low-yield nuclear weapon), supplemented by full spectrum deterrence. These moves have the potential to erode the prevailing deterrence stability of South Asia, and cause the region to drift toward conflict.
The steady enlargement of nuclear stockpiles and sweeping modifications in conventional as well as nuclear doctrines of these two regional nuclear-armed rivals, combined with a massive influx of foreign technology to India, first under the banner of the Next Steps in Strategic Partnership (NSSP) in 2005 and later the Defense Trade and Technology Initiative (DTI) in 2012, have pushed South Asia toward perpetual instability.
According to the U.S. 2014 Quadrennial Defense Review, "the United States supports India's rise as an increasingly capable actor in the region." The role of extra-regional players is not only "adding fuel to fire" and exacerbating the already fraught regional security environment in South Asia, it is also pushing India to counter China's influence in Asia, at the risk of regional as well international strategic stability.
Changes on its eastern border and a bloody insurgency against the U.S. in Afghanistan have had a deep impact on Pakistan's security calculus. These developments undermine Pakistan's deterrence equation vis-à-vis India, as it begins to feel marginalized.
The rapidly changing strategic landscape of South Asia brings to mind the words of George Santayana, "Those who cannot remember the past are condemned to repeat it." For India and Pakistan, the history of the Cold War could be a guide. The U.S. and Soviet Union accumulated a vast stockpile of nuclear weapons in the 27 years after the first nuclear explosion conducted by the U.S. in 1945, yet later they were still able to sign the SALT-1 accord in 1972.
However, looking at India and Pakistan's rationale for nuclear deterrence and the rapid developments in their conventional and non-conventional weaponry, combined with the transformation of their security doctrines toward an increasing reliance on the "power" of nuclear deterrence, it appears that neither country has learned any lesson from the excesses of the Cold War.
It seems that neither India nor Pakistan have reached their desired maximum number of nuclear weapons, the point at which they might feel there is no need to produce more nuclear weapons or delivery systems.
According to a SIPRI report and IHS Jane's, "India is expanding a covert uranium enrichment plant that could potentially support the development of thermonuclear weapons."
According to analysts, this could potentially be used to make a thermonuclear bomb – something that India has been trying to develop for quite some time, in order to match China, which already has a thermonuclear capability.
The latest revelations regarding India's nuclear program have validated and reinforced Pakistan's apprehensions about its neighbor's strategic buildup. The reports have the potential to further destabilize the complex regional security alignment. Given that Pakistan does not yet possess thermonuclear weapons, a deadly new arms race in South Asia could ensue, something that Islamabad likely wants to avoid.
Both countries will continue to produce fissile material for new weapons and their delivery systems. If the time comes, they will proceed with nuclear testing to validate their acquired capability and ultimately enhance their international standing, at the expense of established international norms against nuclear weapons tests.
In this context, the CTBT remains an essential component of the global nuclear disarmament and non-proliferation regime. Moreover, CTBT constrains the development and qualitative improvement of nuclear weapons and ends the development of advanced nuclear weapons.
At present, 183 states are signatories to the treaty, and 162 states have ratified it. The vast majority of the world's nations have spoken: no more nuclear testing.
What lies behind this political determination is a vision to bring an end to the age of nuclear weapons, a strong desire to establish an international norm against nuclear testing, and a firm political will to advance the treaty's entry into force as soon as possible.
Thus far in South Asia, Pakistan and India have not found it possible to sign and ratify the CTBT, a reflection of regional security exigencies. The continued hostility between India and Pakistan, rooted in territorial disputes, has also increased the imbalance and tension between them. Thus, as long as India remains outside the CTBT, Pakistan will continue to keep its options open.
For its part, Pakistan signaled its intention to sign and ratify the treaty in parallel with its regional adversary, India. Moreover, Islamabad "will not be the first to resume nuclear testing."
It would be prudent for India "as a father state of the CTBT" to take the lead role in signing it. That would enhance its nuclear non-proliferation and disarmament credentials, despite the fact that it received the Nuclear Supplier Group waiver without signing the Non-Proliferation Treaty.
India's move to sign the CTBT will strengthen its bid for membership in the NSG. It will also not only put pressure on Pakistan to follow suit, but also put tremendous global pressure on China and the U.S. to ratify the CTBT and pave the way for its entry into force.
With the recent election in India and a new government led by Prime Minister Narendra Modi, there is a window of opportunity for a bilateral dialogue on regional security and arms control issues. A recent meeting between Pakistan's Prime Minister Nawaz Sharif and Modi demonstrated that there is ample space for both countries to build trust and transparency, and move forward on key issues that include the strengthening of existing nuclear confidence building measures (CMBs), and addressing the issues of a dangerous nuclear arm race.
It is imperative for the two neighbors to begin discussing nuclear and regional security issues within a parallel setting. The 1998 Lahore declaration could be a starting point.
Tahir Nazir is a research fellow at South Asian Strategic Stability Institute. He tweets as @tahirdss.