1947 Partition Archive: Preserving the Past
The 1947 Partition Archive is creating an oral history of a momentous time.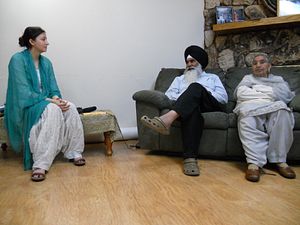 Even those of us who have been direct beneficiaries of the world's digital media revolution are finding it increasingly challenging to retain and sort through information. The chance to mull over a certain story, opinion piece, or photo-essay is fast becoming a luxury. The makers and takers of news are forgetting how to reflect; real analysis is getting lost in the adrenaline rush of instant gratification and consumption.
It is for this reason, and this reason alone, that the need to preserve and archive stories from our shared past become so very vital. Why? Identity. Understanding who we came from and what we endured, the paths our ancestors walked and the paths we tread upon today.
The 1947 Partition Archive, established in 2011, is one such oral history archive doing its bit to preserve a slice of history: shared memories and experiences of the partition of the subcontinent, British India, in 1947. Founded by Dr. Guneeta Singh Bhalla, a physicist, the archive features an abundance of rich, poignant stories of partition from all walks of life.
Born in Delhi, Bhalla and her family immigrated to the U.S. when she was ten. Through her years growing up, Bhalla would listen to personal stories of partition from her maternal and paternal grandparents, both. However, her paternal grandparents' stories had more of an impact on her since they had to leave their ancestral home, their belongings, and their lives in Lahore (the place of birth of Bhalla's father, in Pakistan), and flee to India, immediately following partition. Like countless families, they had to start from scratch.
"I knew it was a really traumatic and large-scale event but I never learned about it in high school here in the U.S.," states Bhalla, "In fact, it was not even mentioned in my textbooks, while in contrast, we learned about the Holocaust in Europe and Hiroshima/Nagasaki for a whole semester in my World History class." This bothered Bhalla. And it wasn't just in school, even during college, "the reaction was always the same: it was probably not 'a big deal' because it was not written about in textbooks."
States Bhalla: "[It] bothered me because the sentiment contrasted so sharply with the stories I heard. The thought that we could let such a massive historical event slip through the cracks without documenting it at the level that it should have been, deeply troubled me."
Even though Bhalla knew she had to do something, she wasn't sure how to put her plan to motion. Years passed and then, in 2008, while visiting Japan for her PhD research work, Bhalla decided to visit Hiroshima primarily because her great grandfather "was stationed there during [WWII] and was not far from Hiroshima when the bomb was dropped."
While visiting the Hiroshima Peace Memorial during her trip, Bhalla happened upon the witness archives of those who had endured the tragedy. "That's when it clicked," she states, "It was so powerful to hear the stories of [the] survivors. Suddenly it was all very real and human and I felt their pain much more than watching videos of the mushroom cloud or reading written accounts of those hours that followed the dropping of the bomb. I knew the same had to be done for partition."
And so, with her camcorder, Bhalla started a series of interviews during a trip to India the year after visiting Japan. "In 2010, the last member of my family who remembered partition as an adult died before I could reach him to record his story. I was living in Berkeley by then," she states, "I was deeply troubled, not only by his passing, but by the tremendous loss of knowledge that my generation was facing. My great uncle took with him an immense amount of knowledge and wisdom, and it was now gone forever. It was the absolute totality of that moment that made me realize that this work needed to be done on a larger scale."
Thus Bhalla's recruitment drive for her initiative began towards the end of 2010. Bhalla and her team decided the best way to collect numerous stories at a rapid pace would be to crowd-source the stories of partition. Currently, the 1947 Partition Archive comprises 11 individuals in South Asia, 18 in the U.S., and more than two hundred "citizen historians" spread out across nine countries. Today, the archive contains 1,100 oral histories, thanks to the dedication and hard work of the team and volunteers.
Anyone anywhere in the world can be a part of the archive, and once on board, as a volunteer, individuals are taught how to record interviews via the archive's online seminars, free of charge.
"Many had not shared [their] stories in such detail even with their families," Bhalla states, in response to her initial experiences interviewing those who had been affected by partition. "It was a powerful experience for me that really fueled my drive for this work. I once interviewed a 93-year-old man in Batala who commented at the end of a very long interview: 'I feel I can die now, thank you.' I felt like we were doing something really positive for all those who had made such huge sacrifices at that time, but did not get the platform they needed to share their stories."
But can the archive serve as a bridge of understanding between both countries? Would it be optimistic to assume that the initiative could aid in rectifying the pain of the past?
"I would love to go on answering this question, but I shall refrain. This leads us into politics and we, at the archive, stay away from politics," Bhalla states, "We are only concerned with human stories – [the] basic emotions and experiences that are common to humans regardless of race, religion, ethnicity or any of those surface differences."
Sonya Rehman is a journalist based in Lahore, Pakistan. She can be reached at: sonjarehman [at] gmail.com