Sino-Jordanian Ties: Growing in the Midst of Turmoil
While its neighbors are in turmoil, Jordan enjoys a growing relationship with China.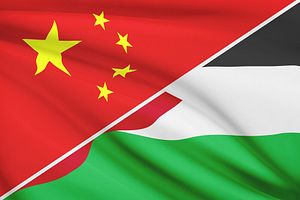 Last April marked the 37th anniversary of Sino-Jordanian diplomatic relations, which began in April 1977. While civil conflict and political instability have thrown its neighbors into turmoil, Jordan enjoys a relatively strong relationship with China.
Trade between Beijing and Amman has increased at a very rapid pace in recent years. In fact, China has become Jordan's second largest import partner and an important source of much-needed investments. Amman mainly exports phosphate and sylvite to Beijing and imports textile, electronics, grains, and light industrial products. It is reported that several Chinese companies have made their way to Jordan. Last year for example, an agreement was signed by the two countries to construct a $2.5 billion dollar oil shale power plant in Jordan to produce 900 megawatts of electricity. The agreement also includes a consortium of China's Shandong Electric Power Construction Corporation (SEPCO III) and HTJ Group along with Jordan's Al-Lajjun Oil Shale Company to build the power station in the city of Karak.
In addition, another deal was also inked between Xinjiang Goldwind Science and Technology Company and China International Water and Electric Corporation to design, construct, and operate a wind-powered 300-megawatt plan in Jordan. This is only the latest in a series of engagements between Amman and Beijing. Earlier in 2012, a major Chinese solar company, Trina Solar, expressed plans to invest $200 million in a solar energy project in Jordan. Although largely unreported, in 2008 a peaceful nuclear deal was also signed between the two countries.
In more recent years, Beijing's ties with Amman have expanded beyond just an economic relationship. In 2008, a Confucius Institute was established in Jordan to promote the Chinese language and strengthen their bilateral relations. The prospect of further cooperation in the field of education was recently discussed, including the establishment of a Sino-Jordanian University. Several websites also indicate that there are a number of Jordanian students who are currently studying in China. On the other hand, some students from China are reportedly pursuing Arabic studies at different universities in Jordan.
Cooperation in the military sector has also become increasingly visible. Early this year, China provided a grant of $4.9 million to the Jordan Armed Forces (JAF) to procure Chinese-made military equipment. This offer came three months after the two countries struck a deal to develop a defense industrial partnership between JAF and China's State Administration for Science, Technology, and Industry for National Defense. Even though China is unlikely to replace the U.S. as Jordan's main military supplier, it is determined to expand its arms exports to Amman as security threats from Jordan's neighboring countries are expected to increase.
Reciprocal relations continue between Beijing and Amman through different channels. As in many Middle Eastern countries, China has been utilizing aid and assistance to strengthen its ties with Jordan. Early last year for instance, as the number of Syrian refugees continued to flood into Jordan, Beijing donated $200,000 in aid to provide medical aid and transport for these refugees. However, this was not the first time for the Chinese to demonstrate their generosity toward their Jordanian counterparts. Between 1999 to 2009, China has offered Jordan 17 grants with a total amount of $57.1 million to fund several development projects in the country. Also, since 1984 China has provided seven interest-free loans for a total of $38.4 million to Jordan. There are also currently several ongoing projects such as the Al-Baqa'a Hospital, low-income housing, and a water supply network upgrade and expansion that are funded by the Chinese government.
To strengthen their relationship, the two countries have also organized several delegations and conferences. The China Fair Jordan has been held annually in the Kingdom since 2004. The exhibition is the largest Chinese products trade show in the Middle East and attracts more than 1,000 Chinese suppliers. On the other hand, Jordan also attended the China-Arab State Expo in Yinchuan last September and the China-Arab Cooperation Forum (CASF) in Beijing last month.
As the growing partnership appears to be mutually advantageous for both sides, China and Jordan are expected to boost their partnership in the coming years. This relationship may expand into fields including tourism, a railway project, culture, and education. For the Jordanians, strong ties with the Chinese offer them low-cost consumer products and much-needed foreign investments. Meanwhile, it opens a wide opportunity for Beijing to access a promising consumer market for its exports and worthwhile investments.
There is also the prospect for a greater partnership in the field of renewable energy. According to Jordan's 2012 Renewable Energy Law, by 2015, 7 percent of its energy will come from renewable sources such as solar and wind energy. It is also expected that by 2015, 25 percent of Jordan's energy will come from domestic sources, which should increase to 39 percent by 2020. To achieve these goals, the Kingdom will require approximately $14 to $18 billion in investments. As Chinese firms are the most economical when it comes to expertise and service, it would make sense for Jordan to turn to China for assistances in obtaining the necessary technology and infrastructure to develop those renewable sources.
At the same time, as the Middle East increasingly occupies an important place in China's foreign policy, building closer ties with Amman would provide China a way to expand its strategic influence in the region. Furthermore, as indicated by politicians from both countries, the ties may also bolstered by Beijing's stance on several issues, such as political stability, the Syrian conflict, and the Palestinian issue, which largely corresponds with Jordan's position. In fact, last year Jordan's King Abdullah II encouraged China to play more active role in resolving the Syrian catastrophe.
Muhammad Zulfikar Rakhmat has lived in the Middle East for seven years. He holds a B.A. in International Affairs from Qatar University and is currently a research assistant at the same university.