The Changing Role of First Ladies
France and Japan are two countries where a traditional role has evolved rapidly of late.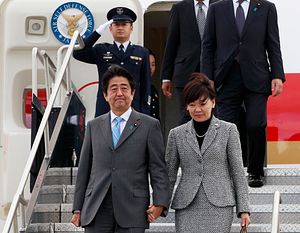 Slowly but surely, women are breaking through the glass ceiling of politics. While this of course is justly celebrated, relatively little attention is paid to a much more traditional role which itself is evolving – that of first lady.
In most developed nations it is hard to find a serious politician who does not support improving women's status and participation in politics. Yet for all that enlightenment, many still take it for granted that a politician's spouse ought to be an obedient and supportive wife standing dutifully by – if not behind – her man at all times.
But as women's rights and conditions have progressed over the years, a few exceptions to this stereotype have begun to emerge, perhaps most noticeably Hillary Clinton in the United States, but also Peng Liyuan, the well-dressed and talented wife of Chinese President XI Jinping, and, increasingly, Akie Abe, the outspoken wife of Japanese Prime Minister Shinzo Abe.
In this article, we consider the recent histories of France and Japan, two nations with both contrasting and similar social traditions when it comes to the role of women, and with first ladies who happily flout those traditions.
France's Independent Première Dames
Despite a reputed tradition of gallantry and a large number of female politicians, French politics is still largely a men's world and the role of first ladies was until the 1980s mostly one of the traditional model of dutiful wife and devoted mother.
Reflecting growing self-assertiveness among French women, however, several independent-minded first ladies have made headlines in recent years for transcending that model.
First to come to mind is the late Danielle Mitterrand, wife of François, France's socialist president from 1981 to 1995. A former Resistance fighter during the German occupation, Danielle devoted herself to the cause of providing humanitarian aid to oppressed people around the world, with a special personal affection for the oppressed Kurds of Turkey and Iraq. Loyal to her own convictions, Danielle crossed swords several times with her husband's government over delicate diplomatic dealings with people she considered to be despicable dictators. She once refused to accompany her husband on an important state visit to Turkey – in her view, one of the main tormentors of the Kurds. The red-faced president had to visit Turkey alone.
Less contentious than Danielle, Bernadette Chirac was already a longtime local politician (as an elected member of a county council) when her husband Jacques replaced Mitterrand as French president in 1995. Among other attributes, she is known for her outspokenness, not hesitating to mingle with her husband's political foes or to criticize some of his political friends.
As Nicolas Sarkozy campaigned to succeed Jacques Chirac at the Elysée Palace, his wife Cecilia declared in a 2006 interview that she hated the role of first lady. And she meant it. As soon as Sarkozy was elected president (2007 to 2012), partly thanks to his wife's talents as political advisor, Cecilia promptly divorced him and departed French shores to live with her lover in New York.
Any distress felt by the divorced president was short-loved, as the following year he married Carla Bruni, millionaire fashion model and popular singer-songwriter. Bruni was known for her liberal political views, even when they clashed with the conservative agenda of her husband's administration.
Sarkozy ended his term with the distinction of being the first-ever sitting head of the French State to have divorced, married, and had a child while holding the Republic's highest office.
Sarkozy was succeeded in 2012 by François Hollande, who made history of his own by moving into the Elysée Palace with an unmarried "partner" in the person of Valerie Trierweiler.
Besides being a political journalist, which raised the question of conflict of interests, Trierweiler's unmarried status posed a headache for protocol officers who had to decide whether she could be considered Première dame. There is no written law in France that defines the status and role of the president's spouse. Even though Valerie did assume the role of first lady at numerous diplomatic functions, the presence of an unmarried partner next to the president did raise eyebrows in more than a few foreign countries where relationships of that nature are still taboo, if not outright prohibited.
The problem appears to have been resolved: Trierweiler left Hollande in January this year following the alleged discovery that the president was having an affair with an actress.
Japan's Unconventional First Lady
Although a modern democracy, Japan is hardly a champion of equality between the sexes. The number of women in politics may have increased, but government is still largely a boys' club, demonstrated clearly by the recent scandal involving a female lawmaker being harassed with sexist insults in the Tokyo Metropolitan Assembly.
In this context, a politician's wife is mostly confined to an invisible, obedient, and supportive role. Until Shinzo Abe returned for a second term as prime minister in 2013, few Japanese could even name the spouse of their prime minister.
Since her husband's return to power, Abe has made a difference, breaking some taboos without going so far as to genuinely embarrass her husband and prime minister. As she told a group of students on June 19, following the failure of Shinzo Abe's first term as prime minister back in 2007, she decided to abandon the stereotype of a politician's dutiful wife and "start using (her) own brain and speak out (her) mind" instead of blindly approving everything said by (her) husband."
To start with, in a country where public displays of marital intimacy are still a social taboo, the 52-year-old Akie has been seen lovingly holding her husband's hand.
What drew both widespread admiration and angry criticism is the way she openly spoke out against certain policies of her husband's conservative and business-friendly government, including deeply divisive issues. This has earned her the nickname "family opposition party." A Mainichi Shimbun editorialist quipped on March 29 that Akie Abe may in fact be more effective in opposing government policies than those hapless opposition parties actually in parliament.
The first controversy arose when she openly questioned her husband's policy of re-starting Japan's nuclear power plants and exporting Japanese nuclear technology abroad, despite the government's failure to resolve the Fukushima nuclear crisis. The more than 40 nuclear power plants in Japan have all been shut down since the March 2011 nuclear disaster at Fukushima. Madame Abe's stance on this issue has been well received by a nuclear-wary population.
In another move against a pet project of her husband's government, the ecology-minded first lady has spoken out against the controversial plan of building towering anti-tsunami breakwaters along the nation's coastline.
Moreover, at a moment when Japan is embroiled in bitter quarrels with both China and South Korea, over territorial disputes as well as over the prime minister's alleged revisionism of Japan's history of aggression against its two neighbors, the unconventional Akie has conspicuously attended parties organized by officials and nationals of these two countries, in defiance of the mounting anti-China and anti-Korea xenophobia in her country.
Somewhat surprisingly, Shinzo Abe does not seem at all embarrassed by this. Not only does he joke about his wife's outspokenness, many critics even suspect that the prime minister and his conservative party may actually be using his wife's dissident liberal voice to soften his hawkish, rightwing image.
In fact, Akie has occasionally been helpful in Japan's troubled diplomacy with South Korea. In a context of bitter feuds, when the leaders of the two neighboring countries were awkwardly avoiding each other at a multilateral summit venue last year, Akie, in all apparent innocence, brushed aside the carefully planned protocol, walked over to the surprised Korean president and gleefully greeted her in Korean, helping to melt the ice between the leaders.
All of which makes the Tokyo Metropolitan Assembly's chauvinists seem that much more anachronistic. It is past time for women to be treated as equal partners in politics. Perhaps a first step in this direction could consist of codifying the role and potential of the spouses of top leaders, be they male or female.
The writer is a Taiwan-born retired French diplomat, having served in French diplomatic missions in Japan, Los Angeles, San Francisco, Singapore and China.