Timing is Everything: Abe's Playbook for Military Normalization
Abe moves closer to passing collective self-defense, despite public protests.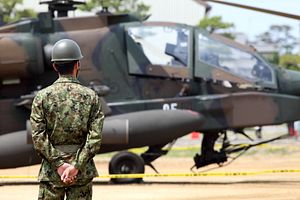 The coalition that makes up the Japanese Cabinet will announce its final unified position on the government's reinterpretation of collective self-defense on Tuesday. Lawmakers told reporters in the morning that the ruling LDP and its junior partner New Komeito had agreed to lift the ban on Japan's Self-Defense Forces, and that an official Cabinet resolution would be released later in the day. There have been some very public and shocking displays of protest, and poll numbers indicate the Japanese people remain unchanged in their opposition to the government's attempts to transition Japan toward a more normalized military.
There is little surprise about Tuesday's announcement. The LDP and New Komeito reached an agreement last week that gave the more pacifist junior partner enough concessions to broadly accept the ruling party's proposals. As The Diplomat reported, last Tuesday the LDP changed parts of its new interpretation to state that Japan can assert collective self-defense if an attack on "a country with a close relationship with Japan" would "clearly cast a danger" on Japan. New Komeito also wanted wording to be included that most of the hypothetical scenarios the coalition had considered could be addressed without resorting to collective self-defense. Nevertheless, it appears the LDP has gotten the majority of its reinterpretation included in the draft, at least in spirit, if not in codified law. The draft will be put before the LDP-controlled Diet during its next session this fall, after which (if it passes) Abe will have completed his legal end-around changing Japanese pacifism, enshrined in Article 9 of its Constitution.
The Cabinet position did not happen without public displays of opposition. Between 10,000 and 40,000 people gathered outside Abe's office on Monday to protest the change, according to the Japan Times. Additionally, a man self-immolated on Sunday on top of a pedestrian walkway near Tokyo's busy Shinjuku station in front of hundreds of people, after denouncing Abe's reinterpretation of the Constitution for over an hour. Despite the huge stir his protest caused on social media, Japan's official NHK news outlet did not cover the event on the day. The government's official spokesperson Yoshihide Suga also refrained from commenting on the self-immolation.
Public opposition to the Constitutional change since the beginning of this year has ranged anywhere from a high of 63 percent in April to a low of 48 percent in May. Two polls since this weekend put the current popular opposition between 58 percent and 50 percent. The public's desire to leave Article 9 unchanged has remained above 50 percent for most of the past six months, despite the government continually pressing its case in the media and while meeting with regional allies both in Tokyo and abroad.
China's official news outlets have released commentary condemning the move, with Xinhua calling the move a "radical turnabout" that puts the country on a "dangerous path… that essentially guts Japan's pacifist charter." China also sent two coast guard vessels into the waters near the disputed Senkaku/Diaoyu Islands on Monday morning, an action that has become less common in recent months, and hadn't happened since June 20. The U.S. however has been vocal in its support of Abe's decision, with the State Department's spokesperson saying Monday that "Japan has … every right to equip themselves in the way they deem necessary. We encourage them to do that in a transparent manner, and we remain in touch with them about these important issues." Australia and the Philippines have also recently voiced their support for a greater Japanese role in regional security.
Abe's team appears to believe that passage of collective self-defense will not cost it too much political capital, and indeed there is no real opposition to take advantage of any weakening in the government's position. However, despite the overwhelming majority the LDP holds in the Diet, the public does not seem ready to follow the government toward a more normalized military footing. This raises the question of why Abe has pushed to do this now. Were Japan to wait until China or North Korea made a gross violation of its territory or sovereignty, public opinion would no doubt swing in favor of collective self-defense. A change in the wording of Japan's Constitution is not likely to have any real effect on regional behavior, or on the preparedness of (and spending on) Japan's SDF. Rather, the government seems to be seeking to reassure allies like the U.S. that it is a capable partner able to support them in a time of need. Abe also appears to be preempting domestic opposition before it can solidify, in order to codify a more normalized military stance in the Japan-U.S. defense guidelines, set to be reevaluated late this year.
The urgency with which Abe has pushed this change may end up making countries like China more suspicious of Japan's military behavior, yet as his allies line up behind him and domestic opposition remains scattered, it looks like the Japanese prime minister has picked the right time to make his move.