US to Sell India Submarine-Launched Missiles
On Tuesday, the Pentagon announced Washington will be selling India submarine-launched Harpoon missiles.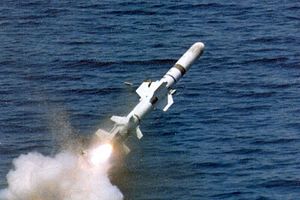 On Tuesday, the U.S. announced its intention to sell India submarine-launched missiles.
The announcement was made in a press release by the Defense Security Cooperation Agency (DSCA). "The State Department has made a determination approving a possible Foreign Military Sale to India for UGM-84L Harpoon missiles and associated equipment, parts, training and logistical support for an estimated cost of $200 million," the press release said. It noted that it sent a certification of delivery to Congress on July 1, 2014.
DSCA elaborated on the sale: "The Government of India has requested a possible sale of 12 UGM-84L Harpoon Block II Encapsulated Missiles, 10 UTM-84L Harpoon Encapsulated Training missiles, 2 Encapsulated Harpoon certification training vehicles, containers, spare and repair parts, support and test equipment, personnel training and training equipment, publications and technical data, U.S. Government and contractor engineering and logistics support services, and other related elements of logistics support."
The press release went on to say that India's Navy would use the new missiles on its Shishumar class submarine (Type-209). It also noted that India's Navy already employs Harpoon missiles on its P-8I maritime patrol aircraft and its Air Force uses the same missiles on its Jaguar aircraft. DCSA said that selling India the submarine-launched Harpoon missiles would enhance India's ability to defend critical sea lines of communication without altering the basic balance of power in the region.
The U.S. has made a concerted push to enhance its arms sales to India in recent years. In early 2013, Andrew Shapiro, the former assistant secretary of state for political-military affairs, said that U.S. military sales to India had jumped from near zero in 2008 to roughly $8 billion. Similarly, according to IHS Jane's, India was the largest purchaser of U.S. military equipment in 2013 buying up $1.9 billion in arms from the U.S. including Boeing's C-17A strategic transport aircraft and P-8I Maritime Patrol Aircraft. Similarly, America displaced Russia as India's largest arms supplier last year.
In the past, U.S. arms sales to India have been stymied by America's reluctance to transfer sensitive technologies to India as well as concerns in Delhi about the reliability of the U.S. in approving sales of spare parts to maintain weapon systems. The Obama administration has tried to overcome these obstacles. For example, former Deputy Secretary of Defense Ash Carter assured industry insiders last year that while "there will always be some technologies we will keep to ourselves, we changed our culture regarding transfer to India in the Department of Defense from a culture of a presumptive 'no' to a culture of a presumptive 'yes.'"
Still, U.S. defense firms have repeatedly complained about the opaque nature of India's bureaucracy and the agencies charged of overseeing arms purchases. This has led the U.S. Department of Defense to play a more active role in serving as a liaison between U.S. defense firms and the Indian government. Indeed, in June 2012 the Pentagon even created an initiative to spur arm sales to India. This initiative was initially spearheaded by Ash Carter. Since Carter returned to private life in December, acquisition chief Frank Kendall has stepped into that role.