Why Asia Won't Sanction Russia for MH17
The U.S. is trying to pressure Asia into imposing sanctions on Russia. This effort is almost certainly futile.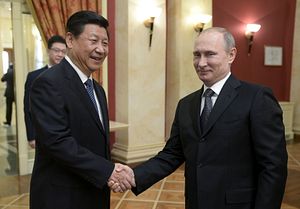 The U.S. is pushing Asian nations to join it and the European Union in sanctioning Russia for the shooting down of MH17. It's unlikely to have much success.
A senior State Department official– which, although unnamed in the reports is almost certainly Peter Harrell, deputy secretary of state for counter threat finance and sanctions– briefed reporters about the renewed effort on Wednesday during a one-day stop in Singapore. The American diplomat traveled to China and South Korea before landing in Singapore, and he intends to spend Thursday and Friday in Japan in an effort to get the region on board with sanctions against Russia. According to the Wall Street Journal, the diplomat was meeting with government officials and private-sector leaders in each country he visited.
"It's certainly our hope that countries in this region—which includes many significant financial and commercial centers—would join us in putting pressure [on Russia]," the State Department official said, according to WSJ. He also said the meetings were aimed at explaining what the U.S. has already done, what it might do in the future and answering any questions.
The U.S. and EU on Tuesday announced new sanctions this week against Russia's banking, energy and defense industries in the wake of the downing of Malaysian Airlines Flight 17 earlier this month.
To date, Asia has not shown much appetite for sanctioning Russia over events in the Ukraine. Only Japan and Australia have imposed sanctions on Russia for its annexation of Crimea and interference in eastern Ukraine. Australia didn't impose any sanctions until June. Japan acted more quickly and slightly more forcefully. In March it suspended visa talks with Russia following its annexation of Crimea. Then, in April it imposed visa bans on 23 Russian individuals. More notably, as Ankit reported, earlier this week Japan announced it was imposing additional sanctions against individuals and groups involved with the annexation of Crimea. It also said it would curtail imports from the Crimea and freeze funds intended for new projects in Russia. Although these latest sanctions have slightly more substance, they are relatively minor compared with the sectoral sanctions the West has adopted.
Despite Asia's reluctance to sanction Russia thus far, the American diplomat in Asia this week expressed optimism that the shooting down of MH17 will spur the region into action. "MH17 being shot down brought home to the world that this is a global problem," the diplomat was quoted as saying.
Don't bet on it. At most, a few Asian nations will adopt largely symbolic sanctions against Russia– but even this is far from guaranteed.
China is in many ways the least likely to impose sanctions on Russia for the MH17 incident. To begin with, President Xi Jinping has made strengthening ties with Russia a top priority of his foreign policy. Moreover, as noted last week, China has been more critical of the West's response to MH17 than Russia's involvement. In any case, Beijing has strong economic interests in Russia and it almost always puts its narrow self-interests above solving "global problems."
India is nearly as unlikely as China to impose sanctions. Russia and India have longstanding ties based on each side sticking by the other during times of need. Indeed, India was the only major country to (more or less) openly support Russia's annexation of Crimea back in March. It also remains highly reliant on Russia arms, and won't risk pushing Moscow closer to Beijing over "global problems" that have little to do with India itself.
Singapore typically only supports sanctions endorsed by the UN Security Council, which are unlikely to happen given Moscow's veto power in that body. Moreover, as a financial hub– along with Hong Kong– it is likely to benefit from any Western financial sanctions that restricts Russia's access to London financial markets.
South Korea also seems unlikely to adopt sanctions against Russia. Just last week South Korean Ambassador to Russia Wi Sung-lac said that South Korea had no plans to follow America and Europe's lead in adopting sanctions. Then, after the meeting with the U.S. official this week, a spokeswoman for South Korea's Foreign Ministry reaffirmed it hasn't committed to sanctions. If it didn't do so over Russia's annexation of Crimea, it is unlikely to do so because of MH17. Like Crimea, it lacks a direct connection to the shooting down of MH17. Unlike Crimea, Russia can maintain some plausible deniability in the downing of MH17.
Furthermore, South Korea has economic and political interests in maintaining strong ties to Russia. Indeed, President Park Geun-hye has sought to deepen ties with Russia during her tenure, with Vladimir Putin even visiting Seoul briefly last fall. Already, two way trade between the countries is around $17.5 billion annually, and Seoul and Moscow are looking to triple direct investment flows over a two year period. South Korea is also trying to capitalize on Russia's growing isolation with the West. Just last week, South Korean debt investors met with officials from Russia's third largest bank to discuss investing in the company. Russia also holds vast amounts of energy reserves, which South Korea would like to tap into in the future. Finally, South Korea knows that Russia could use its ties with North Korea to retaliate against Seoul for any action it takes against Moscow. Maintaining Russia's support on North Korea is far more important to South Korea than the Ukraine.
In many ways, Australia seems like a strong candidate to impose stronger sanctions against Russia. As noted above, it has already sanctioned Russia over the Ukraine. More importantly, 36-38 Australians died on MH17 (news sources differ on the exact number), and Prime Minister Tony Abbott has been as vocal as any other world leader in condemning Russia for its role in the plane's downing.
"Russian-controlled territory, Russian-backed rebels, quite likely a Russian-supplied weapon. Russia can't wash its hands of this," was how Abbott put it on Australian national television earlier this month.
Rhetoric aside, however, Abbott has pursued an engagement strategy towards Russia and President Putin since MH17 in an attempt to get Moscow to force the Ukrainian rebels to allow for the victims' bodies to be taken out of the country. Abbott also seeks Russia's help in ensuring a full investigation takes place.
In order to achieve this, Abbott has all but ruled out more sanctions against Russia. Indeed, when asked if Australia would follow the EU and America's lead in imposing new sanctions on Russia this week, Abbott said, "I know that various things are happening in Europe and elsewhere. That is a matter for the Europeans and others. We are just focused on getting onto the site as quickly as we can. We want to get in, we want to get cracking and we want to get out."
He added: "We already have some sanctions on Russia. I'm not saying that we might not at some point in the future move further. But at the moment, our focus is not on sanctions." As more time passes, and the victims' remains are returned home, any impetus to punish Russia for the incident is likely to fade.
Which leaves Japan. Tokyo is the Asian nation most likely to impose additional sanctions on Russia for MH17. As noted above, Japan has already taken the lead in imposing sanctions against Russia for events in the Ukraine. This is a reflection of its need to retain the support of its G7 allies, and particularly the United States.
Nonetheless, as Ankit and I noted on a recent podcast, and Clint also discussed on Tokyo report, Japan's response to MH17 will be tempered by Prime Minister Shinzo Abe's desire to achieve a rapprochement with Russia. Even after Russia's annexation of Crimea– which for Japan was far more worrisome than MH17 given the potential for China to replicate the model in Asia– Abe confirmed that he still wants Putin to visit Tokyo this fall, and even suggested that Japan will take the lead in bringing Russia back into the G8.
As such, Japan's sanctions to date have been crafted with an eye towards not scuttling the potential rapprochement with Moscow. Furthermore, Russia is well aware of Tokyo's desire to improve bilateral ties, and has sought to play on Japan's fears that imposing sanctions will scuttle that possibility. After Japan announced its most recent sanctions this week, for instance, Russia's Foreign Ministry issued a statement warning, "The imposition by Tokyo of new sanctions on Russia … inevitably threaten a whole range of bilateral relations, and set them back."
At most, then, Japan will only adopt whatever sanctions are necessary to appease Washington. This may be no sanctions at all. The Japanese government is trying to skirt the issue by insisting that it needs to focus on implementing the new sanctions it imposed on Monday. It can also try to play the Iran sanctions card with the U.S. to avoid having to adopt new sanctions on Russia. If Japan is ultimately forced to adopt some sanctions against Russia over MH17, they are likely to be entirely symbolic and not felt much in Moscow.