Japan Sanctions Russia Over Ukraine
New Japanese sanctions against Russia lower hopes for a resolution to the Kuril Islands dispute between the two countries.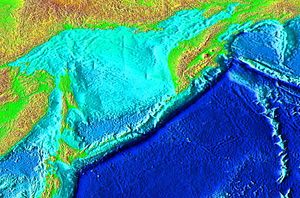 Japan announced that it will impose greater sanctions against Russia over its actions in Ukraine, including support for the anti-Ukrainian government separatists that are accused of shooting down Malaysia Airlines flight MH17. This answers one of the questions Zach and I briefly discussed on The Diplomat's Asia Geopolitics recently: would Japan jeopardize the diplomatic progress made between Prime Minister Shinzo Abe and Russian President Vladimir Putin on potentially resolving the long-standing Kuril Islands dispute in order to bring its policy towards Russia in line with that of the United States and Europe? A consequence of Tokyo's decision to continue to sanction Russia is that the Kuril Islands territorial dispute between the two countries, which appeared to be heading towards a bilateral diplomatic resolution earlier in Abe's second term, will likely be shelved for a different era in Russia-Japan relations.
According to the Associated Press, Japan will freeze the assets of "individuals and groups supporting the separation of Crimea from Ukraine" and restrict imports from Crimea. Japan will additionally freeze funds for new projects in Russia in line with the policy of the European Bank for Reconstruction and Development. The sanctions are yet to be officially endorsed by Shinzo Abe's cabinet but that decision is expected later this week. Chief Cabinet Secretary Yoshihide Suga called on Russia to help resolve the conflict in Ukraine: "We urge Russia to exercise influence over separatist groups in Ukraine so that they will cooperate in the international probe into the Malaysia Airlines shoot-down," adding that "Japan truly hopes that the Ukrainian situation will be resolved as soon as possible through diplomatic dialogue."
The decision to impose sanctions on Russia at this time could affect the short-term development of the relationship between Japan and Russia. Following Russia's annexation of Crimea, Abe notably did not waste any time in issuing a condemnation of Russia's actions. In fact, Japan almost immediately suspended talks on investment and visa reform as part of a sanctions package against Russia at that time.
According to preliminary reports, the announcement of the latest round of sanctions towards Russia has no bearing on a planned visit by Russian President Vladimir Putin to Japan later this year. Suga notes that "nothing has been decided" regarding the fate of that visit. If it does take place, it is likely that talks on the fate of the Kuril Islands may progress, although any resolution of that dispute will require Japan to break with the West on sanctioning Russia — something that is unlikely to do.
As J. Berkshire Miller reported in The Diplomat last year, Abe made efforts almost immediately following his December 2012 landslide electoral victory to begin a diplomatic process on the Kuril Islands dispute. He dispatched former Japanese Prime Minister Yoshiro Mori to Moscow, later following that high-profile overture on the issue with a meeting between Japanese Deputy Foreign Minister Shinsuke Sugiyama and his Russian counterpart Igor Morgulov. Since then, Russia's international isolation over the Ukraine crisis has made any progress on the Kuril Islands dispute difficult for Japan. For the moment, all eyes will remain on a possible Putin visit to Tokyo later this year. That will likely be the next venue where the issue is mentioned with any seriousness between the two countries — if it is still on the negotiating table at all, that is.