Afghanistan: A Taliban-Humanitarian Affair
Humanitarian workers in Afghanistan are finding it increasingly necessary to engage with the Taliban.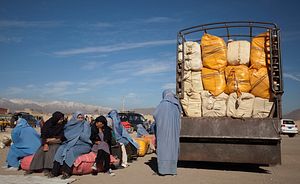 As the Muslim world celebrated Eid-ul-Fitr, Afghan Taliban fighters wore new clothes, turbans and shoes – gifts from aid workers.
Traditionally parents in Afghanistan endure extra expenses to buy new clothes for their children and sweets and dry fruits for the Eid festival, which marks the end of the holy month of Ramadan.
Although young, most Taliban rank-and-file fighters do not enjoy the typical blessings of an Afghan household Eid, because they're often deployed away from home.
This year, however, the Eid felt different in Taliban ranks in the south of Afghanistan. Many fighters wore new clothes (the famous Afghan shalwar kameez), new turbans, and new shoes. Some commanders even got a brand new watch.
The gifts were secretly provided to the Taliban by a local aid agency.
"This is not bribery," a director of an aid agency told me "this is a form of confidence-building and a sort of modus operandi in areas under the Taliban control."
The official spoke to me on condition that neither his name nor the title of his non-government organization (NGO) be mentioned due to security concerns.
"Everybody does so. Businessmen, drug traffickers, mobile phone companies, and even senior government officials try to be nice with the Taliban," the NGO official said.
Hafizullah Ahmadi, a representative in the Kandahar provincial council where the Taliban spiritual leader Mullah Mohammad Omar resided and worked away from public view for several years, said that rewarding the Taliban had become a norm for everyone.
"No matter what you do here, you have to fear the Taliban and pay them off as much as  you can in order to stay unharmed," Ahmadi said.
The Taliban has even been paid off in U.S. taxpayers dollars, indirectly. Private security companies and other firms which are hired by U.S. Government entities in Afghanistan have paid security money to Taliban commanders to avert attacks, according to Congressional investigations.
The National Solidarity Program (NSP), a development financing system funded by U.S. and other donors in which village councils decide spending priorities, has also been infiltrated by the Taliban. "The Taliban would normally take half of a project's funds and only then would allow the project [to begin]," said Noorullah Islam, a former NSP official in Kandahar's Shah Walikot District.
Other Names
There was uproar in May 2010 when it was reported that the International Committee of the Red Cross (ICRC) gave first-aid kits to Taliban in Afghanistan to treat their wounded warriors.
One Afghan official was quoted by British newspaper The Guardian as saying the Taliban "are like animals" and many angrily wondered why a humanitarian agency was aiding a terrorist group. The Taliban, then, were not even considered "combatants" in the legal sense and scores of their fighters were incarcerated indefinitely by U.S.-NATO forces without access to any form of judiciary.
But after more than 13 years and as the U.S. combat mission in Afghanistan comes to an end this December, and with tens of thousands of troops already gone from the battlegrounds, the Taliban is finding itself enjoying some measure of goodwill among humanitarian groups in Afghanistan.
"Without Taliban support we cannot consistently access every under-5 child in Afghanistan for polio immunization," Shona Barry, a spokeswoman for the Geneva-based World Health Organization (WHO), told me recently when I interviewed her for a story for Voice Of America's Afghan Service.
The Taliban have banned polio immunizations in the volatile Afghan province of Helmand. They are suspicious that some health workers involved in the anti-polio drive were also spying on Taliban commanders. The WHO, which sponsors polio immunizations in Afghanistan, has rejected the charge and is in talks with Taliban liaisons to waive the ban in Helmand Province.
On July 12, a health clinic funded by a Swedish humanitarian organization was damaged in a firefight between Taliban insurgents and pro-government forces in Laghman Province. The Taliban initiated the fight but the NGO blamed Afghan Local Police (ALP) for setting up a checkpoint near the clinic.
"It is extremely worrisome that no action has been taken in moving the ALP checkpoint by a few hundred meters at safe distance from the clinic and that ALP personnel obviously still had not been given sufficient training to respect patients, medical staff and facilities in times of conflict, despite commitment to do so," the NGO said in a statement.
In their public statements and speeches, the humanitarians do not call the Taliban "terrorists" or even insurgents as they are widely referred to, and instead use the neutral term "armed opposition." In private communications, however, most aid workers use the "Islamic Emirate of Afghanistan" to address the Taliban – the self-proclaimed Taliban title for their movement.
Talking to War Criminals
At least 15,628 Afghan civilians have been killed in the war since 2009, with tens of thousands wounded, according to a UN count.
The Taliban are responsible for most of the casualties – more than 11,000 civilian deaths – because of the group's indiscriminate attacks. Most civilians have perished in Taliban suicide attacks and improvised bomb explosions too often in highly civilian locations.
Taliban gunmen have also been accused of killing humanitarian workers on numerous occasions. At least 14 de-mining personnel were shot dead in June and July and two international employees of the International Assistance Mission were killed in Herat Province on July 24.
Of course, the Taliban rejects claims it has killed civilians. In a recent suicide attack in Paktika Province which officials said was a routine Taliban crime, 41 civilians, six of them children studying at a mosque, were massacred. The wanton killings were particularly condemned for taking place in the Muslim holy month of Ramadan. The Taliban denied any involvement.
Systematic and deliberate killings of noncombatants by a warring party qualifies as war crimes under international humanitarian laws. The Taliban has killed an average of six civilians every day over the past five years.
Taliban insurgents are also abhorred globally for their inhumane treatment of women; for cutting off voters' fingers; for brutally silencing freedom of expression; and for innumerable other misdeeds.
Despite this brutal reality, there is a voracious and increasing appetite among diplomatic, intelligence and humanitarian circles to engage Taliban representatives in civil and political talks.
The U.S. government negotiated the release of Sergeant Bowe Bergdahl in exchange for five Taliban prisoners; UN agencies maintain dialogue with Taliban on different platforms; the Afghan Government seeks a political tête-à-tête with Taliban leaders; and the Royal Qatari Government even hosts a Taliban political office in Doha.
For aid agencies, work is impossible without inking an agreement of mutual trust with the Taliban.
"In order to work in the vast majority of the country, you have to talk to the Taliban," Ashley Jackson, an independent humanitarian analyst with extensive work experience in Afghanistan, told me.
Others actually laud the Taliban for their respect for a safe humanitarian operating space. "Given the asymmetric nature of this war, the Taliban are far more mindful of civilian and humanitarian space than some pro-government forces," said an aid worker who did not want to be named because he works in Afghanistan and was concerned about his safety.
Hearts and Minds
Except for the temporary polio ban in Helmand Province, the Afghan Taliban have maintained a working relationship with most established humanitarian organizations. This despite the fact that the insurgent group has been at war with most of the Western countries that fund aid operations in Afghanistan.
Unlike the Pakistani Taliban, who are very suspicious of aid workers, particularly after it was made public that the U.S. Central Intelligence Agency had launched a bogus polio immunization drive in Pakistan to track down Osama bin-Laden before his killing in May 2011, the Afghan Taliban seems open to humanitarian dialogue.
Before Barack Obama reshuffled the Afghanistan war strategy, it was common to hear the motto "winning hearts and minds" as the epicenter of the Coalition's policy in defeating the Taliban in Afghanistan. The slogan is dead now and the unfulfilled objective has been replaced with a full exit by 2016.
The number of hearts and minds won by the U.S. military over the past 13 years in Afghanistan is debatable. The minds of humanitarians are, however, very much with the Taliban. Their hearts, like those of ordinary Afghans, may well be elsewhere.
Akmal Dawi is a Washington, DC-based Afghan journalist. He tweets from @Kabul3