Beijing's Booming Population Risks Instability
Pollution and rapidly increasing rural migrants could quickly outstrip Beijing's ability to cope.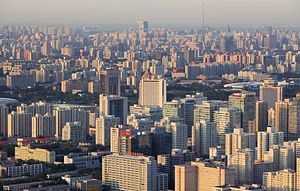 Beijing is beginning to grapple with the idea that its population may double in size in the not too distant future. A report from Bloomberg showed how the Chinese capital's population grew 53 percent from 2000 to the end of 2013 to 21.1 million people within its metropolitan area. The city already struggles with some of the worst pollution on earth. A report from China's own Social Science Academic Press and the Shanghai Academy of Social Sciences in February this year said the city was "barely suitable" for living, and ranked Beijing behind only Moscow for pollution out of 40 global cities.
Effectively doubling the city's population, or simply increasing it to 30 million within the next decade, would exacerbate a whole host of problems. Aside from pollution, being able to effectively incorporate such a large influx of what will likely be mostly rural migrants will further strain the city's limited social services and infrastructure. This could very well create political tension in the Chinese capital that the ruling Chinese Communist Party will be unable to avoid.
That pace of Beijing's population growth is not expected to slow significantly in the near future. A senior fellow at the Brookings Institute and sociology professor at the University of California at Irvine, Wang Feng, said the city should plan for a population of 50 million, as the capital broke its own 2020 population estimate of 18 million by 2010.
Mayor Wang Anshun has implemented piecemeal policies intended to slow growth, such as limiting low-cost housing and continuing to limit social services to citizens without the proper hukou documentation (largely rural migrants). Unlike Shanghai, which has experienced similar recent growth rates yet has managed congestion through the auctioning of license plates and higher subway fees (which in turn generate more funds for infrastructure), Beijing still largely subsidizes public transportation and its lottery system for license plates has proven inefficient and in some cases avoidable.
Beijing is in the awkward position of being one of the few global cities seriously attempting to curtail growth because it is unable to cope with the side effects. Perhaps it can incorporate some of Shanghai's more successful policies for limiting congestion, which might mitigate some of the worst of Beijing's pollution problems. However, a doubling of its population would create even more serious political problems, especially if a large portion of the new population are rural migrants without access to social services and legal entitlements. That could prove to be a much bigger headache for China's leadership than pollution.