China Drafts Rules for Hong Kong Elections
Details of the draft suggest Beijing is holding to a hard-line stance in the face of pan-democrat opposition.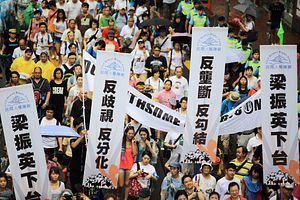 The Standing Committee of the National People's Congress (NPC), China's legislature, has drafted a set of rules for Hong Kong's chief executive election in 2017. The election, which will determine Hong Kong's top leader, has become a focal point for clashes between pan-democracy advocates, who demand universal suffrage and popular nomination of candidates, and the pro-Beijing camp, which wants all candidates to be selected by a committee that is friendly to mainland China.
According to Xinhua, the draft resolution presented on Wednesday was formed after considering Hong Kong's Basic Law, a report from current Chief Executive CY Leung, and recommendations from the State Council's Hong Kong and Macao Affairs Office.  Details of the draft will not be formally announced until a plenary session of the NPC votes on the proposal this Sunday. But Hong Kong media outlets such as South China Morning Post have uncovered some details of the draft proposal, and are saying that the NPC draft is even more restrictive than Hong Kong legislators had expected.
The proposal would allow for the first ever direct election of Hong Kong's chief executive. However, the field of candidates would be limited to two or three. In addition, each candidate would have to be approved by a nominating committee — essentially, the same 1,200 person committee that selected current Chief Executive CY Leung. Current reports indicate that the threshold for approval would require candidates to be backed by 50 percent of the committee, which would make it effectively impossible for anyone from Hong Kong's pan-democracy opposition parties to even serve as a candidate in the 2017 election.
Hong Kong's pan-democracy camps have long advocated for the direct nomination of candidates as a prerequisite for a fair and free election. They argue that the nominating committee would essentially act as a tool for Beijing, limiting the choice of potential candidates to those who have the mainland government's stamp of approval. Beijing has shown no sign of bending on the issue of candidate nominations, but some had hoped for a more realistic compromise: a lower threshold of approval for candidate nominations, a larger field of potential candidates, or simply a larger (and presumably more inclusive) nominating committee. The draft as outlined by media reports contained none of these potential olive branches.
Accordingly, pan-democrats have already dismissed the proposal as unacceptable, and have promised to veto it should a similar proposal be submitted to Hong Kong's Legislative Council (Legco) for approval. For the proposal to get the necessary two-thirds majority vote, it will need votes from at least five legislators affiliated with the pan-democracy movement. According to the Global Times, there are already plans for Li Fei, the chairman of the NPC's Basic Law Committee, to give a seminar in Hong Kong on September 1 in an attempt to convince Hong Kong's legislators to accept the proposal.
Li will be fighting an uphill battle. Several opposition lawmakers have already threatened not only to veto the proposal but to join the Occupy Central Movement in protest. Occupy Central is a protest movement demanding that Hong Kong's elections be held according to international standards for democracy — meaning not only universal suffrage and direct elections, but direct nominations of candidates. In June, Occupy Central sponsored an unofficial referendum allowing Hongkongers to vote on different proposals for Hong Kong's future elections. In a sign of the impasse between the movement and the government, all three of the proposals on the referendum had already been dismissed by Hong Kong and Beijing officials as unfeasible.
The organizers of Occupy Central expect the official draft proposal from Beijing to provide a boost for the movement. Benny Tai, one of the founders of Occupy Central, promised "wave after wave" of protests, to begin in September. Chinese media outlets have downplayed the risk, saying the protests will likely not materialize.
No matter what happens with Occupy Central, Beijing has strongly signaled that it will not back down. Earlier this year, a white paper on "one country, two systems" issued by the State Council emphasized that Hong Kong is still under the authority of the mainland government, and thus that Beijing has every right to demand the Hong Kong chief executives be loyal to the PRC as well as Hong Kong. The draft resolution saw Beijing making good on its promise not to compromise.
In addition, there's little expectation that the draft will be changed in the future. Cheng Yiu-tong, a Hong Kong Deputy to the NPC, said that the possibility for amendments to the draft "is not high — it's almost zero." He added that because the standing committee had already approved the draft, and the NPC members "have strong expectations" that it will be approved, "I can't see any possibility for making changes."
The Chinese government seems determined to stay the course no matter how big the protests get. Hong Kong delegate Ng Chau-pei quoted NPC head Zheng Dejiang as saying, "There may be some difficulties, but the country is prepared for them and the Central Government is mentally prepared for this." Along similar lines, an editorial in the Global Times urged China to "bear all the pressure" of the Occupy Central movement in order to preserve Hong Kong's long-term stability. "Consolidating Hong Kong's return comes with a price," the editorial said, while predicting an ultimate victory for Beijing: "The Chinese mainland and Hong Kong will have inexhaustible resources to make extreme opposition groups and their supporting forces desperate."