China Leaks News of Third-Generation ICBM
Plus, China seeks Israel-Hamas ceasefire, violence in Xinjiang, and more on the Zhou Yongkang case. Friday China links.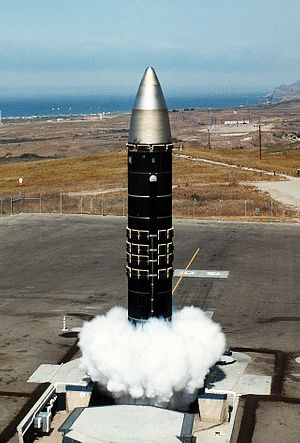 This week's China news links:
Agence France-Presse reports that a Chinese government agency has acknowledged China's development of a new intercontinental ballistic missile, the Dongfeng-41 (DF-41). The missile is designed  to have a range of 12,000 kilometers (7,500 miles), putting the United States within range. The U.S. Defense Department believes that the DF-41 is capable of carrying several nuclear warheads. The Chinese media report, quoted by AFP, said that "developing third generation nuclear weapons capable of carrying multiple warheads is the trend" as the U.S. strengthens its missile defense systems.
With more on the story, Reuters says the news may have leaked out inadvertently. The government confirmation of the DF-41 came from an online notice posted by the Shaanxi Provincial Environmental Monitoring Center Station. The posting, which was later removed, said that a Chinese military installation in Shaanxi was developing the weapons. China's Global Times then ran a story on the DF-41 based on the Shaanxi government post, complete with screenshot. The Global Times article was also deleted, suggesting that higher-ups had ordered the news to be scrubbed.
In other news, China is attempting to take a more active role in the Israel-Palestine crisis. China's Foreign Ministry said in a statement that "Foreign Minister Wang Yi will soon travel to Cairo to have in-depth discussions with Egypt and the Arab League on achieving ceasefire and working together to promote peace." China has previously expressed support for Egypt's ceasefire proposal for Israel and Hamas. The latest attempt at a ceasefire, the result of negotiations by the UN and U.S., has already fallen apart. The Foreign Ministry statement also said that China "has provided and will continue to provide assistance to Palestine, including the Gaza Strip."
Meanwhile, the latest violence in Xinjiang apparently included the murder of the imam of China's largest mosque, Al Jazeera reports. Jume Tahir was the government-appointed leader of Id Kah mosque in Kashgar, which can hold up to 20,000 worshippers. He was reportedly killed by three religious extremists. Al Jazeera notes that Tahir was likely targeted for his "high-profile support for the government… and his criticism of violence in Xinjiang." In response to the violence in Kashgar prefecture, China is sending additional security forces to Xinjiang. People's Daily tweeted that "9 terrorists have been gunned down in Hotan" (in southwest Xinjiang) after 30,000 locals joined with police to hunt for terrorists.
Finally, the Kissinger Institute's Robert Daly explains the reasoning behind the Zhou Yongkang case in an interview with Deutsche Welle (DW).  Daly notes that the immediate impact of the investigation will be muted. "The [political] shockwaves were sent long before the announcement of the investigation," Daly said, pointing out that Zhou has been unofficially under investigation for months. Xi has had ample time to lay the groundwork for this week's announcement. Daly also rebuts those who believe Zhou's pending ouster was merely the result of political infighting. "Xi could get his people in place without an unprecedented investigation of a former Standing Committee member. The evidence to date is that Xi really does want to improve the CPC's [Communist Party of China's] reputation, whatever his other goals may be."