China's Global Times Mocks Obama
The state-run paper carried an editorial on Tuesday that mocked and taunted the U.S. president.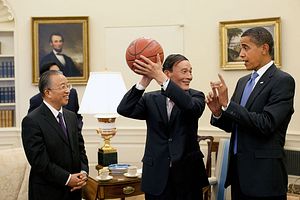 The Chinese state-owned tabloid, the Global Times, blasted U.S. President Barack Obama in an editorial on Tuesday, calling him "self-contradictory" and claiming "diplomacy will not be a proud part of his legacy."
The context for the editorial was an interview President Obama gave to The Economist, which was published over the weekend. President Obama discusses China at some length in the interview, including calling disagreements with China "manageable," and saying "I think it's important for the United States and Europe to continue to welcome China as a full partner in these international norms."
However, at one point in the interview, Obama he states: "One thing I will say about China, though, is you also have to be pretty firm with them, because they will push as hard as they can until they meet resistance. They're not sentimental, and they are not interested in abstractions. And so simple appeals to international norms are insufficient. There have to be mechanisms both to be tough with them when we think that they're breaching international norms, but also to show them the potential benefits over the long term. And what is true for China then becomes an analogy for many of the other emerging markets."
The Global Times editorial board said that President Obama's foreign policies upon first taking office in 2009 gave hope to the world, before claiming that "he has become more self-contradictory" over time.
In discussing Obama's comments about China and Russia during The Economist interview, the Global Times editors wrote, "[Obama] hasn't shown much belligerence to China and Russia since he took office, but apparently, he lacks strategic insight and the power to control his government and be a good decision-maker. His advocacy is always ambiguous and easily misguided by some emergency issues. Diplomacy will not be a proud part of his legacy."
The editors went on to chide Obama's handling of the Middle East, and even referenced his Nobel Peace Prize in a patronizing way. "In the Middle East, the U.S. withdrawal from Iraq under his leadership has not helped sort out the mess in the region. He won't be given a medal for the current situation."
On Sino-American relations, the Global Times opined: "Obama has not made constructive contributions to China-U.S. relationships. He cannot make landmark progress if he still clings to an outdated Cold War mindset." The editors said that Obama's pivot to Asia was aimed at drawing more Western attention to China, "so there could be more efforts to contain China."
The tabloid noted that the Obama administration had accepted the "idea" of having a new type of major power relations with China, but claimed it "hasn't accepted the connotations" of the new concept.
The GT editors did offer some optimism near the end of the article. Specifically, they wrote: "In the next two years before his last term ends, Obama could make himself remembered by making breakthroughs in the Sino-U.S. relationship. He could work with his Chinese counterparts to work out a framework for both countries, which would influence the entire picture of international relations."
The Global Times is known for taking a more hardline and nationalistic editorial line then some of China's other mainstream newspapers. Xinhua, for example, did not carry the GT editorial on its English-language website, nor did the People's Daily.
However, the Global Times editorial is consistent with the growing feeling among foreign China watchers that the Chinese leadership simply doesn't respect President Obama. For instance, last month Bill Bishop of Sinocism fame noted in his highly recommended newsletter that: "it also increasingly appears that Beijing does not respect Obama and his second term foreign policy team."