China's 'People's War' Against Terrorism
China is trying to enlist civilian help in its war on terror, but there are dangers to this approach.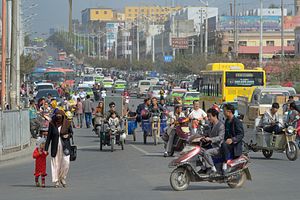 The violence in western Xinjiang continues, with Xinhua reporting that Chinese police forces have killed nine suspected terrorists. In a separate incident, Chinese media said that police had shot dead two men suspected of killing Jume Tahir, the imam of China's largest mosque. In both cases, the suspects were reported to be violently resisting arrest.
Xinhua provided a brief but fascinating story of the death of the nine suspects (and the capture of a tenth) in Hotan Prefecture, in southern Xinjiang. The article says that over 30,000 civilians turned out to assist the police in surrounding the suspects, who were chased from a corn field to an abandoned home. It was not immediately clear why the suspects were being pursued, or what crime they were suspected of committing. After the group was cornered, Xinhua said, they attempted to throw explosives into the crowd before being shot by police. No civilians or police were injured.
The tale of 30,000 civilians who mobilized to help the police meshes with China's plan to launch "a people's war" against terrorism, as Xinjiang Party chief Zhang Chunxian called it. This strategy recognizes that civilian support is crucial to the fight against terrorism, and has attempted to educate China's civilians both on how to defend themselves against terrorists and how to recognize and report terrorist or religious extremist activities. China's local security forces have offered rewards of up to 500,000 renminbi ($80,000) for reports of terrorist activity. Large cities like Beijing are also offering educational materials, including a "citizens' anti-terrorism manual" and outdoor self-defense demonstrations.
In its official media reports, China stresses the need for "ethnic unity" and denounces terrorist violence as against the spirit of Islam—clear signs that Beijing wants to enlist Uyghurs in its anti-terrorism campaign. "All ethnic groups nationwide should cherish ethnic unity and work together to thwart the political intentions of the three forces of separatism, extremism and terrorism," a recent Xinhua commentary said.
However, according to Reuters' analysis, religious extremists in Xinjiang are also attempting to sway Uyghurs to their side. Using the murder of Imam Tahir as an example, Reuters argues that extremists are increasingly trying to force Uyghurs to turn against Beijing and its representatives — even those who serve as Muslim leaders. As Michael Clarke, a research fellow at Griffith Asia Institute in Australia, told Reuters, the extremists wanted to make it clear "that this is a conflict that is now society wide. You have to now choose sides." The murder of Tahir, who backed strict security measures in the region, sends a message to other Uyghurs that those who side with Beijing are also targets.
Average Uyghurs are caught in the middle of this tug of war. They do not support the violence and extremism of the terrorist faction. On the other hand, Beijing's tight restrictions—and its fostering of a culture of citizen surveillance—are troubling. According to Reuters, Beijing's definition of terrorism and extremism also involves generally mundane religious activities, including the private study of the Quran. Information on such groups can gain the informant a reward in Xinjiang. The use of rewards to promote citizen surveillance (and punishments for those who do not report suspicious behavior) hearkens back to the Cultural Revolution.
Worse, China's fostering of civilian surveillance could easily create the sort of ethnic tensions Beijing is trying hard to prevent. Tensions in Xinjiang between the native Uyghurs and the growing Han population are already high—only five years ago, deadly riots between Uyghurs and Han in Urumqi left close to 200 people dead. Creating a system where civilians are encouraged to watch and report on each other could devolve into further suspicion and distrust between Han and Uyghurs, especially when so many of the "suspicious actions" are tied to religious activity.