India-China Border Engagement
As India races to catch up on infrastructure, its military is increasingly engaged with the PLA.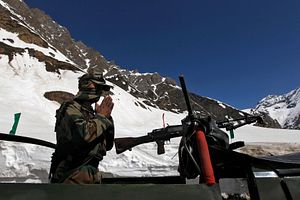 For the Indian military, this is a time of some fairly fundamental changes.
After decades of pursuing Pakistan-centric war planning, the Indian Army and the Indian Air Force are recalibrating their sights towards the hitherto neglected northern frontiers with China, giving a hard push to improving its war-fighting capabilities against its more powerful neighbor and at the same time, increasing on-the-ground interaction with the People's Liberation Army (PLA).
This two-track policy, outcome of the experience of the past five years, is aimed at preventing any unnecessary flare ups along the Line of Actual Control (LAC), as the contested border between the two countries is known.
In July 2014, this writer has had the opportunity to undertake a rare tour of the border areas in Ladakh, a high mountainous desert that abuts the Tibet Autonomous Region (TAR). This remote region, rendered inaccessible by road for seven months a year because the passes leading to it are snow bound, is buzzing with an unprecedented military buildup. Consider this:
–       A new Air Force Station to base fighter jets is coming up just 25 km from the Line of Actual Control
–       For the first time since India's independence in 1947, a full-fledged armored brigade of T-72 tanks will now be based in Ladakh.
–       One more infantry brigade (3000 plus troops) is now moving closer to a crucial area where Chinese troops had intruded and stayed put for over three weeks in 2013.
–       Work has been accelerated on at least 13 strategically important road projects in this region.
But Ladakh is not alone in getting the attention of military planners. Across the 4,000-plus km of Himalayan frontier that stretches from Ladakh in the northwest to Arunachal Pradesh in the east, India is aggressively pushing for the development of its border areas. In Sikkim and in Arunachal Pradesh – like Ladakh – more troops have been pumped in, equipped with armored regiments and artillery support, more fighter aircraft like the Su-30 are based closer to the contentious borders, and more roads are being built right up to the border, following the reversal of an earlier policy of not developing the border areas.
In effect, India is playing catch up with China. But it will take almost a decade for India to come anywhere near the infrastructure that the Chinese have built in TAR. Since the 1990s, China has built a network of roads, airports and railway in the sparsely populated TAR which gives the PLA a distinct advantage when it comes to mobilizing its forces if needed in double quick time. The Qinghai-Tibet Railway that connects Lhasa to mainland China is set to come closer to the Indian border at Xigatse (near Sikkim) at the end of August. By 2020, a rail link to Nepal's capital Kathmandu is also planned. According to an Indian assessment, there are 15 airfields in the TAR, 12 of them meant exclusively for military purposes. The Indian military on the other hand, is still dependent on old airstrips and a couple of airfields built in the 1960s.
Aware of these shortcomings, Indian policymakers have decided to build military infrastructure but also to simultaneously engage the PLA more frequently across the border. Earlier this year, New Delhi and Beijing earmarked four locations along their contested border in Ladakh for holding emergency meetings to quickly resolve possible standoffs.
The locations, mostly in areas that witness frequent face-offs, were finalized when a Chinese PLA delegation led by one of its most senior military leaders, the deputy chief of general staff (operations) Lieutenant General Qi Jianguo, held day-long talks with an Indian Army team led by then vice Chief of Army Staff, Lieutenant General Dalbir Singh. Singh has since been elevated to the post of India's Army Chief.
In addition to the four flag meeting points, the two countries have also decided to open two more locations for holding scheduled annual meetings between senior field officers. To date these annual conferences, known as Border Personnel Meetings, have taken place at Bumla in Arunachal Pradesh, Nathula in Sikkim, and Chushul in Ladakh. From now on, troops across the long LAC will have two more venues – Kibithoo in Eastern Arunachal Pradesh and Mana Pass in Uttarakhand – to meet at least four times a year, on the occasion of each others' national days. During the talks in Delhi the two sides also decided to establish a hotline between the Indian Army's Director General of Military Operations and an equivalent officer in the PLA HQ in Beijing. All of these decisions are part of the Confidence Building Measures (CBMs) that New Delhi and Beijing have decided to pursue after the signing of the Border Defense Cooperation Agreement signed by the two countries in October 2013.
India's aggressive push along the border seems to have raised curiosity if not alarm in Beijing, at least sufficient for top-ranking Chinese generals and party officials to step up the frequency of their visits to cantonments bordering Ladakh and Sikkim.
Ananth Krishnan, The Hindu's Beijing correspondent, reported that a top ranking general of the PLA carried out a rare inspection visit to the disputed western section of the border with India, including stops to inspect troops at two sites that have been at the center of recent differences over incursion incidents — near the Karakoram Pass and the contested Pangong Tso lake. General Xu Qiliang, who is one of two vice-chairmen of the Central Military Commission headed by President Xi Jinping – the highest-ranking position in the Chinese military – made the visit last month to inspect frontier troops in Xinjiang and Tibet, including a stop in the Aksai Chin region claimed by India.
Other newspaper reports in China have indicated that a senior Communist Party of China official spent unusually long time in Western Tibet in areas bordering Ladakh and Sikkim. They reported that Deng Xiaogang, Deputy Party Secretary of the Tibetan Autonomous Region, responsible for the law and order, security and police, took considerable time "to inspect the border security and the People's Liberation Army bases."
On June 20 for instance, an article in The Tibet Daily notes that "Deng Xiaogang inspected Rutok, the border county." Rudok is located near Pangong Tso stretching between India and China. It is where Chinese "water" incursions often occur. Addressing the border guards, Deng Xiaogang stressed: "Tibet is very special strategic location; it is an important barrier for the national security; development and stability in these border areas is an important part of the region's overall situation."
But the Chinese need not worry for at least another decade. Much remains to be done in Ladakh, Sikkim and Arunachal Pradesh. Building roads in the high altitude areas and equipping a highly capable Mountain Strike Corps – India has decided to raise a 30,000-strong specialized offensive force for the mountains – will take some doing. Until then, New Delhi is likely to follow a dictum China's strongman of the 1970s, Deng Xiaoping prescribed for his own country: "Hide your strength, bide your time."