India's Worrying Border Infrastructure Deficit
A disturbing disparity has emerged in infrastructure development on either side of the disputed Sino-Indian border.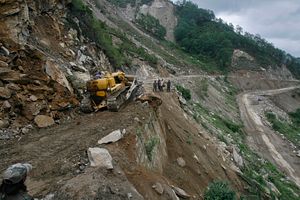 Even as China's road and rail network in Tibet inches towards the disputed Sino-Indian border, India's plans to repair dilapidated border roads and construct new roads and railway lines are running wekk behind schedule, with some infrastructure projects not only missing completion deadlines but also failing to move beyond the drawing board.
As Parliament's Standing Committee on Defence, 2013-2014, noted in a recent report, India's air, road and rail network near its border with China is in a "very dismal" state. Of the 73 all-weather roads that were identified for construction in 2006, just 18 have been completed so far. Of the 27 roads that were to be constructed by the Indo-Tibetan Border Police, just one is complete, the report pointed out, adding that "as many as eleven roads are behind schedule" with even their detailed project reports not yet finalized. As for construction of 14 strategic railway lines that were to be laid near the border, these have registered "nil achievement," the report said.
The roughly 3488 km Line of Actual Control (LAC), which snakes through the Himalayas, serves as the de facto border between India and China. Besides differences over where the LAC runs, India and China have territorial claims over chunks of territory. In the western sector, India accuses China of occupying 38,000 sq km of its territory in Aksai Chin and of holding 5,180 sq km of land in Kashmir that Pakistan gifted Beijing in 1963. China lays claim to around 90,000 sq km of land in India's northeast, roughly approximating the Indian state of Arunachal Pradesh, which Beijing refers to as "Southern Tibet."
The two countries fought a border war in 1962, which China won. Besides violent skirmishes at Nathu La, a mountain pass that connects Tibet with the Indian state of Sikkim, in 1967, and at Sumdurong Chu Valley in Arunachal in 1987, as well as periodic "incursions" at various points of the LAC over the years, the Sino-Indian frontier has been largely quiet as bilateral relations have improved significantly in recent decades.
Still the possibility of a future military confrontation cannot be ruled out and it is in this context that India's poor connectivity to the LAC is reason for concern.
The difference in infrastructure on the Indian and Chinese sides is "stark," Rajeswari Rajagopalan, Senior Fellow at the Observer Research Foundation in New Delhi told The Diplomat, pointing to the "tremendous improvements" China has made over the past decade in linking the LAC to the rest of the country. Tibet has a 40,000 km road network and roads run up to the LAC, unlike roads on the Indian side, which stop 60 to 80 km short of the border, she pointed out.
China's railway infrastructure is expanding rapidly, too. The Golmud-Lhasa railway line, inaugurated in 2006, is being extended to Xigaze, and also to Yatung, a trading center that is just a few kilometers from Nathu La. There are also plans to extend this railway line up to Nyingchi, a trading town north of Arunachal Pradesh.
Sikkim and Arunachal figure prominently on the radar of Sino-Indian territorial disputes. Yet India's overland connectivity to the LAC here is abysmal.
Recalling her trip to the McMahon Line (as the Arunachal part of the LAC according to India is called) in the summer of 2013, Monika Chansoria, Senior Fellow and Head of the China-study program at the Centre for Land Warfare Studies in New Delhi, spoke of the "pathetic" condition of the road running to Tawang, an important bone of contention between India and China. This is an area that experiences heavy rains and landslides throughout the year. Yet the road lacks a system for drainage, rendering it a slushy stretch, she told The Diplomat. As for the road from Tawang to Bumla (the last border post on the Indian side), it takes a "grueling" three hours to cover this 40 km stretch, she says, "making it perhaps the worst and most unpleasant of all journeys by road."
In contrast is the "smooth, maintained, metal track road on the Chinese side" that one can see from Bumla. This road comes to within 4 km of the LAC, she says "further magnifying the dismal state of roads in India's eastern sector." According to locals it takes the Chinese a mere 45 minutes to reach the Bumla Post from the town of Sonajung, which lies 37 km from the McMahon Line on the Chinese side.
The infrastructure in Sikkim is as decrepit. On a trip to Sikkim in 2009, this correspondent found that the state capital Gangtok was linked to Nathu La by one single-lane, pot-holed, avalanche-prone road, while one landslide-prone, narrow road links Sikkim to the rest of India. Connectivity has improved only marginally since.
The yawning gap in the quantity and quality of India and China's infrastructure near the LAC has multiple implications. Militarily, those implications for India are far reaching.
According to Rajagopalan, with the improved infrastructure, China is in a position to deploy and sustain 30 to 32 divisions, including five or six rapid reaction divisions, compared with the 20 to 22 divisions it could have sent earlier. What is more, all-weather roads have changed the scenario completely, as such mobilization will be possible year round. Moreover, while mobilization would have taken more than six months in the past, it can now be done in six weeks with the improved infrastructure. Apart from extensive road and rail networks, China has also built oil depots. Together, these suggest that China will not only be able to amass troops and supplies to the LAC rapidly in the event of war but will also be able to sustain operations over a longer period of time. "Multiple air bases and forward airstrips near the border areas are additional advantages to China," she said.
In contrast, India's lack of road and rails on its side will undermine Delhi's capacity to rush reinforcements to the LAC. This could prove costly especially in the initial stages of a possible war.
There are economic consequences too for India. Border trade at Nathu La was resumed in 2006. As a Sikkim government official told this correspondent in 2008, "When trade takes off in a big way in a few years, goods by the train-load will arrive at Nathu La from China. India will be in a position then to send back mere truck-loads."
Indian officials are quick to point an accusing finger at each other to explain the delays in the execution of road and rail projects near the LAC.
A senior official in the Border Roads Organization (BRO), a quasi military organization responsible for building and maintaining border roads, told The Diplomat that besides the "very difficult terrain and hostile weather conditions in which roads in the Himalayas have to be built are the unrealistic deadlines" set by the government. An official in Uttarakhand – the LAC in Uttarakhand falls under the middle sector – blamed challenges like land acquisition and environmental clearances for delays in projects not taking off. In Uttarakhand and Arunachal Pradesh, for instance, "much of the required land is held jointly by tribal communities, complicating its acquisition for border road construction," he said.
Similar buck-passing has stalled India's grand plans for building strategic railway lines. While the Indian Railways has refused to fork out the massive amount needed for the border projects on the plea that these lines are "not commercially viable," the Ministry of Finance has blamed the economic slowdown for its tightfistedness.
An important reason why India is lagging far behind China with regard to roads and rail near the LAC is their very different perceptions of border infrastructure.
Road and rail building has been a key component of China's grand strategy for the Himalayan region for decades. Building drivable roads into Tibet topped Beijing's agenda as early as 1950 and in the run up to the annexation of Tibet, Mao Zedong called on the People's Liberation Army to "advance while building roads." Multiple roads were constructed thereafter into Tibet against all odds and at enormous human cost. But it enabled Beijing to pour troops into Tibet to quell unrest and to eventually firm its grip. Railway lines soon followed.
Roads and railway lines in Tibet had an economic component, too, as they helped Beijing usher in economic development.
If in previous decades Beijing's road and rail building activity was focused on integrating Tibet with China, the southward expansion of this infrastructure towards borders with India, Nepal and Bhutan are with an eye on South Asian markets. China has been working assiduously to flatten the Himalayan barrier to its overland trade with South Asia.
Contrast this with India's perception of border roads and rails. Since its humiliating defeat in the 1962 war with China, India perceived the building of roads near the LAC as facilitating the advance of China's troops into India in the event of another invasion.
It was only in 2006 that the country's Cabinet Committee on Security, its topmost policy making body on national security, ordered among other things the construction of 73 strategic roads and airstrips near the LAC.
The inordinate delay in improving connectivity to the LAC signals that even if India has shed its old defensive mindset, it still lacks the political will and the energy to match China.
Dr. Sudha Ramachandran is an independent journalist/researcher based in Bangalore, India. She writes on South Asian political and security issues and can be contacted at [email protected]