India: Diversifying Arms Purchases
India should increase its military imports from the U.S., particularly drones.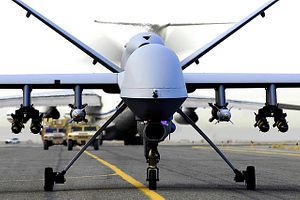 India needs to diversify its arms imports. Although it is one of the world's largest arms importers, most of India's weapons come from Russia. Over the last five years, according to the Stockholm International Peace Research Institute (SIPRI), Russia accounted for about $15 billion of the $20 billion in arms that India imported, or about three-quarters. That level of dependence is unhealthy: One of the reasons why India bought the Jaguar Bomber from a European consortium in the 1970s was the concern that India was becoming dependent on Soviet weapons.
India began diversifying when it awarded a contract for advanced air force fighters to France, though negotiations for the Rafale have dragged on interminably and have yet to be completed. India also buys some significant quantities of Israeli weapons.
But New Delhi has not sufficiently tapped the U.S., without question the country with the most advanced military technology in the world. Although the U.S. is India's second largest source of weapons, it accounted for less than seven percent of India's arms imports in value terms over the last five years. It is time that India diversified its arms sources by getting more of its weapons from the U.S., especially when cutting-edge technology is involved, as in advanced drones.
There are multiple advantages for India in making better use of U.S. weapons options. First, New Delhi could negotiate the development of state-of-the-art drone technologies, in which the U.S. has the most experience, with drones – or unmanned aerial vehicles (UAVs) – such as the MQ-8 Fire Scout and/or long-range drones such as the MQ-9 Reaper or even the older Predator B. This would add a new dimension to UAVs with persistent capabilities for India, and it would also help kick start investments in this sector.
A U.S. senator recently proposed the joint manufacturing of weapons system, including drones. As the Indian military moves towards network-centric warfare, the importance of UAV technology will increase as it forms an important nodal center for intelligence gathering and dissemination. Currently the fleet of Searcher and long-range Heron drones is a good one, but there are operational limitations because of Missile Technology Control Regime (MTCR) guidelines, which restrict the sale of unmanned systems that fly more than 300 km and can carry payloads more than or equal to 500 kg.
The drone's sensor intelligence gathering also requires capabilities in analysis and advanced software for interpreting data. The addition of this capability will also be important for the overall drone and imagery analysis architecture. Indeed, full-fledged UAV systems would give a tremendous boost to India's surveillance capabilities. This will require bold thinking by policymakers to launch India into the select group of countries that can field long-range UAVs at short notice. However, such cutting edge technologies are shared, they are not given away.
For advanced technologies such as the MQ-9 Reaper, India will have to give ground, as such technologies cannot be readily obtained, even with a 100 percent FDI policy in the defense manufacturing sector.
Low observable technologies, under which the most modern UAVs fall, are heavily restricted for export by the U.S. government. Long-range drone operations in international waters require interoperability and information sharing, which can be a complicated endeavor involving a Communication Interoperability and Security Memorandum of Agreement (CISMOA) with the U.S., but the advantages of learning long-range drone operations could be enormous. International search and rescue operations have increasingly involved the use of drones. Drones, along with air assets such as maritime patrol aircraft (MPA), would be help fill the large surveillance gaps in India's vast ocean territories, which it must safeguard. Surveillance and around-the-clock monitoring of activities in the Indian Ocean, where traffic has seen a manifold increase, is significant. This fits well with the 2006 U.S.-India Framework for Maritime Security Cooperation that emphasizes cooperation in areas including piracy, smuggling, and WMD proliferation through maritime routes. The procurement of drones on a strategic level is paramount, so why should India not do all it can to acquire this surveillance capability?
Could the sale of such systems mean that the two countries can finally bury antique agreements such as the CISMOA and the Basic Exchange and Cooperation Agreement for Geo-spatial Cooperation (BECA)? Much remains to be said about how the U.S. government would view such an interest by India. U.S. aircraft have already given an edge to the strategic airlift capability; can they do the same with respect to India's strategic surveillance capability?
Technology is important, but who you get it from is even more important. U.S. drones in the Indian inventory would have a huge value in terms of messaging, to friends and foes alike. Strategic partnerships are among the best force multiplier options in an uncertain Asia, and India should leave no stone unturned.
Siddharth Sivaraman is a Visiting Fellow and Dr. Rajeswari Pillai Rajagopalan is a Senior Fellow at the Observer Research Foundation. Dr. Rajagopalan served at the National Security Council Secretariat, Government of India from 2003 to 2007.