India, Drones, and Human Rights: The Flight Forward
A drone doctrine is important to ensure not only that drones are not misused, but also their use does not trigger an escalation of hostility between India and Pakistan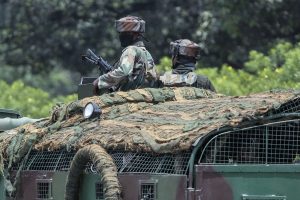 On June 27, two unmanned aerial vehicles (UAVs) — or drones as they are popularly known — dropped explosives on the technical area in the Air Force Station (AFS) at Jammu in the Indian Union Territory of Jammu and Kashmir (J&K). It resulted in damage to the roof of an aircraft hangar. In the days that followed, several other drones were seen over various military installations in Jammu. Less than a week later, a drone was seen above the Indian High Commission premises in Islamabad. Drones have been seen over critical infrastructure with increasing frequency in recent months.
In the past Indian security forces have spotted drones dropping off narcotics or weapons. However, this was the first time drones dropped explosives on a military installation.
Soon after the AFS-Jammu attack, questions were raised in the media about India's anti-drone capabilities and the need for a drone doctrine. Such a doctrine is important to ensure not only that drones are not misused but also their use does not trigger an escalation of hostility between India and Pakistan. The use of drones is enticing as it provides for physical remoteness between the actor and the act of combat. However, given the geopolitical conditions between India and Pakistan – this allure needs to be restrained as it can easily feed into the spiral matrix.
The Indian government needs to adopt a more proactive approach toward safeguarding the public and critical infrastructure from drone attacks in the long term. Potentially a public-private partnership in the UAV industry will enable India to counter continuously evolving technology and Artificial Intelligence used by non-state actors. This will require greater synergy among four stakeholders – the Indian government, private companies, public-sector units, and the user – the military, paramilitary and state governments.
India's options to deter or tackle malicious drones are limited in complex urban landscapes like Srinagar. Consequently, it will need to procure anti-drone systems from Israeli and Australian manufacturers. The Indian security forces are already testing such anti-drone systems, including Israel's laser technology-based solutions.
The backbone of India's drone arsenal is Israeli, comprising of over 100 Searchers and a smaller number of Herons. The Indian Army aims to jointly develop close to 600 mini-drones with an undisclosed American or Israeli company in the future for use in its counter-insurgency operations. Australian companies like DroneShield have also become increasingly active in the Indian defense market due to the strengthening Indo-Australian defense relationship. Moving forward, India will need to observe and analyze how these anti-drone systems will be incorporated within the local infrastructure of these cities and the local population's reaction to these systems.
Indian security forces use UAVs in their counterinsurgency operations in J&K. The Central Reserve Police Force deployed in J&K, for instance, uses drones at protest sites.
The indigenous "Netra" drone, which was deployed in Kashmir in 2017, was only moderately successful due to its limited 30-minute airborne capability and inefficiency in mob control. That year, India also procured UAVs from Israel to track the movement of people participating in protests and to locate possible militants.
Use of drones for mass surveillance of the Kashmiri people to track movement of protestors and to identify potential militants violates the principles of freedom of movement, privacy, and dignified life as enshrined in the Indian Constitution.
The 2018 drone regulations were ineffective in protecting the privacy of citizens because it did not define privacy in the context of drone technology and consequently, did not put in place any in-depth safeguards in this regard.
The Ministry of Civil Aviation's 2021 guidelines call for protecting the privacy and data of the subjects of any drone operations but fail to establish any safeguards or penalties in case of violations, thereby leaving immense leeway for political and executive discretion.
We need to bear in mind that drones were not developed solely for military applications. As is the trend with most devices, drones have been integrated within the local ecosystem to a point where any blanket regulation on its use that is motivated by politico-military consideration will potentially transgress upon the constitutional rights of Indian citizens.
Following the drone attack in Jammu, the security forces requested that all residents deposit their drones at their local police station. A week later the use of drones was banned within the city's airspace. Such a ban could impact the socio-economic mobility of a city and region, already struggling with the COVID-19 pandemic and economic problems as a range of professions ranging from wedding management to documentary and filmmaking have become increasingly dependent on drones.
Regulation of drone use by civilians can be expected to be even more intense in conflict areas like Kashmir and the Northeast where restrictions will be imposed in the name of national security.
Police sources confirmed that around 50 DJI MAVIC2 were deployed in the 2019 pro-Azadi (freedom) protests in Kashmir to track protestors with "high precision." In the run up to its announcement on August 5, 2019 revoking Kashmir's autonomy drones were given to J&K's Special Operations Group in Srinagar to aid its counter-insurgency operations.
India has adopted military doctrines to ensure that weapons do not turn into instruments of escalation of conflict. Its nuclear doctrine, for instance, revolves around a "no first-use" policy and is the outcome of its security-dilemma sensibility.
While it is unrealistic to expect India to set as high a threshold for drones as it has for its nuclear arsenal, without a doctrinal framework to structure and create criteria for operations and mechanisms for accountability there is bound to be a questionable and linear application of drone policies in different parts of the country.