Japanese Military Set for Big Budget Gains As Economy Shifts to Neutral
Abe's careful balance of economic growth with military normalization may be falling out of sync.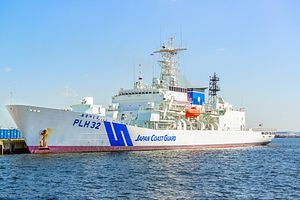 As The Diplomat reported earlier this week, the Japanese Ministry of Defense and Coast Guard have made record budget requests for fiscal 2015. Meanwhile, economic data released on Friday show further negative effects from April's consumption tax increase, which hiked the sales tax from five to eight percent. The military's requests show a robust and growing defense policy designed to address not only the ongoing territorial disputes with China, but also potential missile attacks from North Korea. However, the proposed increases in government defense spending may appear to be out of line with an economy that is underperforming, especially as the government is set to decide by the end of this year whether to follow through with another consumption tax increase to 10 percent in October 2015.
On Friday the defense ministry announced it was requesting 5.5 trillion yen ($53 billion) for its fiscal 2015 budget, an increase of 3.5 percent. After more than a decade of stagnating defense budgets, Prime Minister Shinzo Abe's government has begun raising military spending annually. The big ticket items in the budget like six new F-35 stealth fighters and 20 P-1 patrol aircraft are primarily targeted at defending and maintaining surveillance over the disputed Senkaku/Diaoyu Islands. However, the ministry is also requesting another Soryu class submarine, an improvement over the previous year's Soryu submarine given new technology that will allow it to submerge for two weeks, a significant upgrade according to ministry officials. The budget also requests new unmanned aerial vehicles and tilt-rotor aircraft (most likely the V-22 Osprey), as well as a seventh Aegis ballistic missile defense destroyer that would be used to target rogue missiles from North Korea.
The Coast Guard's request, while significantly smaller at 50.4 billion yen ($485 million), is still a doubling of its previous budget. The funds will go toward four new patrol vessels and three jets, as well as an upgrade to the port on Ishigashi Island, which is near the disputed islands with China.
These requests in military spending were accompanied on Friday by new economic data. After second quarter data showed a 6.8 percent annualized decline in growth following the April tax increase, new figures were expected to show that the economy had absorbed the shock and would begin to bounce back in July. The data on Friday did not support that assumption. Industrial output, which was expected to grow 1.0 percent, saw a slight increase of only 0.2 percent from June. Household spending declined an annualized 5.9 percent in July, higher than the 3 percent decrease forecast by a Jiji Press survey of 22 economic institutes. The consumer price index increased 3.3 percent in July (which is still largely attributed to the consumption tax increase), while core inflation (which the Bank of Japan is hoping will reach 2 percent by next year) only came in at 1.3 percent. Unemployment increased to 3.8 percent in July, up from 3.7 percent in June, while real incomes were down 6.2 percent in July compared to a year earlier.
The Japanese military likely sees the expenses and upgrades as absolutely necessary, despite the tenuous state of Japan's economic recovery. After a decade of budgetary decline, it may see itself as merely attempting to keep pace with China, which has a budget nearly three times larger at $132 billion. Indeed, Defense Minister Yuriko Koike said on Friday before the budget was submitted, "If Japan obtains the equipment it needs for the future stability of East Asia, this will send a message… I think it's necessary."
Abe's government has shown itself by and large to be willing to go along with these budget requests. As the economy's performance improved early in his administration on expectation, a weakening yen, and a surge in government spending, these budget increases were not met with much public question or outcry. Now that the "miracle" of Abenomics is showing signs of faltering, and with the impact of the final and all important third arrow of structural reform likely to be diffuse and more long-term (if indeed it actually has its intended effect), the prospect of further record military budgets could seem out of step.
Up to this point Abe has skillfully balanced his economic and security policies, making sure that economic progress always stayed in front of his piecemeal approach to gradually normalizing Japan's military stance through the legalization of military exports and a new interpretation of collective self-defense. Passing major defense budget increases while his economic policy misfire would be out of step with this approach. Abe has been careful to describe himself as pragmatic on collective self-defense, and insists that the economy is his top priority.
A Bloomberg survey of economists predicts that that the economy will return to 2.7 percent growth for the third quarter annually. If that is the case, and inflation remains steady while other indicators like employment and wages improve, then Abe will likely have the political bandwidth for another military budget increase. Continued economic stagnation into the third quarter could, however, bring greater public scrutiny of increased defense spending, and Abe's general policy of military normalization.