Rethinking Cambodia's Reconciliation Process
Involving only the country's elites in the process will not be enough to keep the peace.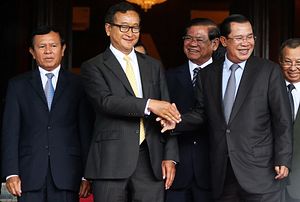 There is much Cambodia can learn from the current crisis in Thailand about how political polarization can plunge the country into chaos. Despite the junta's initiatives, politicians, scholars and the Thai public remain pessimistic about the chances of people of all political stripes living harmoniously under the one roof again.
Divisive politics are used by political parties around the world to advance their ambitions. It is a dangerous approach. If fragmentation becomes entrenched to the point where a majority of people can no longer tolerate differences in values, beliefs or opinions, restoring unity to the country becomes difficult, if not impossible.
Since the return of multiparty elections in 1993, Cambodia's politics has been characterized by political deadlock. The one exception was the 2008 election, in which the ruling Cambodian People's Party (CPP) won a landslide victory. It normally takes months before the winning parties are able to hammer out a deal and end the usual postelection crisis. And politicians usually cite national reconciliation and unity as the main reason behind their decisions.
What is interesting about this reconciliation process is that it almost exclusively involves the political parties, with voters often left out of the talks. There may be good reason for this – after all, engaging too many people will delay the process or even make a deal impossible. But the downside of this process is that it is attracts widespread public scepticism. Every decision that the parties make comes under scrutiny. And if there is any sign that politicians will personally benefit from the deal, the whole reconciliation process is thrown into doubt.
This raises an important question as to whether the top-down approach is still relevant to Cambodia's current political landscape. Of course, ending the deadlock remains essential, but it should be seen as the beginning of a long road to resolving the problem of political polarization. Politicians have to understand that simply reconciling their differences won't necessarily bring their respective supporters together. In many cases, even if they are able to seal a deal, voters remain deeply suspicious of the opposing side.
The growing public discontent directed at Cambodia's political parties clearly reflects this view. To achieve true reconciliation, then, the process must be extended to include everyone, regardless of political affiliation. This does not necessarily suggest that the public needs to be involved in every step of the deadlock negotiation, but Cambodians should have more say in deciding the future direction of the country.
This is no easy task. The parties need to go beyond their narrow definition of political reconciliation and embrace a long-term, nationwide solution. The most urgent task for the government right now is to rebuild public trust in political institutions, which is worryingly lacking in Cambodia. Violence will ensue if people no longer believe that they can solve their problems through formal political channels.
The latest bloody clash between riot police and opposition supporters on July 15, 2014 was a stark reminder of why it is so important for the government to address the problem of the deficit of trust if it is to prevent the country from becoming more politically polarized. Political leaders must work together to reduce tensions instead of playing the blame game over who is responsible for this violent incident.
For a long time, the ruling elites were convinced that Cambodia's unprecedented economic growth over the past decade, which helped lift millions of people out of extreme poverty, would be enough to gain the trust and confidence from voters. Their disappointing result in the 2013 election, winning only 68 out of 123 seats, was a shocking wake-up call. What they fail to understand is that economic growth comes at a cost.
Staggering economic inequality is perhaps the single most important culprit here. Many voters end up believing that what the government is doing is only to protect the interests of a small group of elites, who controls much of the economy, while the poor and vulnerable have to bear the brunt of economic modernization. And the trickle-down effect does not seem to work as expected, or not as much as the government would like to see.
Economic inequality is a major factor in the string of violent protests that have occurred since last year. Perhaps the most serious of them was the deadly clash between security forces and garment workers on January 3 this year, which left four people dead and many injured. Several development projects are also controversial, most notably the eviction of Boeung Kak Lake residents. Of course, what was really happening on the ground may well be more complex than the headlines suggest, but these incidents seriously undermine public trust in the government.
However, economic inequality is not the only factor behind the government's declining popularity. Another frequently cited reason is the lack of social justice. This concept is normally related to fair distribution of resources, respect for fundamental human rights, and a fair system of law and due process. The ruling elites have often been accused by opposition supporters and the international community of not doing enough in these areas.
In response to this criticism, during the first post-election cabinet meeting on September 23, 2013, Prime Minister Hun Sen issued a stern warning to senior party members that they will face serious punishment if they are found to be involved in corruption or any other crime. He also outlined a number of reforms that the government will carry out in its fifth mandate. Echoing this view, in a speech at the Centre for Strategic and International Studies, Commerce Minister Sun Chanthol also suggested that the CPP needed to go ''all out'' to reform if it wanted to win the 2018 election.
It is too early to judge whether they really mean what they say, but the rhetoric at least offers a hopeful sign that some fundamental changes are under way. Cambodia's politicians must understand that everyone wants to be treated equally before the law regardless of their social status, position or wealth. Cambodians seek a fair and equitable share of benefits and responsibility. To achieve this, the government has to make sure that the rule of law is upheld and the judicial system is independent. Only then will the people be able to coexist with the government.
It is clear now that a reconciliation process limited to the country's elites will not be enough to maintain stability and peace in Cambodia. All parties need to work together to restore public trust and confidence in the political system, and to make the public part of the solution. It is now time for political leaders to take their election pledges seriously and cease using the rhetoric of political polarization for personal gains.
Phoak Kung is Vice President for Academic Affairs at Mengly J. Quach University. He is also Senior Research Fellow at the Cambodian Institute for Cooperation and Peace. He was Visiting Fellow at the University of Oxford and Cornell University.