Russia Conducts Military Drill on Disputed Kuril Islands
Russia's military drills on the disputed islands are almost certainly in response to Japan's sanctions over the Ukraine.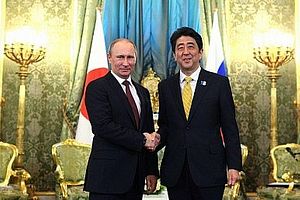 Russia is conducting military drills on the Kuril Islands, according to Russian media outlets.
"Exercises began involving military units in the region, which have been deployed to the Kuril Islands," Interfax quoted Colonel Alexander Gordeyev, a spokesman for Russia's Eastern Military District, as saying.
He went on to say that over a 1,000 troops, five Mi-8AMTSh attack helicopters and 100 other pieces of military hardware were participating in the exercise.
The Kuril Islands are administered by Russia but also claimed by Japan, which calls them the Northern Territories. The territorial dispute over the islands is the reason why Japan and Russia technically remain at war dating back to WWII. The dispute over the islands actually goes back much further than that, however. As J. Berkshire Miller has explained on The Diplomat:
"Tokyo claims that the sovereignty of the Northern Territories (referred to as Southern Kurils by Russia) has never been debatable and that the four disputed islands have been part of Japan since the early 19th century. This is confirmed, according to Japan, by— among other treaties— the Shimoda Treaty of 1855 and the Portsmouth Treaty of 1905 at the conclusion of the Russo-Japanese war. For its part, Russia pays little heed to Japan's claims on the islands, instead pointing to a number of international treaties—including the Yalta Agreement (1945) and Potsdam Declaration (1945)— as proof of its sovereignty."
After taking office for their current terms, Russian President Vladimir Putin and Japanese Prime Minister Shinzo Abe pledged to redouble efforts to resolve the territorial disputes over the Kuril Islands. After Abe visited Moscow in April 2013, President Putin told reporters that he and Abe had "instructed our Foreign Ministries to step up contacts on reaching a mutually acceptable solution to this [territorial] problem. The Joint Declaration on Developing Bilateral Partnership that we adopted at the end of our talks follows the same direction."
Plans for a Ruso-Japanese rapprochement have been partially derailed by Moscow's growing confrontation with the West over Ukraine and other parts of the world. Japan and Abe have tried to walk a fine line between demonstrating unity with the U.S. and the G7 in sanctioning Russia over the Ukraine, while also leaving open the possibility of a rapprochement with Putin and Russia.
This balancing act appears to have become impossible to maintain following the shooting down of MH17. As Clint has noted, following the latest round of Japanese sanctions against Russia, a foreign minister meeting between Moscow and Tokyo was scrapped. The new Kuril Island military drills are also almost certainly Russia's retaliation for Japan imposing additional sanctions against it.
Japan has yet to officially confirm whether the military drills are taking place. However, a spokesperson for Japan's Foreign Ministry did tell reporters: "If they are conducting a military exercise on the Northern Territories, we can by no means accept that in light of Japan's stance on the islands. We've already informed the Russian side of that stance and asked for clarification."