Taiwan Complains of 'Severe' Cyber Attacks From China
Taiwan's science and technology minister said Taipei is the target of almost daily cyber attacks from the mainland.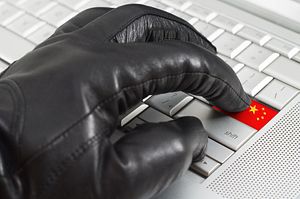 Taiwan has become the latest to accuse China of launching cyberattacks, following complaints from Canada and the United States. Agence France-Presse (via Defense News) reports that Simon Chang, Taiwan's science and technology minister, told an interviewer that "Chinese cyberwar units have been engaging with Taiwan units almost every day, with some severe attacks every few months."
Cyberattacks from China are especially worrying for Taiwan, which is constantly evaluating its political and security position vis-à-vis the mainland. Chang specifically noted that "many of the attacks were aimed at stealing relevant information for use in negotiations with Taiwan," raising concerns that China is seeking leverage over what it considers a breakaway province. According to Taipei Times, Chang said the attacks, which occur almost daily, often target confidential information on Taipei's bottom line for cross-strait negotiations.
Chang also said that China often uses Taiwan as an experimental target for new hacking techniques, something Reuters noted back in 2013. Reuters cited Taiwanese IT experts who said China's cyberattacks against the United States were often tested first against Taiwan. Many of the attacks are relatively simple "phishing" attempts, where  malware is sent via email to government employees. Reuters cited estimates that "thousands of Taiwanese high-level government employees receive as many as 20 to 30 of these emails a month." Like other countries, Taiwan's cyber defense experts have noted that the attacks take place during normal Chinese business hours — including days off for Chinese national holidays.
The cyber barrage gives Taiwan one more vulnerability to worry about. Cross-strait relations have grown closer since Taiwanese President Ma Ying-jeou assumed office in 2008, but China shows no indication of giving up the right to use force to unify Taiwan and the mainland. Today, Taiwan's conventional military is increasingly outgunned by China, causing a conundrum for military planners tasked with ensuring the island's ability to resist a full-scale invasion. Chang also admitted that Taiwan's own military cyber units were outnumbered by their Chinese counterparts.
In addition to hacking attempts that seek to gather sensitive data, Taiwanese experts are also concerned that China could use cyberattacks to cripple the island's infrastructure. Last year, the director general of Taiwan's National Security Bureau told a legislative committee that China's cyberattacks are "not just stealing information, but possibly gradually focused on destroying our infrastructure." The threat of full-on cyber war provides another element to the cross-strait balance of power.
China has steadfastly denied being behind any hacking activities. In rejecting what it calls "baseless" and "groundless accusations," China points to the fact that it is a major victim of cyberattacks.
Ironically, the attacks against Taiwan, which reportedly focus on intelligence-gathering, would fall under the United States' definition of justified cyber espionage. U.S. officials such as Director of National Intelligence James Clapper have repeatedly defended U.S. cyber espionage as a legitimate pursuit of national security interests. China's attacks against Taiwan could easily be defined in the same way, as Beijing considers unification with Taiwan one of its core national interests.