The Strategic Importance of Myanmar for India
Myanmar is India's bridge east, and an important ally for growing its regional power.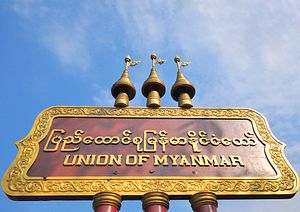 The new Indian government has begun its tenure with a busy calendar of international travel. Most recently, External Affairs Minister Sushma Swaraj has been in Naypyitaw, Myanmar for the ASEAN Foreign Ministers Meeting (AMM), the East Asia Summit meeting of foreign ministers, and the ASEAN Regional Forum.
In fact, India and Myanmar have traditionally had much in common, with cultural, historical, ethnic and religious ties, in addition to sharing a long geographical land border and maritime boundary in the Bay of Bengal. India and Myanmar's relationship officially got underway after the Treaty of Friendship was signed in 1951, after which the foundation for a more meaningful relationship was established during Prime Minister Rajiv Gandhi's visit in 1987. Bilateral ties received another significant boost when the two countries signed a trade agreement in 1994. For many years India did not open up to the authoritarian regime, and it was only over a period of time that India started engaging with the military junta of Myanmar.
While the region's focus has revolved around the South Asian Association for Regional Cooperation (SAARC) countries and China, Myanmar is becoming increasingly important for India in both a strategic and economic context. High level visits have become a regular feature between them. During Prime Minister Manmohan Singh's state visit in 2012, many new initiatives were announced and around a dozen MOUs were signed, along with a line of credit for $500 million. Many Indian companies made significant economic and trade agreements in infrastructure and other areas. Some of the major projects taken up by India include the resurfacing and upgrading of the 160 km Tamu-Kalewa-Kalemyo road and the Kaladan project that will connect Kolkata Port with Sittwe Port in Myanmar (which is still in progress). A bus service from Imphal to Mandalay will begin in October.
India is also helping Myanmar by setting up high-speed data links in 32 cities. Some other Indian companies such as Essar, GAIL, and ONGC Videsh Ltd. have invested in Myanmar's energy sector. Tata Motors has set up a heavy turbo-truck assembly plant with financial assistance from the Indian Government.
Bilateral trade has grown from $12.4 million in 1980-81 to $2.18 billion in 2013-14. Agricultural items like beans and pulses and forest based products make up nearly 90 percent of India's imports. Myanmar is also the beneficiary of a duty-free tariff preference scheme for least developed countries (LDCs). Both countries also signed a border trade agreement in 1994 and have two trade points along their 1,643 km border. India has also promoted some trade events such as the India Product Show 2012, which represented 19 Indian companies, and the NEFIT car rally from Guwahati to Yangon and back, which had 60 participants and was also part of the trade promotion. The two countries have shared cultural exchanges through various cultural troupes. One such exchange was in 2009 when Myanmar sent a 13 member student group that attended a SAARC cultural festival in India. This was followed by another major event at which the Indian embassy in Yangon organized the annual Indian Film Festival, which is a major event on the Yangon cultural calendar.
Myanmar is strategically important to India as it is the only ASEAN country that shares a border with India. It is also the only country that can act as a link between India and ASEAN. Myanmar is India's gateway to Southeast Asia and could be the required impetus to realize India's Look East Policy. India has also decided to upgrade the Kalewa-Yargyi road segment to highway standard, while Myanmar would develop the Yargyi-Monywa portion, and this would help to connect Moreh in India to Mae Sot in Thailand via Myanmar. This in turn would improve India's connectivity and relationship with both Myanmar and Thailand.
If India is to become an assertive regional player in Asia, it has to work toward developing policies that would improve and strengthen it domestically, which will encourage more confidence in its ability to lead the region and be an important global player. Competition with China should also be considered and taken seriously. China's growing influence in the region would lead to a more one-sided dynamic in the region. China has asserted itself through its soft power as well as through its trade and economic relations with Myanmar by taking up large infrastructure projects in the country. India on the other hand needs to use its soft power more effectively, and at the same time strengthen itself domestically and regionally.
There are several advantages that India has over China with regard to Myanmar. One is the democratic process, which results in different governments at the center and states through free and fair elections. There is also the respect for institutions that are strong enough to hold the country together. Finally, cooperation in different multilateral forums such as ASEAN and BIMSTEC strengthen the relationship between the two countries. Apart from these reasons, India has sent a clear signal that while economic ties are important, it is keen to build a holistic relationship and is prepared to assist in institution building in Myanmar.
While the basic foundation for the relationship between India and Myanmar has been laid by previous governments, the onus is on the present Indian administration to demonstrate that it can take the relationship to a higher level. It can also become a strong regional player through a more proactive approach, cement India's place in the region and grow into a powerful, global country. India and the AMM could transform India into a much stronger player in the region.
Sridhar Ramaswamy is a Master's student of Indian Foreign Policy at the Jindal School of Ineternational Affairs, Sonepat. Tridivesh Singh Maini is associated with The Jindal School of International Affairs, Sonepat.