US Voices Exasperation Over Japan-ROK Disputes
Bickering complicates U.S. strategy in Northeast Asia and could lead to a less effective alliance.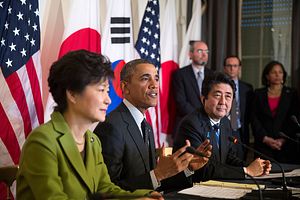 A meeting of the influential Heritage Foundation offered rare criticism of U.S. allies in Northeast Asia, as former high-level U.S. officials and current foreign diplomats voiced concern over the volatile relationship between South Korea and Japan, and its effect on America's military alliance with the two. Despite Heritage's conservative leanings, it members are voicing concerns that are likely shared across the aisle, and especially by the current administration. There are some recent indications that both countries are interested in improving their strained relationship, which will be necessary even given Washington's influence. A general fatigue over constantly stirring up controversial issues between the two could begin to have a cumulative effect on their ability to cooperate, should the need arise.
At Tuesday's event, Ahn Ho-yung, Seoul's ambassador to Washington D.C., said relations could not improve unless Japan recognized its wartime mistakes "fairly and honestly," specifically referring to the use of "comfort women" during the Second World War. Heritage's senior research fellow on Northeast Asia Bruce Klingner responded by saying "Washington has become frustrated with both our friends. With Japan for its tin-eared, ham-fisted diplomatic approach toward resolving historic issues, and with South Korea's insistence on seeing every issue through the lens of history." In defense of Japan's recent turn toward military normalization, former chief of the U.S. Pacific Command and Director of National Intelligence Director Dennis Blair said "they should not be confused with a return to 1930s-style militarism. Japan today is so far from that." A former senior State Department official, Evans Revere, said the two countries have a "dysfunctional" relationship that impedes U.S. initiatives for regional cooperation.
There are signs that South Korea and Japan would like to improve their relations. Former South Korean politician Yoo Heung-soo recently came out of retirement to serve as Ambassador to Japan at the government's request. Yoo spend part of his childhood in Kyoto, is fluent in Japanese, and has connections to several former Japanese prime ministers and Cabinet ministers. The Nikkei reported Yoo as saying "I would like to play a role in normalizing chilled relations between South Korea." He has also socialized with Prime Minister Shinzo Abe and his father, former Foreign Minister Shintaro Abe. For his part, Abe has also called for the two sides to sort out their differences, and is reportedly interested in holding a bilateral summit with President Park Geun-hye.
This public display of exasperation from former high-level and influential U.S. officials is likely reflective of the current administration and State Department's views. Attempting to balance against a possible North Korean nuclear threat and the growing confidence of the People's Liberation Army and its navy is complicated when allies allow non-strategic disputes to erode regional security. U.S. officials have already noted Japanese "Korea fatigue" over constant criticism from Seoul. Their ability to cooperate on security matters is certainly influenced by their strained diplomatic ties, and failing to reach a satisfactory solution to historical disputes or bickering over tiny islets in the Sea of Japan further complicates two alliances that the U.S. has come to rely upon to balance against regional threats like North Korea, and emerging competitors like China.