4 Reasons Xi Jinping Is a Serious Reformer
Xi will create a new middle road for China, transcending East vs. West, democracy vs. authoritarianism, and left vs. right.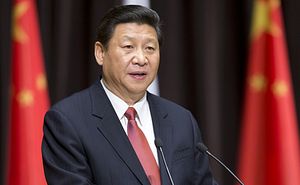 Since Xi Jinping took over China's top leadership in 2012, there have already been a series of bold policy reforms in China that surprised almost all scholars and observers of Chinese politics. In less than two years, reforms have been introduced in areas like family planning, reeducation through labor, household-registration (the hukou system), anti-corruption, and so on. This is extraordinary, considering that all these reforms involve sensitive issues. Such reforms have long been discussed but never implemented.
Still, many inside and outside of China are wondering if Xi can embark on more fundamental social, economic, and political reforms, which, in the eyes of many analysts, are necessary for China to truly become a superpower and realize the China dream. Is Xi a serious reformer? Skeptics might point to many reasons why Xi is not a true reformer, but there are four main reasons why we should believe that Xi is genuine about fundamental reforms. To be sure, as Xi himself recently argued, China's political reforms will not just be a copycat of Western models. Xi and his colleagues are determined to find a suitable road for China which cannot be separated from China's unique history and national conditions.
The first reason why Xi is a serious reformer is that Xi is a visionary leader. Xi clearly sees where China should be in the future, evidenced by his 'China dream' slogan, which he immediately proposed after he took over at the 18th Party Congress in 2012. The grand goal is the great rejuvenation of the Chinese nation. More specifically, it is about achieving "two 100s", referring to China becoming a well-off society in 2021 (the 100th anniversary of the Chinese Communist Party) and China becoming a socialist developed country by 2049 (the 100th anniversary of the founding of PRC). Having a grand objective is critical, as the Chinese saying goes, 纲举目张 (once you grasp the big picture, everything else falls into place).
The second reason is that Xi, as a leader, enjoys high level of legitimacy among elites as well as the masses. As a member of the "second-generation red" of the PRC, Xi Jinping has widespread support from other second-generation peers. More notably, Xi enjoys a very high degree of support from the Chinese masses. Actually Xi has earned the nickname of "Xi Dada" among the people, which he seems to like. This nationwide level of support will be critical to Xi's ambitious reform agenda, as the road to reforms will certainly not be smooth.
The third reason is that Xi has all the power necessary to push for tough reforms. Xi currently leads several major leading small groups, including two most important ones: the Comprehensive Deepening of Reform group and the State Security Council. Xi's personal control of these leading groups will ensure that his reform agenda can be implemented without strong resistance from vested interests in China.
Last but not the least, Xi is a leader who knows how to play the right strategies. Politics is a complex game and effective leaders should possess the ability to prioritize tasks and balance between different groups and demands. This can clearly be seen with Xi Jinping and Wang Qishan's anti-corruption campaign, which started at the lower levels and gradually moved up to high level governmental officials. Xi also chose the right strategies by starting reforms in less controversial (though not necessarily easy) areas to achieve unity among the party.
All the above reasons point to one conclusion: Xi Jinping is a serious reformer committed to building a unique middle road for China's future, evidenced by his famous words that call for "not taking the old road, nor the evil road." Thus, Western observers should remind themselves that Xi Jinping's reform agenda might not be what they think it should be.
In sum, Xi Jinping and his colleagues are now in a very favorable position to push for fundamental reforms that will help China realize its China dream. The road to success will not be smooth, especially with regard to maintaining the right balance between social change and social stability. For this reason, the sequence and pace of reforms must be very carefully designed.  This is the most serious challenge for Xi in future years.