China, India Set High Bar for Xi Jinping's Visit
Despite lingering disagreements, both Chinese and Indian officials are optimistic about Xi's trip to India next week.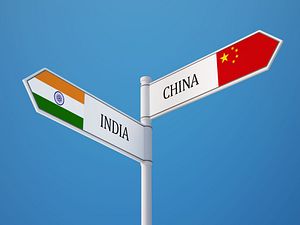 Chinese President Xi Jinping's first trip to India is coming up next week, and both governments have high hopes for a productive visit. With Indian National Security Advisor Ajit Doval in Beijing this week to make final preparations for Xi's visit, both sides were putting their best foot forward.
As The Diplomat has noted before, Beijing is especially optimistic about China-India ties under the leadership of Prime Minister Narendra Modi. While serving as chief minister of Gujarat Province, Modi gained a reputation within Chinese circles as a pragmatic, economically-minded leader. Modi came to power in part thanks to a promise to bring these same qualities to bear at a national level, raising hopes in Beijing about increased economic ties with its southwestern neighbor. The timing is auspicious even beyond that: India is "looking east" while China is "marching west," giving these two countries increased prominence in each other's foreign policy strategies. To achieve their goals, Beijing and New Delhi will have to work together.
While in Beijing, Doval met with Xi Jinping and passed along Modi and India's excitement for Xi's visit next week. Xi's trip to India will be his second face-to-face meeting with Modi; the two men first met at the BRICS summit in Fortaleza, Brazil back in July. In his meeting with Doval, Xi spoke warmly of the connection he and Modi established at Fortaleza. Both Xi and Doval stressed the need for cooperation between India and China, as well as the expectation that Xi's upcoming visit will be a big step forward in mutual trust. They laid heavy emphasis on India and China's commonalities — they are neighbors, the world's two most populous countries, and the world's two largest developing economies.
However, precisely because of their similarities, some have speculated that the two countries are destined to compete for influence (and economic gain) in South and East Asia. Particularly in India, where memories of the 1962 Sino-Indian war run deep, China is seen as a competitor or even as an opponent. Accordingly, many of China's moves in the region are read as direct challenges to India — for example, China's development of a "string of pearls," friendly ports in the Indian Ocean, was interpreted as an attempt to encircle India.
On Tuesday, Assistant Foreign Minister Liu Jianchao directly addressed concerns that China is seeking to contain India. "China has never, and will not, use so-called military or other means to try and hem in India," Liu said, as quoted by Reuters. "There is no strategic competition between China and India in our relationship and there is certainly no such word as 'surround'."
Liu also emphasized both governments' "strong intention to maintain the peace and tranquility on the border." While the disputed borders remain one of the most fraught issues in the relationship, under Modi and Xi both countries have expressed a new commitment to discussing the issue.
According to Livemint, Doval hinted that China and India could seek a solution to their long-standing border dispute thanks to the strength and popularity of Xi and Modi. "These are two powerful and very popular, very decisive leaders," Doval said. "Whether it opens possibilities, yes. Whether it leads to solutions, nobody can be sure because that does not necessarily mean that it is only dependent on single factor." Regardless of what progress is made on the border question, Doval expects China-India relations to take an "orbital jump" during Xi Jinping's visit to India.
But despite the optimism, there are still signs of uneasiness. As Ankit noted earlier this week, Indian External Affairs Minister Sushma Swaraj tied New Delhi's support for the "one China policy" to China's acceptance of a "one India policy": recognition of Indian control over the disputed region of  Arunachal Pradesh. Clearly, the border issue remains a potential stumbling block for China-India ties.
There are also concerns in Beijing over Modi's rapport with Japanese Prime Minister Shinzo Abe, which was on display during Modi's recent trip to Tokyo. The tensions between China and Japan make it tempting to read any diplomatic contact with either Beijing or Tokyo by third parties as tilting toward one side and away from the other. Indeed, Modi made a comment during his trip criticizing "those with 18th-century ideas, [who] engage in encroachments and enter the seas" of other countries. His remarks were widely read as a critique of China.
This week Minister Swaraj did some damage control, insisting that Modi's remarks about the dangers of expansionism did not refer to any specific country. That Modi had a specific country in mind "was [the] media's guess," Swaraj said, adding that Modi had been speaking about "18th century expansionism." It's hardly a convincing defense, but it provides enough cover to avoid awkwardness during Xi's visit.
Xi's trip will begin this week with a visit to Tajikistan for the Shanghai Cooperation Organization summit. Then Xi will travel to the Maldives, Sri Lanka, and India. A planned visit to Pakistan had to be postponed due to political unrest in Islamabad. As a result, Pakistani leaders will have to watch as a leader from China, their "all-weather friend," stops in New Delhi without a corresponding visit to Islamabad.