Why Russia, China, & Mongolia Are Boosting Trilateral Ties
Vladimir Putin invited Xi Jinping and Tsakhiagiin Elbegdorj to Russia for their first trilateral meeting next year.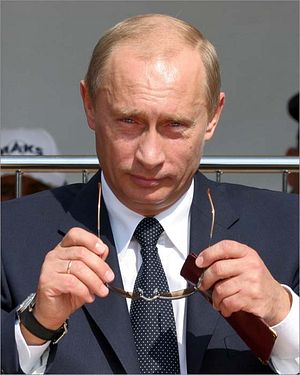 On Thursday, Russian President Vladimir Putin called for Russia, China and Mongolia to increase trilateral contacts and cooperate on joint projects in infrastructure, mining, and energy. According to a report by ITAR-TASS, Russia's state news agency, Putin said that trilateral cooperation between these countries made sense given their geographic closeness.
The remarks were made at a meeting on the sidelines of the Shanghai Cooperation Organization's (SCO) summit in Dushanbe. Both Chinese President Xi Jinping and Mongolian President Tsakhiagiin Elbegdorj were in attendance.
Specifically, Putin said: "The natural geographic proximity of Mongolia, Russia and China makes it possible for us to implement good long-term projects in infrastructure, the power sector and the mining industry. We have what to discuss with each other. Naturally, we deem it important, expedient and useful to start a permanent dialogue."
Additionally, the report notes that Putin acknowledged Mongolia's historical friendship towards both the People's Republic of China and the Soviet Union. Putin noted that while China and Russia suffered at the hands of "German fascism and militaristic Japan," Mongolia was an active partner during the Second World War. "Russia remembers it," Putin noted, adding that "Even though the events of those days took place 70 years ago, they are very close to us today."
The origin of the idea for a Russia-China-Mongolia trilateral can be traced back to an August 2014 bilateral meeting between Xi and Elbegdorj in Mongolia when the Mongolian leader made the proposal. Beijing wasted no time in voicing support for the Mongolian initiative. The two countries eventually included the idea for a trilateral with Russia in a joint declaration signed during Xi's visit to Mongolia.
Now, with Putin's acquiescence, there should be little standing in the way of trilateral cooperation between these three countries. Putin has invited Xi and Elbegdorj to visit Russia for the 70th anniversary of Russia's victory in the Second World War next year.
For Mongolia, this trilateral initiative meshes well with Elbegdorj's focus on becoming an activist country in global diplomacy. Until now, Mongolia has failed to deepen its cooperation with Russia despite making major inroads elsewhere in the world. In 2013 alone, it signed 63 bilateral agreements, including with the United States, European Union, China, and Japan. It did not manage to sign any new agreements with Russia, its neighbor to the north.
Increasing cooperation with China and Russia, particularly in the areas of infrastructure, mining, and energy, can only help Mongolia and help it continue to become a more visible player in Asian diplomacy.