Burmese Migrant Workers in Thailand
Life can be very hard for the Burmese who come to Thailand in search of work.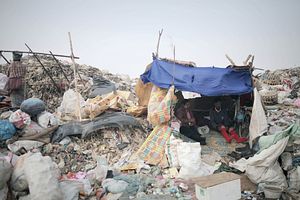 Burmese migrant workers in Thailand have entered the international spotlight, following the trial of labor rights activist Andy Hall and the widely questioned arrest of two Burmese laborers on charges of murdering two British tourists on the holiday island of Koh Tao.
An estimated two million Burmese are working inside Thailand, some documented and others there illegally, escaping decades of war back home. Apart from the lack of job opportunities in their own country, many are escaping extreme poverty. Most are in construction, working up to ten hours a day, seven days a week.
Labor rights groups have noted that the majority or Burmese migrants are working for half the allowed minimum wage of 300 baht ($9.25) a day. Given the hard nature of their work, many are exposed to a constant risk of injury or worse. Medical insurance is close to non-existent
Migrant workers are often subjected to bonded labor, in which the migrant is forced to work to repay some form of debt. The system is often abused, and the workers are easy prey for corrupt officials and human traffickers.
Yet despite the hardships, Burmese continue to take their chance in Thailand, seeking a better life for their loved ones.
Photojournalist Rohan Radheya spend three weeks living among migrant workers in several parts of Thailand. He reports from that experience in the following photo essay, which has been submitted to the World Press-sponsored Tim Hetherington Grant 2014.